EUCOM commander makes plea to restore civilians' housing allowance
by
John Vandiver vandiver.john@stripes.com
June 12, 2013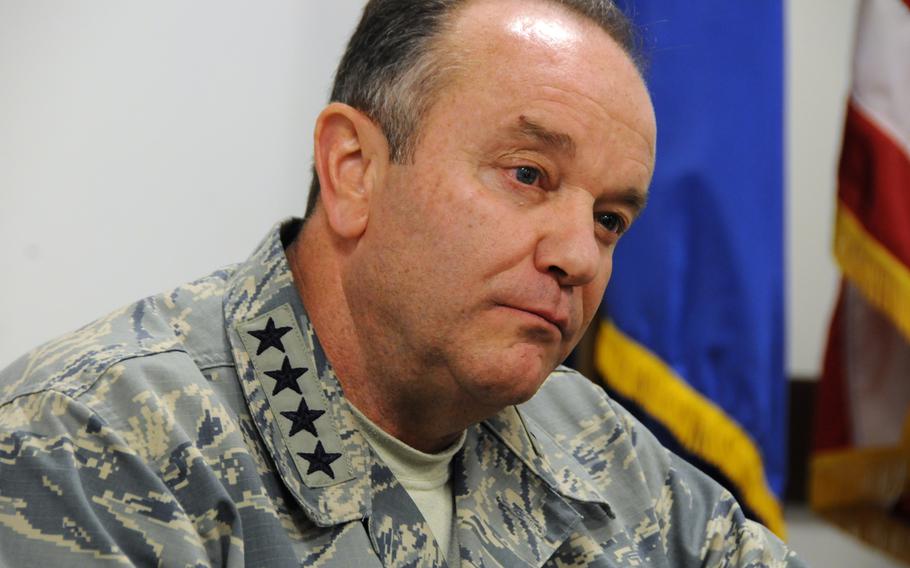 STUTTGART, Germany — The head of U.S. European Command is asking the Defense Department to take action to restore housing allowances for the nearly 700 civilian overseas workers who were informed last month that they were receiving the allowance in error and would be held liable for all past payments received.
Gen. Philip Breedlove, in a June 5 memorandum to Deputy Secretary of Defense Ashton Carter, said the potential loss of hundreds of employees snared in the audit that found those workers to be ineligible for the allowances will hinder the EUCOM mission. He also noted that the workers' financial well-being is in jeopardy "through no fault of their own."
"The upcoming loss of many of these people within the next year has a readiness impact on EUCOM Headquarters and Service Component Staffs — an impact that translates to increased cost to the Government to move and train replacement personnel at a time of significantly stressed fiscal accounts," Breedlove wrote in the memorandum, which was obtained by Stars and Stripes.
Breedlove is the latest senior military commander who has called on DOD leaders to do more for the 659 overseas workers who were hired with the understanding that they were entitled to housing allowances. Many workers have said they turned down more lucrative jobs in the private sector on the promise of the government housing allowance, without which they said working overseas would be financially untenable.
Some of those workers say they also have lost their transportation agreements, which in some cases is connected to housing benefits. As a result, those workers will be forced to pay for moving their household goods and vehicles back to the States, a costly relocation some employees say they can't afford.
"The cumulative effect of losing these entitlements results in additional financial hardships for our civilian force," Breedlove said in his memorandum.
In late 2011, Defense Department officials determined that numerous employees could be receiving their housing benefit in error, which meant those workers would be potentially liable for thousands of dollars depending on how long they've been overseas. Annual housing allowances can be as high as $50,000 per year in some locales. Earlier this year, DOD conducted a department-wide audit of overseas payroll accounts to determine the scope of the problem. The reasons for Living Quarters Allowance disqualification varied, but most of those affected were deemed ineligible because they had worked for more than one employer overseas, an apparent violation of State Department regulations that govern who qualifies for the benefit.
The State Department rules on housing allowances contain an "unusual circumstances" provision that empowers leaders to waive certain restrictions such as the multiple-employer rule. However, Defense Department officials haven't taken advantage of that clause. When asked why not, DOD officials said the State Department told them such action could not be taken. When asked to cite a specific regulation that prevents the unusual-circumstances exception from being used, DOD officials could not cite one.
Seth Shulman, director of compensation at the Defense Civilian Personnel Advisory Service, said a one-year extension and debt waiver opportunity was the best solution that DOD and other government agencies could come up with.
"There is nothing more we could have done," he said.
To avoid being indebted to the government for all past housing allowances received, workers now must apply individually for a special debt relief waiver. The Defense Department has said it intends to support those waiver requests.
For workers to receive a debt waiver, they must first sign a document that states they accept responsibility for the debt. That has been a source of angst for many workers, who say such an admission could hurt their chances in the event there is an eventual legal battle in court.
In recent weeks, hundreds of affected workers have mobilized on a private Facebook account to drum up support for getting their housing benefits returned. The Veterans of Foreign Wars has now taken notice, appealing to Secretary of Defense Chuck Hagel to intervene on behalf of the overseas workers. The VFW, like Breedlove and Gen. James Thurman, commander of U.S. Forces in Korea, is calling on the Defense Department to restore the housing allowances workers were promised when hired.
"Mr. Secretary these civilians received LQA through no fault of their own, yet in order to waive the reimbursement, your department is requiring them to first admit fault where none exists. That makes zero sense," wrote John E. Hamilton, VFW commander, in a June 6 memo to Hagel.
In addition to a debt waiver, DOD has offered a one-year living quarters allowance extension to provide additional time for workers to make alternative employment or living arrangements.
Breedlove, however, said those measures are "unfortunately insufficient to appropriately take care of our people."
"Therefore, we respectfully request that the Department modify the recent decision to provide a one-year LQA extension by continuing LQA for all impacted employees until their established DEROS (Date Eligible for Return From Overseas)," Breedlove wrote. "This would allow for a smooth transition back to CONUS at the end of their current tour and it would also eliminate the readiness, cost and second/third order impacts on the employees and on this Command."
---
---
---
---