EUCOM, AFRICOM keep cyber vigilance after CENTCOM hack
by
John Vandiver
January 13, 2015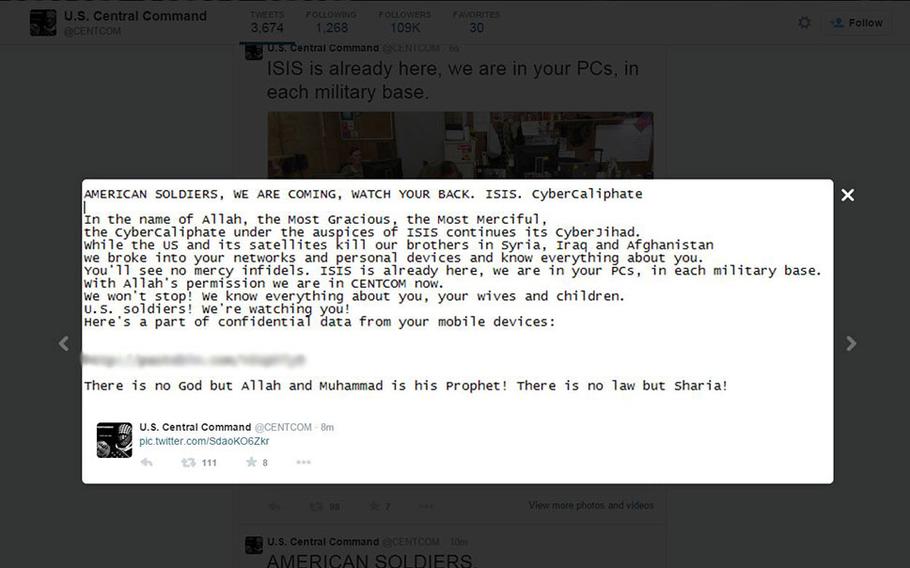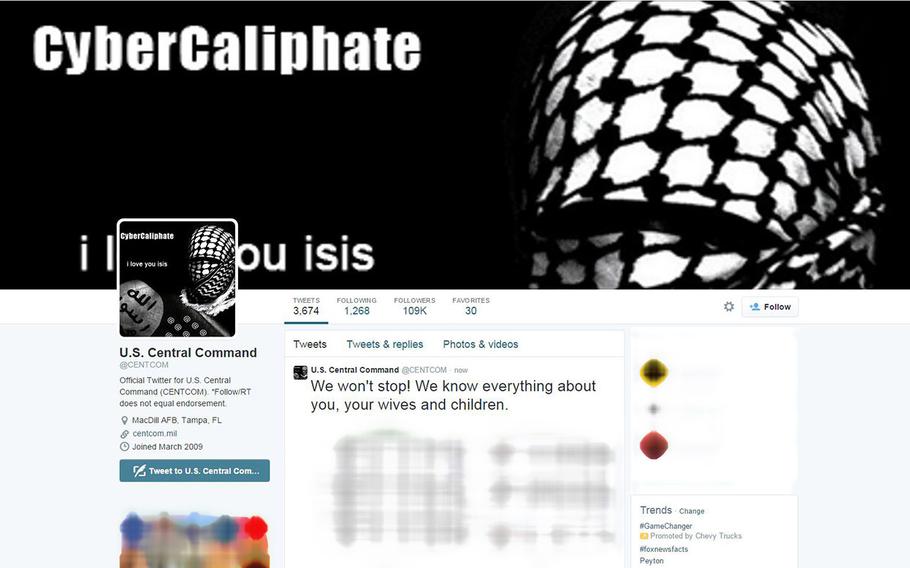 STUTTGART, Germany — Other combatant commands are closely monitoring their social media platforms after U.S. Central Command's Twitter feed was briefly taken over on Monday by hackers claiming to be affiliated with the Islamic State group.
At U.S. European Command headquarters in Stuttgart, officials say new and tougher security measures were already in place before Monday's attack on CENTCOM.
"We routinely emphasize to the command the importance of ensuring social media privacy settings are reviewed and updated based on the current cyber environment," Navy Capt. Greg Hicks, a EUCOM spokesman, said in a statement. "In fact, we have been actively reviewing our social media security measures for months now, as part of our [force protection] changes announced a while back."
In November, EUCOM ordered all personnel in its area of operation to refrain from wearing uniforms off base to lower the profile of military members. In conjunction with that directive, EUCOM advised troops to ensure individual social media accounts didn't reveal too much personal information on their geolocation functions and profiles.
EUCOM also took steps to secure its official social media platforms.
"In addition to the security measures already in place, we took additional steps to ensure all official U.S. European Command social media platforms have the proper security levels and protections to defend against cyber intrusions," Hicks said.
Meanwhile, at U.S. Africa Command, officials are monitoring their respective sites, saying strong security measures are in place.
"We continue to vigilantly monitor our social media sites for vulnerability and are adhering to the DOD policy guidance," Lt. Col. Mark Cheadle, AFRICOM spokesman, said in an email. "We haven't changed our policy or high standards of precaution. Operational information security is something we take very seriously to protect our people and assets from threats around the world."
In Monday's attack on CENTCOM's Twitter feed and YouTube channel, hackers posted a series of threats to servicemembers and contact information of military staff and retired generals. No classified information was posted, CENTCOM said in a statement, and its "operational military networks were not compromised."
It remains unclear whether the attack was in fact carried out by the Islamic State, which is commonly referred to by the acronym ISIS. While the hackers declared they were from ISIS, the group now fighting in Syria and Iraq does not call itself by that name, referring to itself instead as the Islamic State.