EU naval flotilla hands 9 suspected pirates to Seychelles for trial
---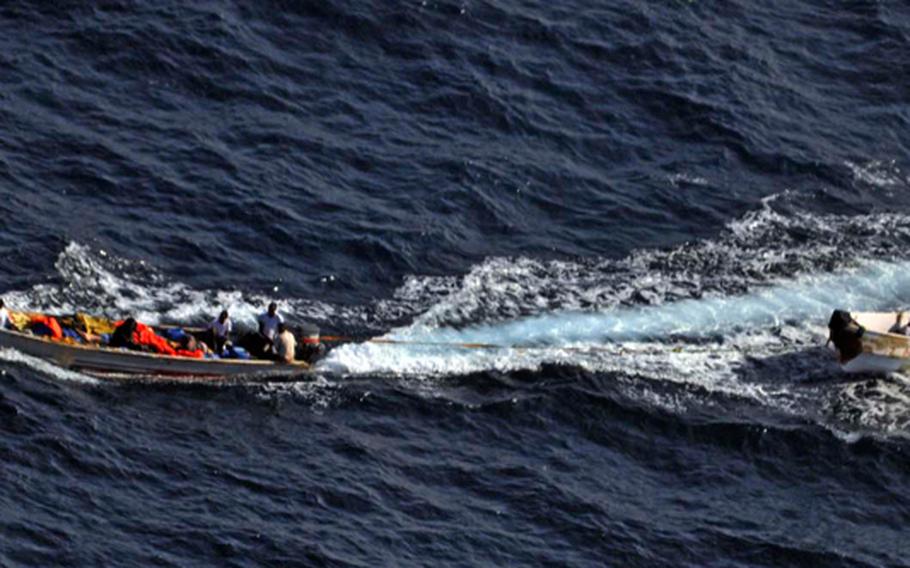 NAPLES, Italy – The European Union's naval forces operating off the Somali coastline have transferred nine suspected pirates to the Seychelles for prosecution, a statement said.
Helicopters from the Dutch frigate HNLMS De Ruyter and EU Naval Force flagship ESPS Mendez Nunez, along with Spanish maritime patrol aircraft, located two high-speed skiffs about 230 miles northeast of Eyl, off the coast of Somalia, on Feb. 19. Their crews captured the suspected pirates and confiscated the two vessels.
On Monday, the Seychelles agreed to prosecute the suspects, according to a press release from the EU's naval flotilla -- also known as Operation Atalanta. It was the second such transfer of suspected pirates in five weeks.
"I welcome the decision of the Republic of the Seychelles to … prosecute those suspected of attacking ships at sea," Rear Adm. Bob Tarrant, operation commander of the EU force, said in a statement. "Once more we have sent a clear message to pirates that the EU Naval Force will always seek, whenever possible, a legal finish."
The first transfer in 2013 happened in January when 12 suspect pirates were handed over to Mauritius for prosecution.
There were 297 piracy attacks and 28 hijackings worldwide in 2012, according to the International Maritime Bureau's Piracy Reporting Center. Of those, 75 incidents were tied to Somali pirates, who captured a total of 250 hostages. Increased military patrols, private security teams hired by commercial vessels, and other measures have contributed to a 27 percent drop in pirate attacks since 2009.
And while the number of attacks has declined, conditions in the region – such as poverty, political instability and lawlessness – still make piracy a lucrative option for some locals, said Jennifer Cooke, African program director for the Center for Strategic and International Studies in Washington. .
"There is an endless supply of young Somali men who have no other economic opportunities," Cooke said. "It's a problem that is going to be big with us for a long time."
Nearly 100 countries, including the United States and members of the EU, have deployed warships and personnel as part of the international effort aimed at wiping out piracy. The U.S. Navy has been actively training various African navies and coast guards to protect their own waterways.
---
---
---
---