DODEA schools juggle schedules as parents, kids adjust to digital learning during coronavirus pandemic
by
Jennifer H. Svan
April 3, 2020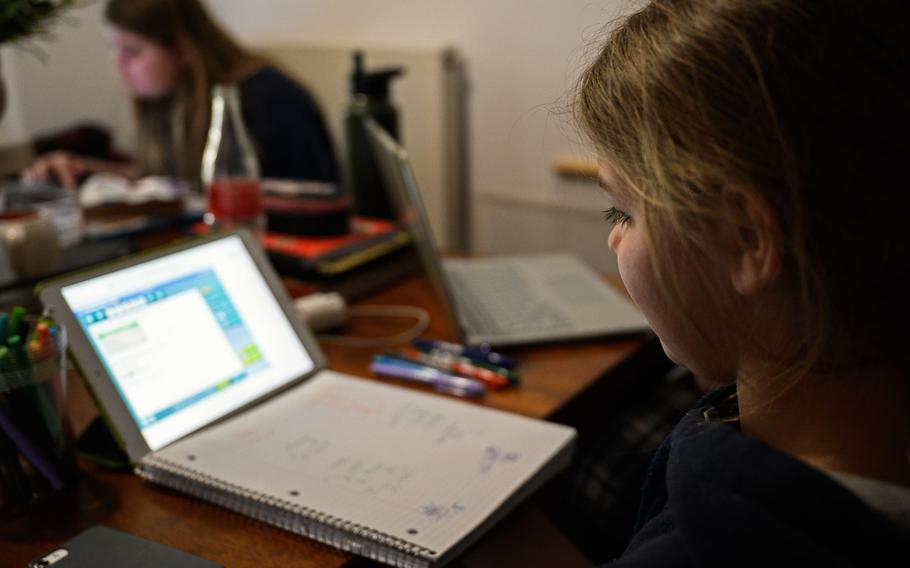 Stars and Stripes is making stories on the coronavirus pandemic available free of charge. See other free reports here. Sign up for our daily coronavirus newsletter here. Please support our journalism with a subscription.
KAISERSLAUTERN, Germany — Some military schools in Europe will adjust their digital learning schedules this month, consolidating and staggering the times students spend online for group instruction, a top school official said.
The changes seek to provide relief to families with more than one school-age child and to students feeling overworked since classes moved online, said Steven Sanchez, the superintendent for the Department of Defense Education Activity schools' Europe East district, which covers 32 schools in the Kaiserslautern area and other communities in Germany.
"When you have multiple kids and everybody is teaching at the same time … it really spreads our families thin in being able to assist and support," Sanchez said.
Class instruction for elementary grades will be from 8-11 a.m., with blocks of 30-minute instruction set aside for each grade level; high school from 10 a.m. to 12:30 p.m.; and middle school, from 12:30-3 p.m. Teachers will also hold office hours to provide extra help and small-group activities for the latter two groups at other times during the day.
The staggered schedules, expected to be implemented after students return from spring break April 13, should also help with bandwidth issues, particularly in villages with patchy internet service, Sanchez said.
DODEA schools in Germany closed to students March 16 to help curb the spread of the coronavirus and shifted to online instruction shortly afterward. All 66 DODEA schools in Europe are now closed. No decision has been made on when or if schools will reopen to students this school year.
When classes first went online, instruction times were more spread out and often overlapped for different grade levels.
The need to adjust the digital learning schedule was identified in a short, online survey emailed to parents late last month. Some 3,500 parents of the district's 15,000 students responded, Sanchez said during a virtual town hall Thursday night with local Army and Air Force leaders.
A top issue was that, "for different grade levels, even within the same school, the workload might be excessive," he said. "When we started out, we had no illusions this was going to be perfect."
Many parents have reported positive experiences with online learning but some have said that the workload and time students are online are too much.
"We are two parents teleworking full-time with three young children in school," a commenter posted on Facebook during the virtual town hall. "It takes long days for all of us to finish daily assignments and put our time in for work. It's a bit overwhelming."
Teachers in the Europe East district have been asked to "look at what are the most meaningful standards that kids need to know as we move forward and focus more on those critical standards," Sanchez said.
One of the cons of online school is "it's really hard work" for teachers, parents and students, he said at the town hall.
But, "the big pro of this is, we have a continuity of education here," he said, noting that a number of school districts in the States were forced to shut down completely because they lack the infrastructure, command support or both to move to online teaching.
"Your kids are going to get credit, they're going to move forward to the next grade level" and they'll get to graduate, Sanchez said.
svan.jennifer@stripes.com Twitter: @stripesktown