DODEA schools fail to report serious incidents involving students, including sexual assault, IG report says
by
Jennifer H. Svan
September 10, 2020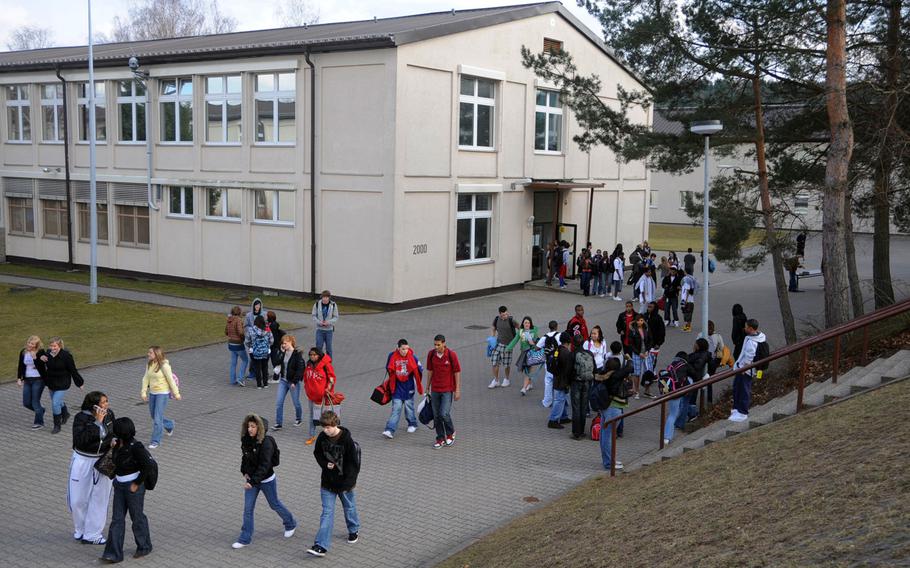 KAISERSLAUTERN, Germany — Hundreds of serious incidents involving students at Defense Department schools, including alleged sexual assaults and threats of physical violence, have gone unreported because of policies that allow principals to decide whether to report them, a report by the DOD Inspector General has said.
School administrators failed to report 522 of 600 serious juvenile-on-juvenile incidents to headquarters and failed to notify law enforcement or base commanders in 524 and 593 cases, respectively, the report found. As a result, installation commanders were prevented from holding the offenders accountable, law enforcement was unable to investigate the serious allegations and DODEA's ability to "accurately identify trends, provide guidance, or target problems" was hindered, said the report released Wednesday.
Some DODEA personnel said they did not report incidents because they didn't want a student to "carry a negative label into the next school or school year," the report said.
The inspector general launched the investigation that led to the report after an investigation by the Associated Press in 2018 found the military had done nothing in response to allegations that a boy at Grafenwoehr Elementary School had sexually assaulted as many as five first-grade girls.
Reviewers visited seven DODEA elementary, middle and high schools, out of more than 160 worldwide, and reviewed more than 13,000 disciplinary records drawn up between Jan. 1, 2015, and December 31, 2017.
Two of the schools were in Germany, at Ramstein Air Base and in Kaiserslautern; and two in Japan, at Camp Foster and Kadena Air Base. The schools were not named.
The auditors determined that of 600 cases that could have been categorized as serious juvenile-on-juvenile misconduct, more than 500 were not reported to DODEA headquarters or base officials. The report attributed that to school administrators being allowed to decide which incidents should be reported, and to unclear requirements for when an incident should be reported.
DODEA has a database for what it defines as serious incidents, including drug and alcohol use, arson, vandalism and knife possession, to name some. Misconduct included in that database must be reported to DODEA headquarters.
Another database, which includes report cards and attendance information, also has a section for disciplinary action. The audit team determined there were more than 500 incidents listed in that database that could have been categorized as "serious incidents" but were not and went unreported.
In one incident, a student allegedly sexually assaulted another student during a culinary arts class, the report said. In another, a student was punched and kicked in a fight in the football locker room. There was no information in the database to indicate that any of those serious incidents were reported to the appropriate authorities, even though DODEA regulations state that they must be, the report said.
In addition to the flawed reporting system, the report also found a lack of on-base counseling support services for offenders and victims of juvenile-on-juvenile misconduct. The inspector general recommended the DODEA director review the guidance on reporting serious incidents and make it more specific.
DODEA Director Thomas Brady said "significant steps" already have been taken to clarify when and to whom serious misconduct must be reported. In 2019, DODEA established new requirements for reporting and tracking juvenile-on-juvenile sexual misconduct incidents.
"DODEA is confident that school staff and school administrators have clearer processes for reporting and intervening consistently from incident occurrence to resolution; are well-versed in the nature and intricacies of student misconduct; and are more engaged with DOD and community partners to ensure all families are supported throughout the process," Brady wrote in a lengthy response to the findings.
The inspector general also recommended that the Under Secretary of Defense for Personnel and Readiness develop policies specifying how installation commanders should address serious juvenile-on-juvenile misconduct, and identify which DOD agencies will provide counseling services to victims and offenders of such incidents.
svan.jennifer@stripes.com Twitter: @stripesktown
---
---
---