Destroyer USS Roosevelt brings upgraded missile defense to Rota
by
John Vandiver
May 19, 2020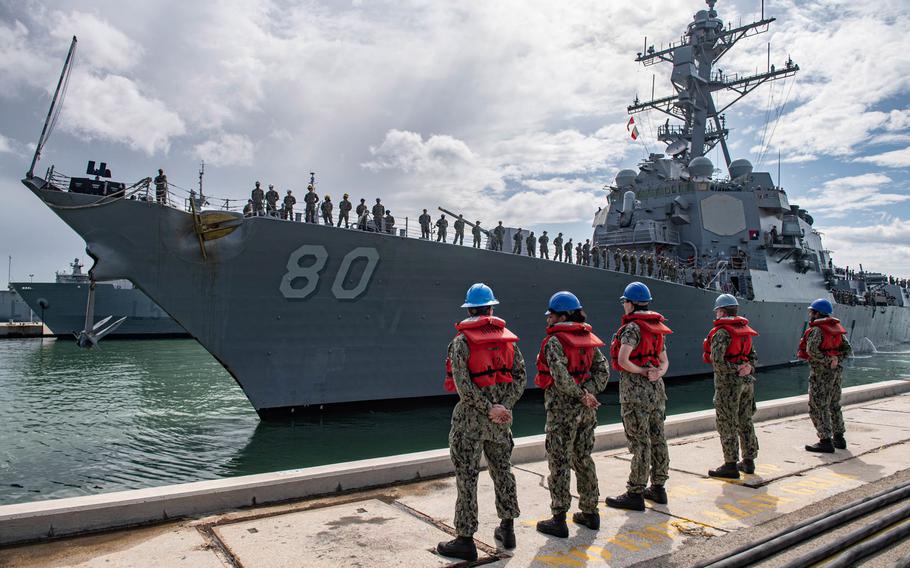 STUTTGART, Germany — The destroyer USS Roosevelt has arrived at its new homeport in Rota, Spain, bringing with it enhanced missile defense capabilities and the ability to embark two helicopters, the U.S. Navy said.
The destroyer arrived in Rota on Saturday, after taking part in an exercise earlier this month that involved U.S. surface ships maneuvering in the Barents Sea for the first time since the Cold War.
The drills in the waterway north of Finland and Russia were part of a Navy effort to bolster its presence in the broader Arctic region, where Russia has invested heavily in recent years and China also has declared itself a power with economic interests.
The ship's arrival in Rota "enhances our combined commitment to a stable and secure Europe and further reinforces our ironclad commitment to our allies and partners," U.S. 6th Fleet commander Vice Adm. Lisa Franchetti said in a statement Monday.
The Navy's Rota-based destroyers form part of the U.S.'s European missile defense shield, along with U.S. ground-based systems stationed in Romania and planned for Poland.
The Roosevelt brings with it the "most modern combat systems upgrade," the Aegis Baseline 9 ballistic missile defense system, the Naples, Italy-based 6th Fleet said.
Upgrades to weapons, sensors and launching systems "vastly increase the sea-based BMD force structure" for NATO's missile defense network, 6th Fleet said.
The Roosevelt, formerly homeported at Mayport, Fla., also is the first destroyer in Rota able to deploy with two embarked MH-60R Sea Hawk helicopters. Having MH-60Rs on board boosts anti-submarine and surface warfare capabilities, Lt. Cmdr. Benjamin T. Harris, an air operations officer, said in a statement.
Not to be mistaken for the aircraft carrier USS Theodore Roosevelt, which has been docked in Guam for weeks after a coronavirus outbreak, the destroyer is named after President Franklin D. Roosevelt and his wife Eleanor. It is replacing the USS Carney, which has been based at Rota since 2015, as part of a Navy plan to gradually rotate the four Rota-based destroyers.
vandiver.john@stripes.com Twitter: @john_vandiver