Democrats move to block Trump's troop cut plan in Germany
---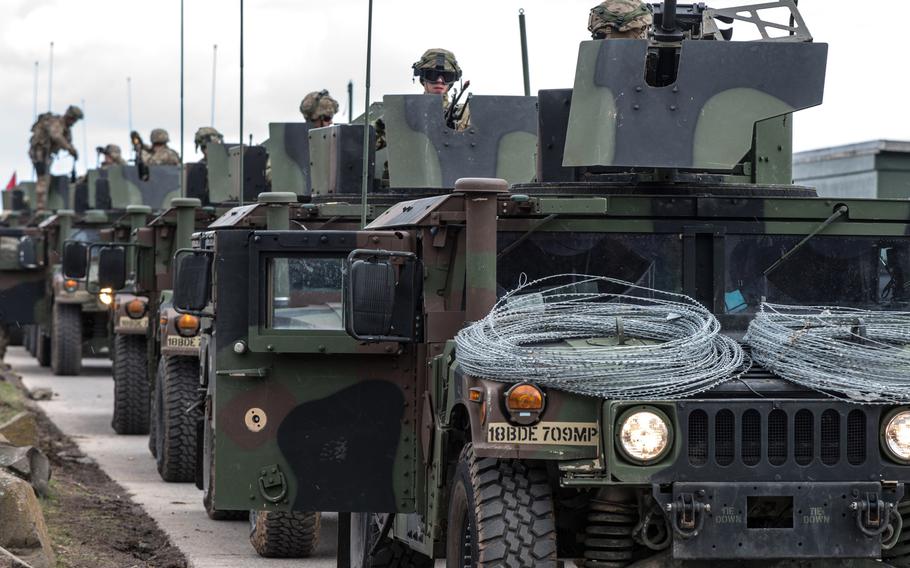 STUTTGART, Germany — Democratic lawmakers have introduced legislation that would block President Donald Trump's push to withdraw nearly 10,000 troops from Germany, warning that such a move would have catastrophic security consequences for the U.S. and benefit America's adversaries.
"President Trump's disastrous decision to withdraw thousands of troops from and reduce the total force cap in Germany endangers our national security," the chairman of the House Foreign Relations Committee, Rep. Eliot Engel, D-N.Y., said in a statement Thursday, when he and Sen. Bob Menendez, D-N.J., proposed the legislation.
Menendez, the ranking Democrat on the Senate Foreign Relations Committee, said Russian President Vladimir Putin would benefit from the proposed drawdown.
"The current U.S. troop presence in Germany is in the U.S. national security interest. Full stop," he said in a statement. "This drawdown weakens America and Europe. And Vladimir Putin understands and appreciates that better than anyone."
The Russian Foreign Ministry last week welcomed the plan to withdraw more than a quarter of U.S. troops from Germany, saying it would help bolster security in Europe.
The legislation proposed by the Democrats would deny funding for force level reductions in Europe unless the cuts were requested by a host nation government. It would also require that 180 days' notice be given for planned drawdowns in Europe, and that the secretaries of defense and state testify before Congress within 14 days of a proposed troop cut being announced.
On Monday, Trump confirmed that he wants to reduce the number of troops in Germany by 9,500, and tied the proposed cut to his dissatisfaction with Berlin over the amount of money it spends on defense.
Trump has repeatedly complained that Germany is falling short of its commitment to NATO to spend at least 2% of GDP on its military.
Both Republicans and Democrats have aired concerns over the proposed troop cuts in Germany. More than 20 Republican lawmakers urged President Donald Trump earlier this month to reject the plan, saying the move would weaken the NATO alliance and encourage Russian aggression.
Before Russia's 2014 incursion into Ukraine and the annexation of the Crimean Peninsula, it was routine for both Democratic and Republican lawmakers to complain about the number of troops in Europe and call for forces to return to the United States.
But Russia's move on Ukraine changed that, and in recent years, efforts to strengthen the U.S. military presence in Europe have enjoyed bipartisan support.
It isn't clear when Trump intends to execute his directive or which military units would be affected. Proponents of current force levels argue that a large reduction would hinder operations beyond Germany, since troops based there support efforts in places like the Baltics, Middle East and Africa.
The Pentagon, which appears to have been blindsided by Trump's decision, has been mum on the issue. U.S. European Command also has declined to comment, referring questions to the National Security Council in Washington.
vandiver.john@stripes.com Twitter: @john_vandiver
---
---
---
---