Coronavirus policies keep spouses out of delivery room in Vicenza
by
Nancy Montgomery
April 1, 2020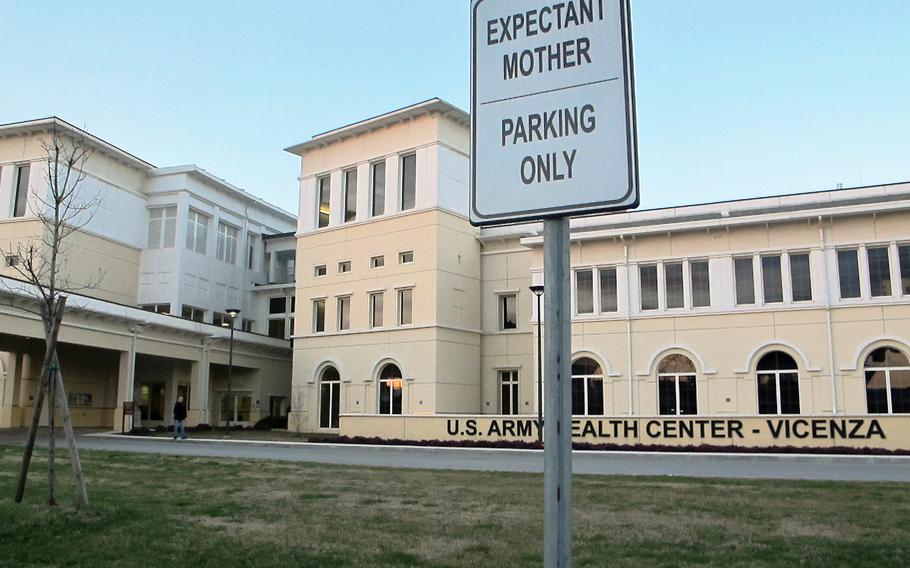 Stars and Stripes is making stories on the coronavirus pandemic available free of charge. See other free reports here. Sign up for our daily coronavirus newsletter here. Please support our journalism with a subscription.
VICENZA, Italy — Pregnant Americans living in Vicenza will have to deliver their babies without spouses or other support people present because the local Italian hospital, with restrictive new rules to prevent coronavirus spread, is the only option.
The U.S. Army garrison's birthing center, closed six years ago, can't be reopened any time soon, health center commander Lt. Col. Joe Matthews said at a virtual town hall meeting Tuesday.
The decision at San Bortolo Hospital to exclude partners and others mirrors many off-base medical facilities in Italy, Germany and other places with large numbers of coronavirus infections, though two other military hospitals in Europe continue to allow them.
However, traveling to those U.S. facilities for obstetric care was likely unworkable because of safety reasons and movement restrictions, said Maj. Ezella Washington, the center's chief medical officer.
Giving birth at less restrictive nearby Italian hospitals in Padova or Verona posed another set of problems, Washington said, including lack of translation services and increasing case numbers of coronavirus there.
Home births are out because few midwives in Italy attend them and the military insurer Tricare doesn't pay for them.
"Right now the only option and the safest option is San Bortolo," Washington said in the meeting.
It's unclear how many women associated with U.S. Army Garrison Italy are pregnant or soon to give birth.
Col. Ken Burgess, commander of the 173rd Airborne Brigade, said recently that he was aware of at least 86 pregnant people associated with his command.
San Bortolo Hospital recently banned almost all visitors as it seeks to minimize transmission of a virus that has killed more Italians than any other nationality.
Other hospitals in global hotspots have also banned support people from attending the births and visiting afterward.
Such rules have prompted outcries. After New York City hospitals barred visitors, a protest petition drew more than 600,000 signatures. Within days, New York Gov. Andrew Cuomo ordered hospitals to allow one support person to help during labor, delivery and after birth.
The Navy's hospital in Naples also allows one person, it said this week.
"The support person must remain in the patient's room for the entirety of admission (admission to discharge) and cannot be switched to another person once admitted," the policy issued Tuesday said.
Landstuhl Regional Medical Center is also allowing a support person. The hospital used to permit "stork nesting," a program to allow women to give birth there, after Vicenza's birthing center closed. But that policy changed some time ago.
"It is not permissible for pregnant mothers to come to LRMC for stork nesting for the sole reason of having a partner present for delivery," said Gino Mattorano, a spokesman for the Regional Health Command Europe.
Vicenza officials said they were still exploring options and that it was possible that some women with exceptional circumstances might gain approval to give birth elsewhere.
But Antigone Miller, who delivered a baby at San Bortolo a week ago, told the town hall viewers that her experience was a good one, despite initially being "terrified" to learn her husband could not be with her. The nurses were kind and attentive, she said, she had her own room and her baby stayed with her until their release after 48 hours.
"It wasn't the same as having my husband there but I felt safe," Miller said. "I felt very cared for."
montgomery.nancy@stripes.com Twitter: @montgomerynance