Controlled detonation disposes of unexploded ordnance that shut down part of RAF Mildenhall
by
Brian Ferguson
August 4, 2020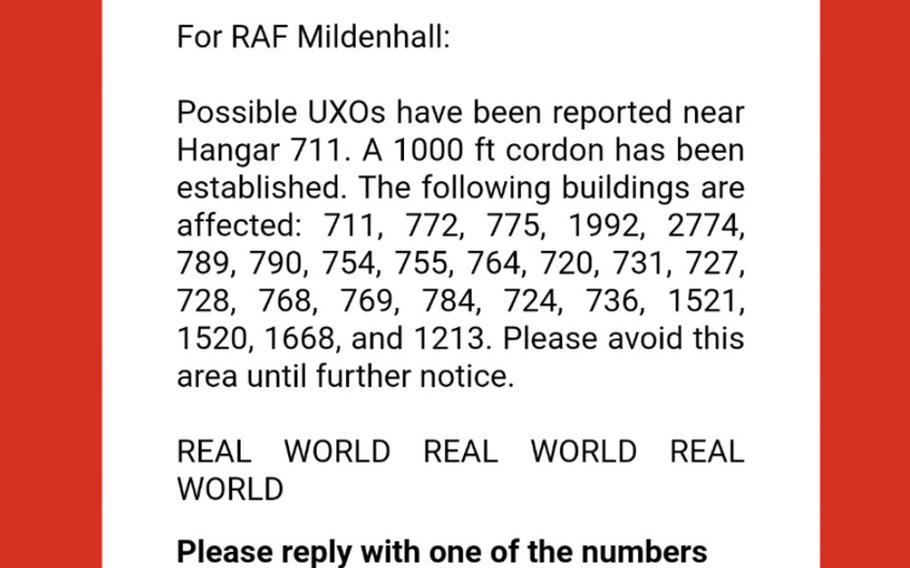 Unexploded ordnance that forced more than 20 buildings on RAF Mildenhall to be evacuated and off-base personnel to shelter indoors Tuesday has been disposed of in a controlled detonation, base officials said.
The detonation happened at around 4:15 p.m. local time, more than six hours after the unexploded devices were discovered near a hangar during routine construction work, base spokesman Tech Sgt. Emerson Nunez said.
The "scene was deemed safe" after the controlled explosion, he said in an email message.
The 100th Air Refueling Wing, based at Mildenhall, 48th Fighter Wing from nearby RAF Lakenheath, and the U.K. Joint Explosive Ordnance Disposal Operations Center were part of the hourslong effort to safely dispose of the devices, the email said.
A 1,000-ft. safety cordon that was set up around the hangar where the ordnance was found, was lifted after the detonation. All areas of the base had resumed normal activities by late afternoon, and "off-base personnel in the affected areas are no longer required to remain indoors," Nunez said.
It was unclear how many devices were destroyed or what type of ordnance they were.
ferguson.brian@stripes.com Twitter: @BrianFerg57