ANALYSIS
Combat? Logistics? No easy answers on what troops to cut in Germany
by
John Vandiver
July 1, 2020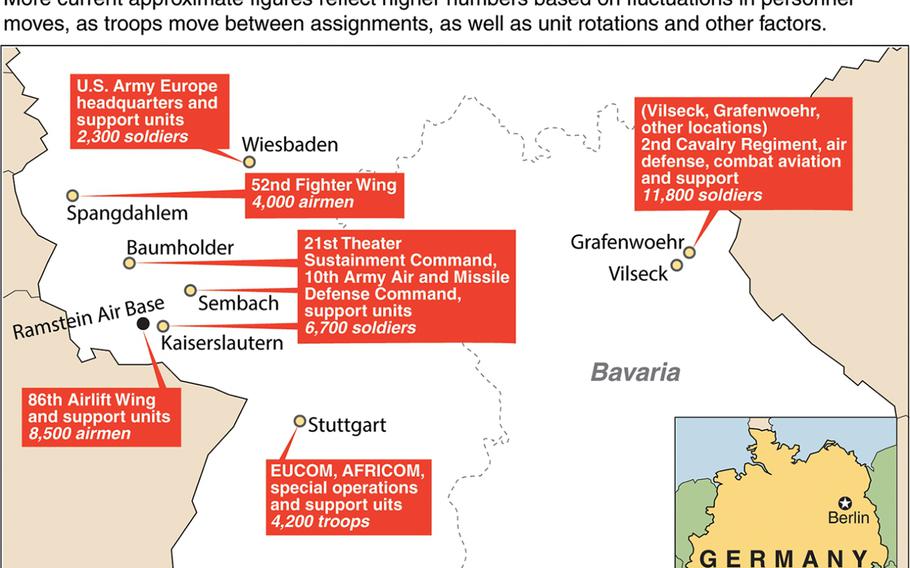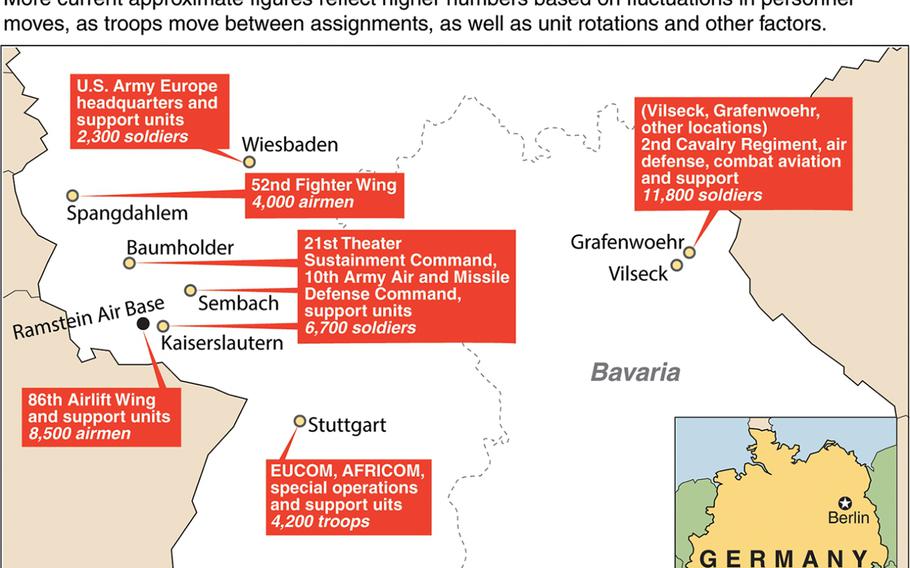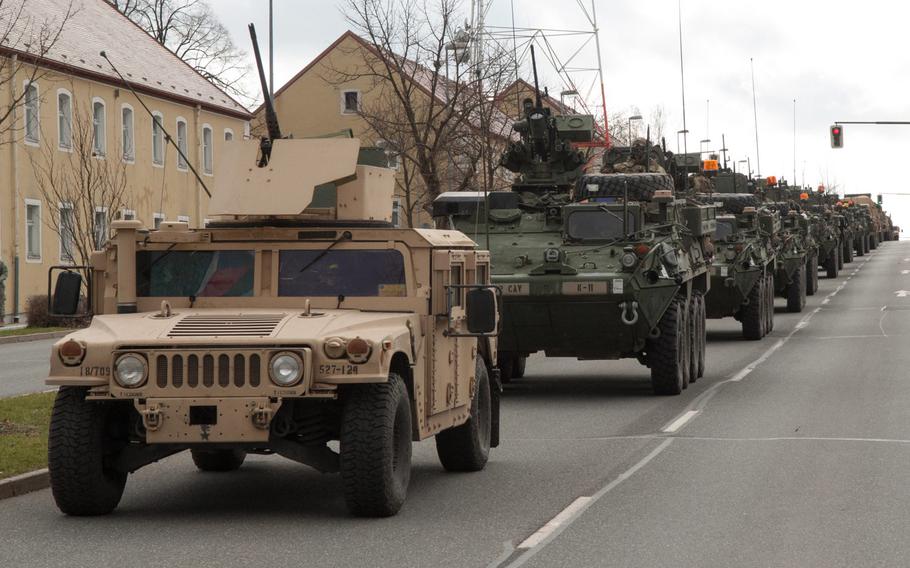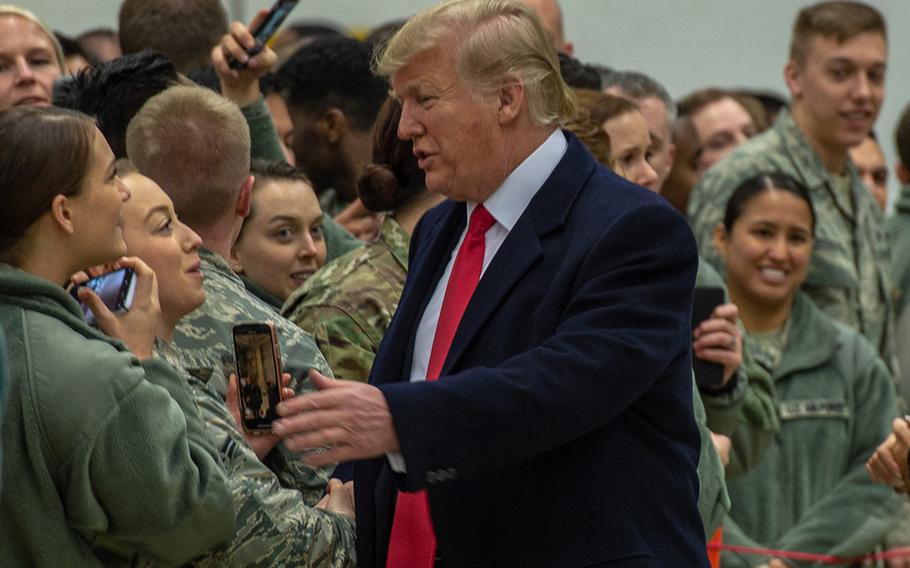 STUTTGART, Germany — President Donald Trump has approved a plan to redeploy 9,500 troops from Germany, but the move will likely bring added security risks and costs for U.S. taxpayers, former military officials and security analysts say.
Defense Secretary Mark Esper briefed Trump on options this week and what was approved "not only meets the president's directive, it will also enhance Russian deterrence, strengthen NATO, reassure allies, improve U.S. strategic flexibility and U.S. European Command's operational flexibility," Pentagon spokesman Jonathan Hoffman said Tuesday.
The Pentagon didn't explain how the cuts would achieve those benefits. The positive spin conflicts with reality given the size of the reduction, said retired Lt. Gen. Ben Hodges, the former commander of U.S. Army Europe.
"Just from the math, it is difficult for me to envision how this proposal will do any of what the (Pentagon) statement claims," Hodges said Wednesday.
The Pentagon hasn't provided details on what units will be cut or when the plan will be executed, adding that it would update personnel as planning progresses. While some troops could go to Poland or other locations in Europe, most would be expected to return stateside.
To carry out a mission focused on deterring Russian aggression in Europe and projecting power into the Middle East and Africa— and thus far, the White House and the Pentagon haven't called for changing the mission — the military has relatively few options for getting to Trump's 9,500 troop cut number.
'Salami slice' the force The worst move would be to take a "salami slice" approach, cutting unit troop strength 30% across the board, said John R. Deni, a U.S. Army War College professor with expertise on European security.
"At some point you risk not having the capacity to do anything day-to-day — no surge capacity, no response capacity," Deni said.
National security adviser Robert O'Brien, who has pushed for the cuts, recently called "massive bases in places like Germany" an "obsolete" relic of the Cold War.
During the Cold War, the military had some 250,000 troops in Germany and nearly half a million across Europe. Today, there are about 34,500 troops in Germany, though that number can fluctuate by a few thousand due to movements.
Proponents say bases in the country now serve as streamlined forward operating sites for the 21st century. An across-the-board cut would cripple the force, Hodges said.
"We are so small already, a 30% cut renders them incapable of carrying out their missions," Hodges said. "A 30% cut is in effect a 100% cut."
Cutting combat units The most straightforward path to 9,500 troops would be to remove firepower, but analysts say that could embolden Russia and limit crisis response capability.
The 2nd Cavalry Regiment in Vilseck is the only brigade-sized ground unit left in Germany and one of only two permanently stationed in Europe after decades of cutbacks. The other is the 173rd Airborne in Italy, which has a detached regiment in Grafenwoehr, Germany.
Sending the regiment back to the U.S. would get the Pentagon to nearly half of Trump's total, but also remove a force that spends much of its time rotating to Poland, just 50 miles from the Russian military exclave of Kaliningrad.
Another option could be to send it to Poland permanently. However, current plans call only for a 1,000-U.S. troop boost there and Poland's support infrastructure would need large, costly upgrades to match Germany's.
If the Pentagon also cuts the 52nd Fighter Wing based out of Spangdahlem, which includes a squadron of F-16s and support units, the Pentagon's work is nearly done in getting to the 9,500 total.
Hundreds of Navy SEALs and Green Berets that operate out of Stuttgart could be repositioned in Poland — there already is a plan to boost the U.S. special operations mission there — and the cut figure could be met.
Others that could be targeted are recently added short range rocket units with roughly 1,500 soldiers, which the Army had advocated for several years to close a capability gap.
The Pentagon could make up for the loss in Germany by ramping up unit rotations from the U.S. to Europe or putting some in Poland, Deni said.
However, keeping a steady rotational force to complete missions of formerly forward-based units would incur significant costs, said Deni, whose research into large rotations to Europe has found that they add expenses and may take a toll on troop morale.
"It's not evident to me what the easy answer is," Deni said, calling the cuts "really counterintuitive and frankly, fiscally irresponsible. It makes implementing our own strategy far more difficult and far more expensive."
Targeting logistics seen as risky In Europe, ground units are called upon for high-profile training drills that garner international attention. When the military wanted to send a message to Russia after its 2014 intervention in Ukraine, EUCOM ordered paratroopers into the Baltics and U.S. Army Europe sent the 2nd Cavalry Regiment on a road march up and down NATO's eastern flank.
But the military's core is the Air Force and Army logistical team in the Kaiserslautern Military Community, which Hodges calls the "industrial heart" of EUCOM. Ramstein Air Base is the U.S.'s "largest unsinkable aircraft carrier," he said.
There are about 15,000 troops in the region, but eliminating a large chunk of them could cripple the military, he said. The Army's 21st Theater Sustainment Command resupplies forces all over Europe, including the Baltics and Poland. The Air Force's 86th Airlift Wing is crucial to making things go, not only in Europe but Africa and the Middle East.
"The vast majority of what we have in Germany, when you subtract 2nd Cav and the F-16 squadron, is enablers. It's mission command and defense and all the different types of logistical stuff that allows you to minimize the amount of force you need to be stationed somewhere," Hodges said. "This is the stuff you need in place to set the theater."
In a crisis, the U.S. would surge forces into Europe and the logistics personnel would make it happen.
"To me, Ramstein, the whole KMC, would be the last thing to go," Deni said.
Cutting command and control The Pentagon could look to the higher commands in Germany — U.S. European Command and Africa Command — as a way toward 9,500, but the numbers would be small.
AFRICOM has about 1,400 personnel at its headquarters and roughly half are troops. EUCOM is even smaller, with 600 service members and 300 civilians.
They could be moved to the U.S., an idea Congress has flirted with in the past, but ultimately rejected because of high relocation costs.
Proponents have pointed to U.S. Central Command, which is in Tampa, Fla. However, CENTCOM also has large forward-based headquarters in places like Qatar.
It looks easy to move headquarters, but that would ultimately weaken force management, Hodges said.
Some headquarters are already thinly stretched, most notably USAREUR, which has been overwhelmed by the pace of operations in Poland and the Baltics, Deni said.
The Army recently announced the reformation of V Corps — to be based in Kentucky with a forward element in Europe — to help carry the load.
What's next Even though Trump has approved the drawdown in Germany, it still faces obstacles. There is widespread bipartisan resistance in Congress and lawmakers that include Trump ally Sen. Lindsey Graham, R-S.C., have introduced legislation with the aim of blocking the cuts.
Trump has justified the cutbacks by saying that Germany doesn't invest enough in its own defense and is taking advantage of U.S. security.
While criticisms of allies falling short of their defense spending obligations are fair, Hodges says the U.S. will be at a disadvantage if it sends forces back home.
The military in Germany "is a forward base for us to carry out our national defense strategy," Hodges said. "If not one European country spent a single euro, pound, krone or zloty on defense, that would not change the fact that it is to America's advantage to have a stable, secure, prosperous Europe. It's our biggest trading partner."
vandiver.john@stripes.com Twitter: @john_vandiver
---
---
---