Civilians to lead next stage in NATO'S Afghanistan mission
---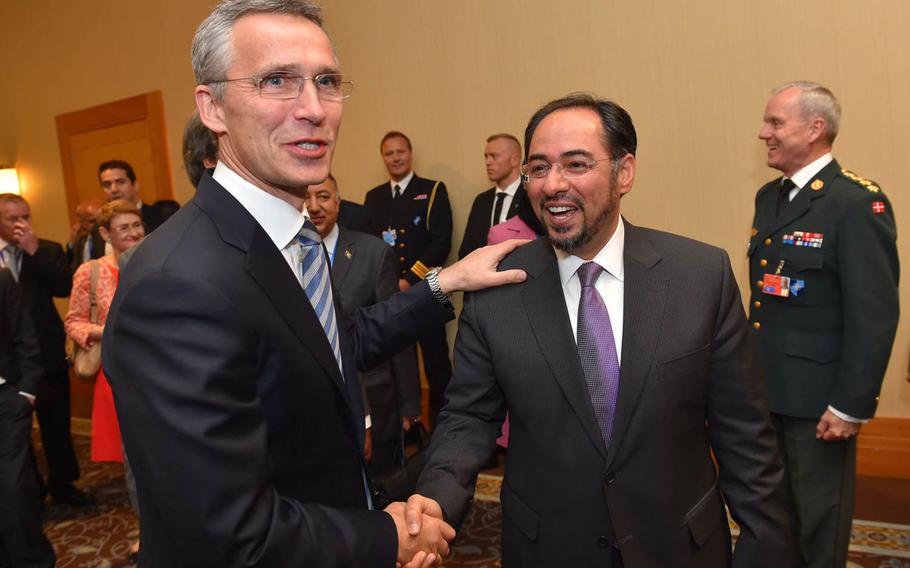 NATO will maintain a military presence in Afghanistan once its current Resolute Support mission concludes, but under civilian leadership, NATO announced on Wednesday.
"Unlike our present mission and our combat mission before it, our future presence will be led by civilians," NATO Secretary-General Jens Stoltenberg said at the opening of a two-day foreign ministers' meeting in Antalya, Turkey. His remarks were streamed live.
While NATO hasn't specified when it will end the train, advise and assist mission that began at the start of this year, the U.S. has already said it plans to pull troops out of Afghanistan by the end of 2016, which would likely spell the end for Resolute Support.
What comes next will be a civilian/military effort that ensures a continuing presence in Afghanistan, where NATO has been involved for more than a decade.
Details about the size and scope of the next phase, including troop numbers, still need to be worked out, Stoltenberg said. However, it is expected to have fewer personnel than the current Resolute Support campaign, which involves about 13,000 troops from 26 of NATO's 28 member countries and 14 partner nations.
"Everyone envisions something that is smaller than the present number of personnel," Stoltenberg said.
NATO civilian and military leaders will submit formal plans for the follow-on mission by the fall.
"It will have a light footprint, but it will have a military component," Stoltenberg said. "Our aim will be to advise and instruct Afghan security institutions to help them become more self-sufficient and build on what we have achieved so far as part of a broader international effort."
The announcement, coming only a few months after the NATO-led coalition trumpeted the end of its formal combat mission in Afghanistan, casts doubt on the alliance's declaration that Afghan forces will soon be capable of beating the insurgency by themselves. The decision is only the latest in a string of moves that have prolonged the international mission.
"We've blown through a lot of self-imposed deadlines already on the security transition," said Graeme Smith, a Kabul-based analyst for the International Crisis Group. "Post-2016 NATO will try to trim the assist component out of its train, advise, and assist mission, to further distance foreign forces from the battlefield. But it's going to be hard for international forces not to get their hands dirty once in a while. Afghan forces have a heck of a fight on their hands, and they are likely going to still need help."
Stoltenberg credited Afghan security forces for taking the lead in the fighting in Afghanistan, but he acknowledged many challenges remain.
"A lasting peace in Afghanistan requires a political solution," he said. "This has to be an Afghan-led and Afghan-owned political process and solution."
A Taliban spokesman argued that a continued foreign presence would jeopardize nascent efforts at starting peace talks with the government.
"There can't be any peace process or talks if there are foreign forces, but if they leave then Afghans can bring peace to the country," spokesman Zabihullah Mujahid said. "We will continue our fight against the foreign forces as long as they are in Afghanistan."
Nearly a decade and a half of combat has failed to crush the insurgency. The United States alone has spent nearly $70 billion training and equipping more than 300,000 Afghan soldiers and police. But much of that money has been lost to corruption, and Afghan troops face high casualty and desertion rates.
Concerns about the possible spread of Islamic State militants and a strong Taliban insurgency have led U.S. military and Afghan officials to call for coalition troops to stay on the ground longer.
The coalition continues to provide air support and conduct special operations and other ground missions that stretch the declared limitations of the so-called noncombat mission.
Spokesmen for Afghan President Ashraf Ghani and the Ministry of Defense did not respond to a request for comment, but Ali Akbar Qasimi, who heads the parliamentary defense committee, said international aid was still needed.
"It is clear that our security forces need to reach to at least some level of the international standards," he said. "Right now our forces are still weak, so they need more training and equipment. If Afghan security forces ... do not get enough training and the latest weapons, we cannot call it an army"
With the international force set to get smaller in NATO's next phase, the military role will likely get more restrictive.
"I imagine that when they say 'light footprint' it will be a very, very light footprint with secondary tasks such as supporting logistics, advisory teams for civil ministries, low-level support for intelligence and reconnaissance," said Shashank Joshi, an expert on Afghanistan with the London-based Royal United Services Institute.
But NATO's commitment to extend its mission could also be a signal that the U.S. intends to remain committed in some form.
"We don't fully understand how U.S. support will look after 2016. But I don't think NATO would be sticking its head out if the U.S. wasn't going to be involved," Joshi said.
The repeated changes to the mission reflect the tensions between politics in the U.S. — which has provided the majority of the support to the coalition — and the situation on the ground, Smith said.
"The scuttlebutt has always been that [President Barack] Obama wants to pull American forces out of Afghanistan before the end of his term," Smith said. "So in part, it's a legacy issue for Obama, and it's also a political issue. He's been facing pressure to pull out. But reality has intervened."
Zubair Babakarkhail contributed to this report.
smith.josh@stripes.com Twitter: @joshjonsmith
---
---
---
---