GALLERY
Cheer squads dazzle the crowds with acrobatics at European competition
---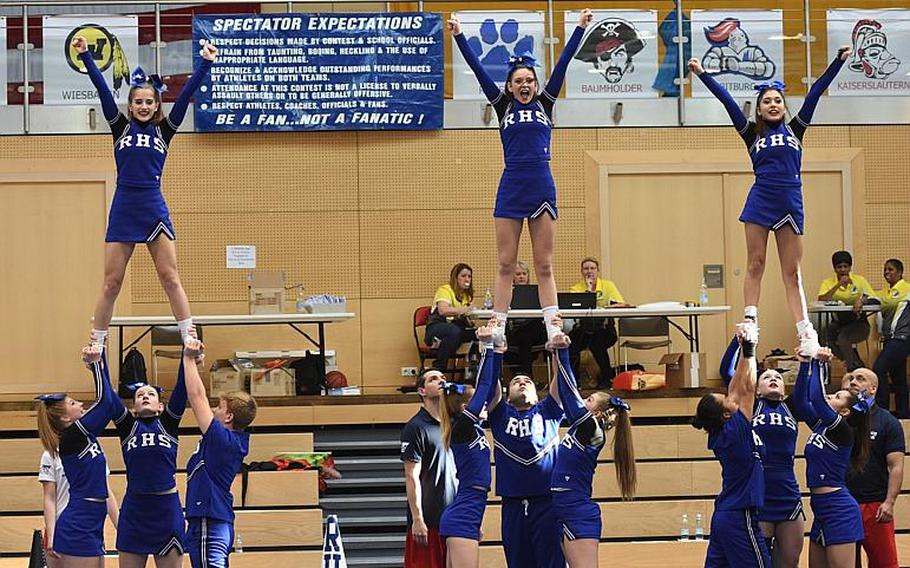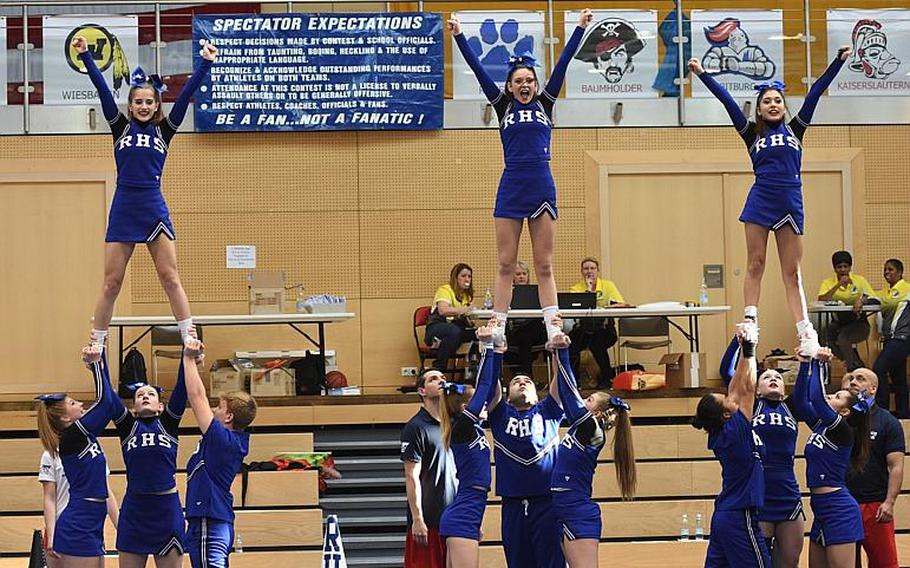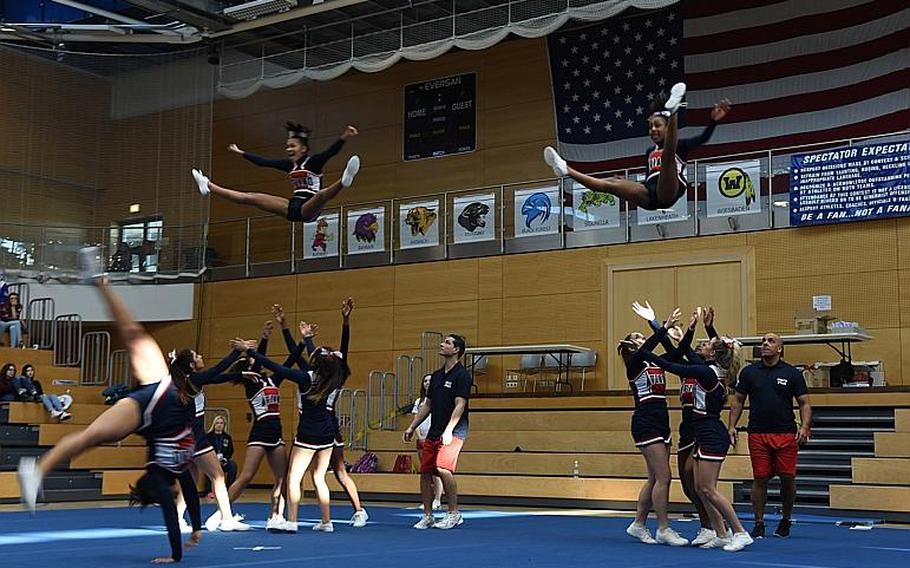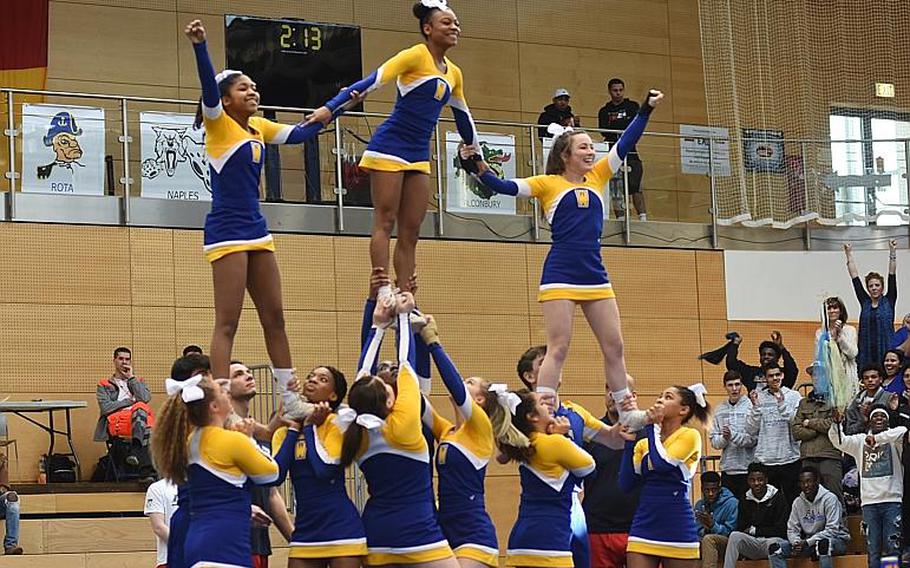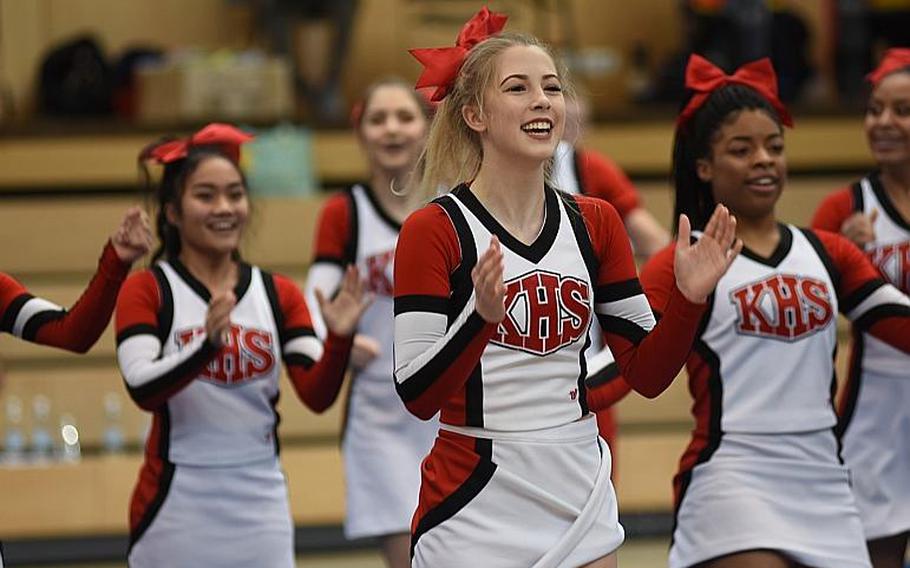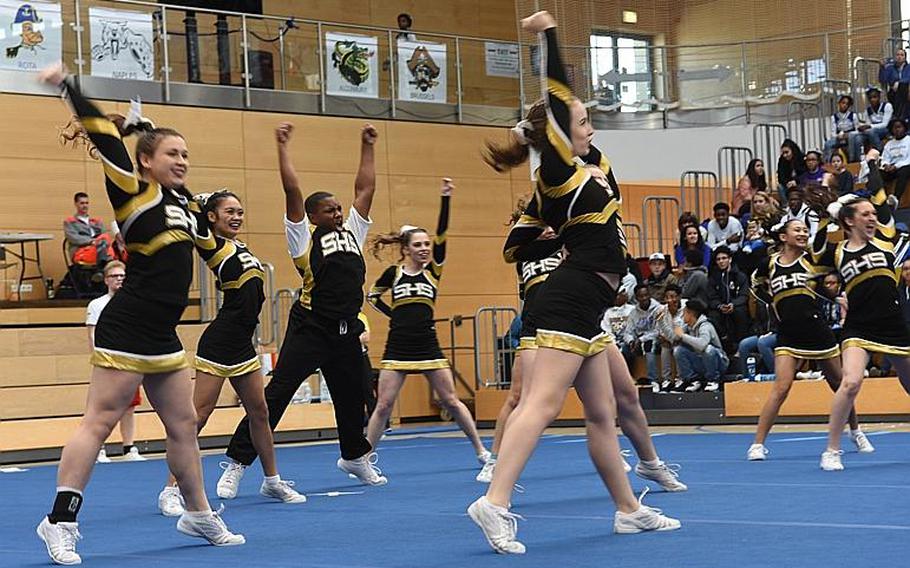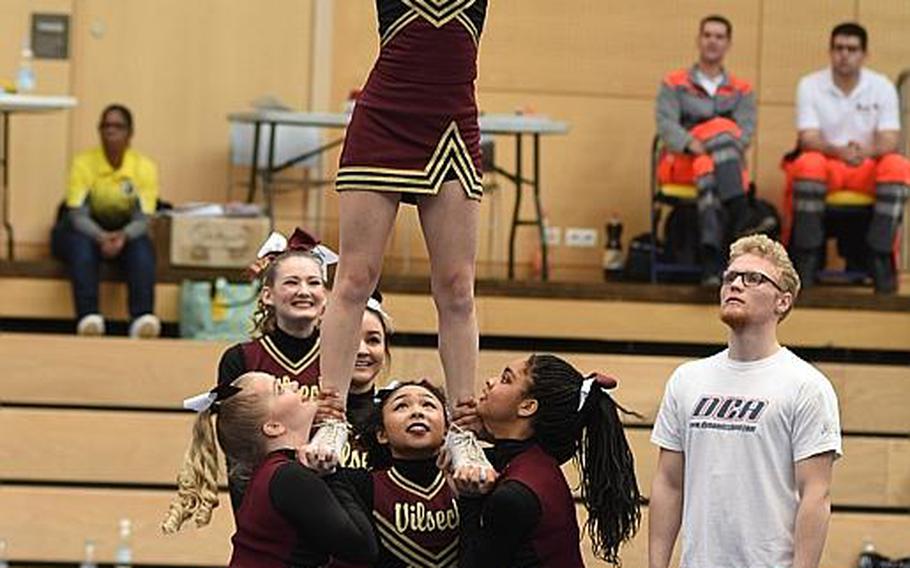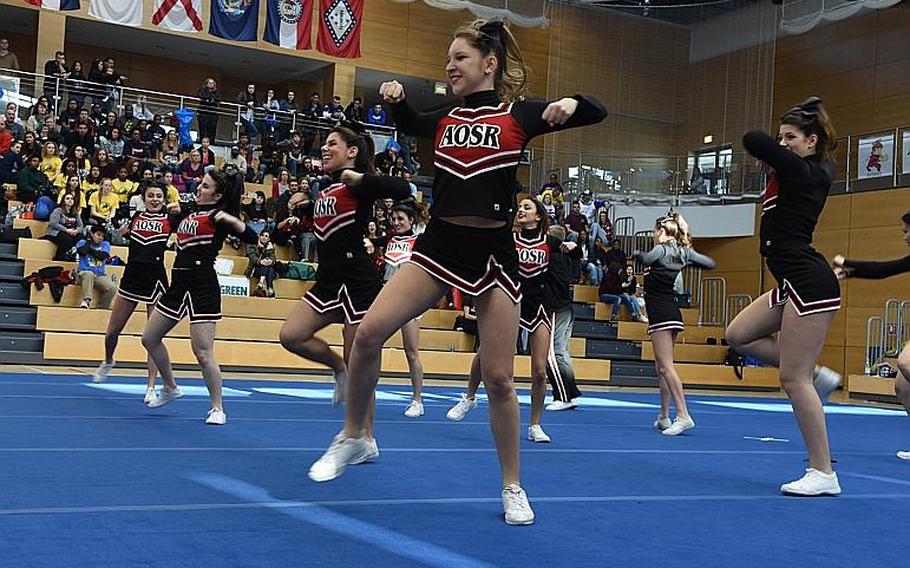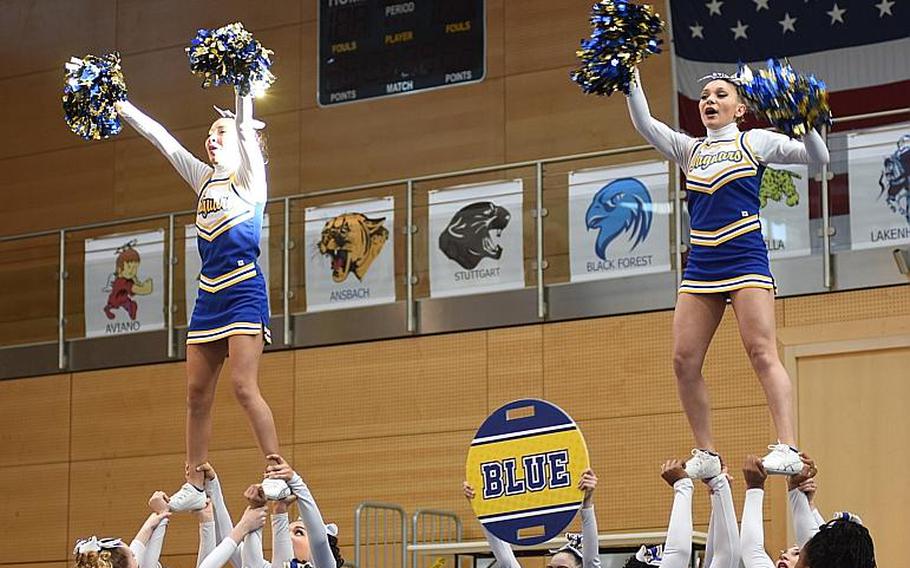 WIESBADEN, Germany — Emotions ran high and nerves were on edge Saturday morning at the Clay Kaserne Fitness Center, well before championship hoops took to the court.
Cheer squads from across Europe battled it out at DODEA's 22nd Annual Cheer Tournament of Champions, a competition not for the faint of heart.
Eighteen teams tried to impress the judges with fast-moving, physical routines, mixing up stunts, dance, jumps, tumbling and cheer as they vied for the title among three school divisions. Some of the most difficult maneuvers saw athletes being tossed, spun and lifted into the air, much to the delight of the boisterous crowd cheering them on from the bleachers.
The cheer squads took over center court several hours before the Department of Defense Education Activity's European basketball championships kicked off.
Wiesbaden, capitalizing on the energy of the home crowd, defended its Division I title, beating out solid performances from Stuttgart and Ramstein, which finished second and third respectively.
"It feels amazing," said Wiesbaden sophomore Trinity Williams. "We were under a lot of pressure to win it. We left everything on the mat."
In Division II, Rota, coming all the way from Spain, continued its winning streak, toppling Italy-based Aviano and American Overseas School of Rome — first and second runners-up, respectively — to defend its 2016 title in the team competition.
When the Sigonella, Italy, squad heard it was number 1 in Division III, team members jumped into the air, crying and hugging each other and their coaches.
"Winning is like the best thing imaginable," said Alexandra McKinney, a sophomore for the Jaguars. "All the work that went into it; the whole season. All the blood, sweat and tears. It paid off in the end."
Hohenfels was runner-up in Division III.
Spirit Awards were given to the squads that showed the best sportsmanship and energy while cheering during the basketball tournament this week. The awards went to Vicenza in Division I, Rota in Division II and Alconbury in Division III.
All-Tournament:Division I Miranda Walters (Lakenheath); Jordan Green (Kaiserslautern); Karen Buck, Andrew Smith (Naples); Ymani Jones, Miley Clarke (Ramstein); Shariah Quinata (SHAPE); Sean Collins Jr. (Stuttgart); Kaely Wilson (Vicenza); Alannah Clark (Vilseck); Ahlia Patton, Ta'Nya Thomas (Wiesbaden).
Division II Marika Chabot (AFNORTH); Martina Barbaro, Greta Gamboni, Zachary Logue (AOSR); Myja Binns, Vamique Morris (Aviano); Kalea Hahm (Bitburg); Emma Bond, Kendell Demeritt, Aliah Gipaya (Rota).
Division III Isabel Black (Alconbury); Kacie Baldevia (Baumholder); Mason Jannise, Mason Ott (Hohenfels); Latatayona Jefferson, Mackenzie Taylor (Sigonella).
---
---
---
---