Changes to PCS moves coming late spring
---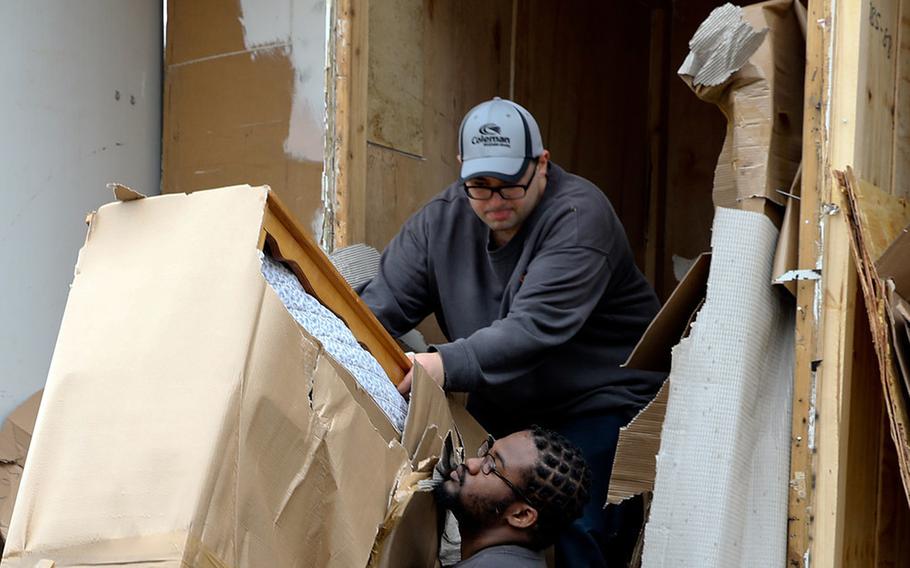 GRAFENWOEHR, Germany ― The military this spring will roll out changes to the way service members and their families move, including a new requirement that movers pass background checks and allowing more time to file claims for damaged household goods.
"The changes are focused on addressing the most common pain points we have heard from personnel and their families," said Transportation Command spokesman Dave Dunn. "We're also working to make sure all the information on move.mil is up to date for customers as they prepare for their moves."
The changes will take effect May 15, the start of the busiest time for permanent changes of station.
One of the most significant changes is the requirement for movers to pass background checks before they are hired.
"Enforcing background checks on movers will bring a peace of mind in the chaos of moving," Sgt. Gloria Lepko, an engagements chief with the 2d Marine Division said. "Knowing that your belongings are safe in the hands of a background-checked movers can be a huge relief."
One of the men sentenced to jail last year for the violent attempted burglary of the home of an American family in Landstuhl, Germany, had a long criminal record. He and his accomplices found out through a moving company worker that the American family had high-value goods in a safe in their home.
Many moving company workers in Germany are short-term hires. It's unclear if they submit to background checks.
Under the changes, there will also be more time to file a claim for goods damaged during a move.
Service members would receive alerts while their goods are in-transit alerts, including an estimated arrival date.
"The in-transit visibility for families PCSing will allow for better planning and control of the stress that moving innately creates," said Capt. Ryan Doehrmann, a Marine logistics officer working with the Marine Corps Recruiting Command.
The other changes include a requirement that movers give at least 24 hours' notice before delivery, compensate customers when pickup or delivery is late, improved customer service, and the option for customers to have damaged items repaired or be financially compensated, based on estimates of what the repairs would cost.
---
---
---
---