Carter secures support for accelerated campaign against Islamic State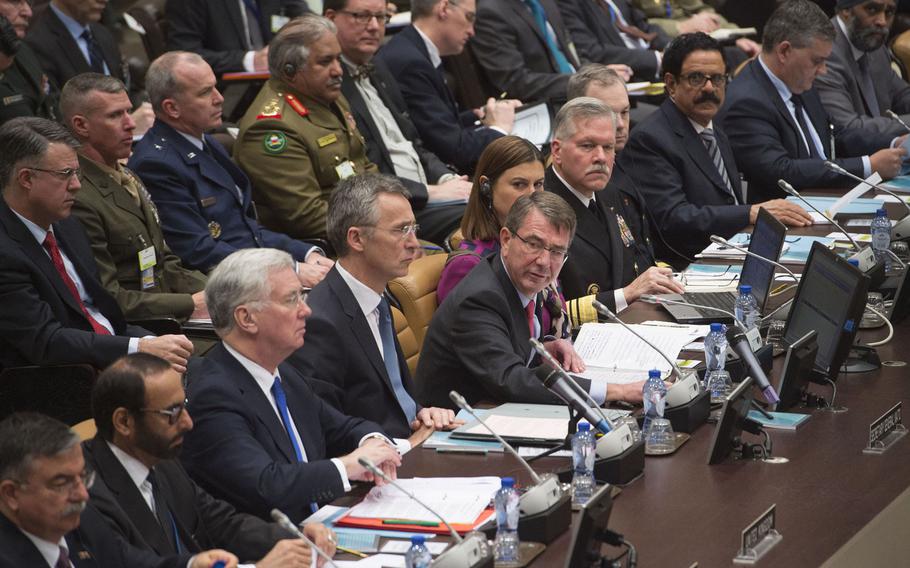 BRUSSELS — Defense Secretary Ash Carter said he secured unanimous support Thursday from allies in the U.S.-led coalition against the Islamic State group for an accelerated campaign against the militants as well as broad commitments for additional resources.
"This acceleration will require all of the coalition partners to step up," Carter said after a closed door meeting of defense ministers from NATO and other members of the coalition, including Iraq and Saudi Arabia.
Of the 66 coalition partners, only 12 besides the United States have contributed to the air campaign against the Islamic State in Syria and Iraq, where the militant group has seized large swaths of territory.
During the coalition meeting, Carter shared the Obama administration's military campaign plan, bringing in Army Lt. Gen. Sean MacFarland, the top coalition commander to brief the ministers about "the campaign progress and the way forward."
Carter said he secured "unanimous support for the campaign plan we have designed," and extensive pledges of additional support.
Nearly 60 percent of coalition members had already decided to increase their contributions to the campaign and an additional third had said they would seek parliamentary approval to do so, he said.
"Nearly 90 percent have stepped up to do more" in recent months and days, Carter said, either extending air operations into Syria, as the Dutch are prepared to do, or providing training or logistics. The Saudi defense minister indicated that his kingdom is "reinvigorating" its air campaigns, as well as offering training to military and police forces.
The coalition, Carter said, was clearly intensifying the campaign against the Islamic State.
"The U.S. has shown the way forward with our intensified operations," Carter said, and is "grateful ... the U.S. is not in the fight alone."
A joint statement issued after the meeting said the ministers agreed "as a matter of urgency, to accelerate and intensify the campaign, in order to deliver a lasting defeat to this barbaric organization as quickly as possible."
Recent "battlefield successes provide an opportunity to gather additional momentum in our campaign," it said.
Carter has repeatedly referred to the Islamic State group as a "cancer," which is spreading beyond and Syria and Iraq to other countries such as Libya and Afghanistan.
Carter said Italy had indicated a willingness to take the lead in Libya, a former Italian colony, which has an estimated 5,000 Islamic State supporters.
"Nobody wants to see Libya on a gliding slope to the situation now in Syria and Iraq," Carter said.
In an earlier news conference, Carter said the Islamic State had to be defeated in Syria and Iraq and the cities of Mosul and Raqqa recaptured, "and our operational focus is on that."
There is no time frame for beginning an offensive against Mosul, Iraq's second largest city, or Raqqa, in northern Syria, the de facto capital of the Islamic State's self-declared caliphate.
Coalition airstrikes helped Iraqi forces reacpture the Iraqi city of Ramadi in Anbar province late last year, creating a model for launching offensives in Mosul and Raqqa.
As Carter sought support on the military front, Secretary of State John Kerry was in Munich, Germany, trying to find a solution to Syria's five-year civil war. Russia and Iran are allied with President Bashar Assad, while the U.S. supports moderate rebel groups trying to topple him. The U.S. complains most of Russia's airstrikes have been against Western-backed rebels rather than the Islamic State.
"The Russians have overwhelmingly in their airstrikes struck targets, which are not ISIL targets," he said, using an acronym for the Islamic State group.
Despite additional pledges from coalition members, the U.S. remains the main contributor to the effort, flying the vast majority of airstrikes against Islamic State targets in Iraq and Syria. As of Feb. 1, of 10,060 strikes conducted over the past year and a half — 6,723 in Iraq and 3,337 in Syria, as of Feb. 1 — U.S. warplanes have conducted all but 2,124 of the Iraq hits and all but 208 in Syria, The Associated Press reported.
The coalition meeting followed a two-day gathering of NATO defense ministers, during which the alliance agreed to assist in the coalition's efforts by providing surveillance aircraft for operations in Iraq and Syria. The decision was in response to a U.S. request for NATO Airborne Warning and Control System aircraft, a sophisticated reconnaissance plane that can survey hundreds of miles of territory.
Carter said the anti-Islamic State coalition was exploring the possibility of NATO joining the coalition as a member itself, which would bring "unique capabilities."
---
---
---