Carter: NATO must gird for cyber battlefield
by
John Vandiver
June 25, 2015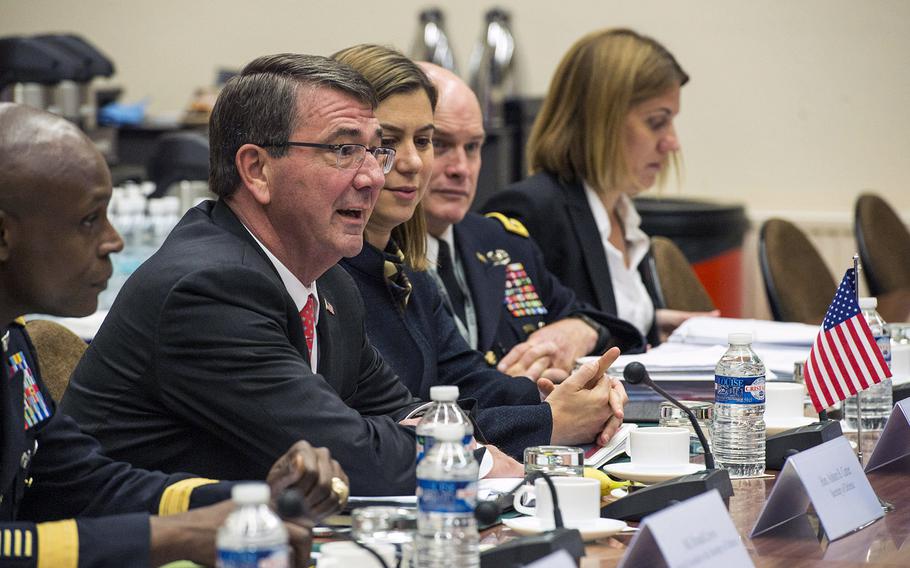 BRUSSELS — NATO needs to better prepare for unconventional hybrid threats, even as it heightens its military readiness, U.S. Defense Secretary Ash Carter said Thursday.
"I also asked allies to participate more in cyber exercises," Carter said at the end of a two-day meeting of NATO defense ministers here.
"To make sure allied nations are prepared to counter hybrid warfare, you need to understand tactics, techniques, procedures and resource implications that are required to do so. I've asked Secretary Stoltenberg to make this a priority at the next ministerial," he said referring to NATO Secretary-General Jens Stoltenberg.
During the meeting, defense ministers approved several concrete measures aimed at increasing the readiness and responsiveness of NATO forces, including giving the alliance's top military commander, Gen. Philip Breedlove, greater leeway in getting troops ready for rapid deployment and increasing the size of the NATO Response Force from 13,000 to as many as 40,000 troops.
The U.S. will support NATO quick-reaction troops in several ways, including strategic airlift, reconnaissance and surveillance, combat helicopters, a deployable command post and special operations forces, Carter said. Such enablers will help ensure NATO forces can move with greater speed.
However, there also is a growing need for NATO to deal with murky hybrid threats, such as cyber and misinformation campaigns military officials say Russia has carried out in Ukraine.
Breedlove told reporters that efforts are underway to help Baltic nations — formerly in the Soviet sphere of influence and worried about Russia's intentions — prepare for potential aggressive moves in the hybrid realm.
"We have forces from NATO and EUCOM, conventional and special, that are working with these nations," Breedlove said, referring to U.S. European Command, which he also heads.
Much of that focus is on strategies for identifying in the early stages when a hybrid assault is underway, so that actions can be "attributed" to an aggressor and reported to NATO leadership for possible action, he said.
Russia's deployment of hybrid warfare tactics in Ukraine has been unique, combining everything from propaganda aimed at undermining the Ukrainian government to deploying uniformed soldiers without national insignia, Breedlove said.
"You have seen a very potent disinformation campaign playing out," Breedlove said.
Meanwhile, Moscow maintains a large force along the border with Ukraine that is well supplied and trained, raising concerns about further aggression, he said.
Reports have estimated as many as 7,000 Russian troops on the border, a number Breedlove declined to verify.
"That number is going to be exactly wrong because it is not exactly right. But I would say that (7,000 number) is an indication of the fact there is a steady constant flow of men, equipment, supplies, and ammunition across that border."
For NATO, the crisis in Ukraine has given the alliance a new sense of purpose. With the war in Afghanistan drawing to a close and Europe generally stable, critics a little more than a year ago questioned the relevance of an alliance formed to counter the Soviet Union and its allies during the Cold War. Many of those former Soviet allies are now members of NATO, which is trying to strike a difficult balance of reassuring them and deterring aggression without sparking a new arms race with Russia. Already, Moscow has threatened countermeasures in response to a U.S. plan to position 250 tanks and other armor across the Baltics and central and southern Europe.
The new U.S. playbook in Europe is to be "both strong and balanced," Carter said.
"The future looks different than it did just last summer, both on the eastern flank of NATO and the southern flank," Carter said, referring to the growth of the Islamic State and other jihadist groups in the Middle East and Africa.
One nagging challenge, however, remains defense spending by member nations. Only five countries now spend the 2 percent of gross domestic product set as a NATO-wide goal. Carter said he urged members to meet their obligations.
Still, "while some in Europe are trying to make divisions and take us back in time, NATO allies are only growing more united in their resolve," Carter said.