Biden calls Europe 'the cornerstone' of US foreign policy
---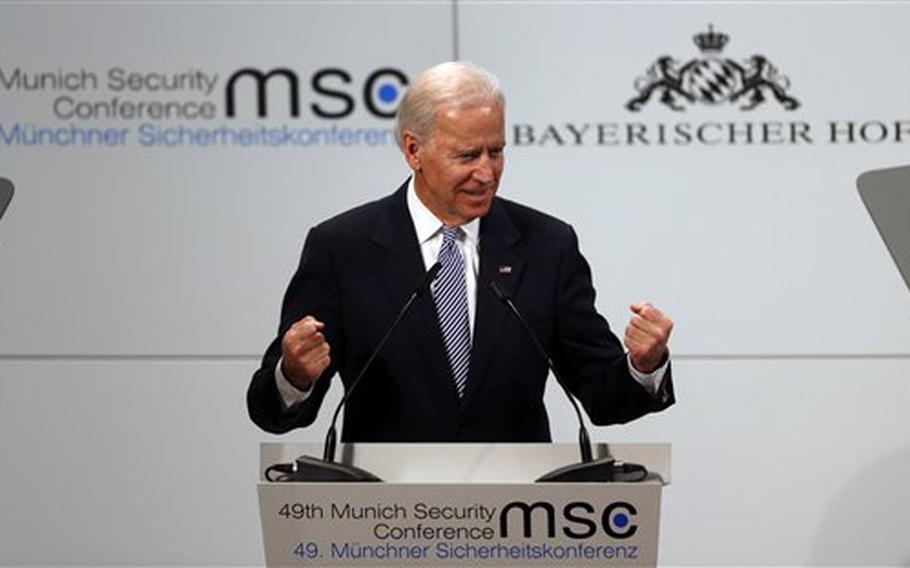 MUNICH — Reaffirming ties with Europe as U.S. foreign policy is shifting emphasis toward Asia, Vice President Joe Biden called for more trans-Atlantic cooperation in defense and trade as well as shared responsibility for combating Islamist militant threats worldwide.
"Simply put, President [Barack] Obama and I continue to believe that Europe is the cornerstone of our engagement with the rest of the world and is the catalyst for global cooperation," Biden said in a speech Saturday at the annual Munich Security Conference. "It's that basic. Nothing has changed."
The conference gathers world leaders and foreign policy experts for discussion of trans-Atlantic relations.
Negotiations with Iran, the militant threat in Mali and a resolution to the civil war in Syria represent shared challenges for Europe and the U.S., Biden said, as does the fight against Islamist militant groups across North Africa and the Middle East.
Renewing what has become an annual call by U.S. and NATO officials at the conference, Biden urged European leaders to increase defense spending, calling military action one of several tools needed to solve future problems.
NATO Secretary General Anders Fogh Rasmussen called for a "rebalance" of European militaries after the NATO-led International Security Assistance Force combat mission in Afghanistan ends in 2014.
Rasmussen envisioned a new era of cooperative training with an emphasis on missile defense, cybersecurity and special operations. He warned members not to run from commitment following Afghanistan but to "reinvest" in a serious training regimen.
"We must build on what we have gained in operations like Afghanistan, not cash in on what some consider post-ISAF dividends," he said.
Germany's foreign minister, Guido Westerwelle, countered calls for Europe to increase defense spending, emphasizing instead the need for greater cooperation among European countries.
"In a time of scarce resources, we'll hardly see growing defense budgets," Westerwelle said. "So, we have to find new routes to retain the capabilities for military defense and military security political solutions."
In his speech, Biden also reiterated American support for France's military intervention in Mali and its fight against al-Qaida in the Maghreb, which operates out of the country's desert north. The U.S. has provided key support for France's effort, including airlift, air-to-air refueling and intelligence, surveillance and reconnaissance.
"The fight against AQIM will be far from America's borders, but it is fundamentally in America's interest," Biden said.
The vice president also addressed U.S. relations with Russia, which have become strained since Biden's last visit to the conference, in 2009, when he announced a "reset" of the relationship between the two powers.
Differences on Syria and recent Russian decisions to restrict U.S. aid organizations and end U.S. adoptions of Russian children have soured a relationship once pursued optimistically by both sides. Saturday, Biden called for the two countries to continue to work on shared interests, including trade, the reduction of nuclear armaments and use of sea lanes in the Arctic newly opened by the melting of polar ice.
"These differences are real," Biden said. "But we continue to see opportunities for the United States and Russia to partner on issues that advance our security and the security of the global community."
Russia also has provided key air and land transit routes for NATO supplies to and from Afghanistan.
On Syria, Russian Foreign Minister Sergey Lavrov called for more work to resolve the 22-month conflict there, but he rejected any possible foreign military intervention, including the creation a humanitarian corridor supported by air power.
"Any use of force, any threat of the use of force will be unacceptable," he said.
Lavrov also said negotiations with Iran over its nuclear ambitions must exclude any suggestion of regime change as a possible outcome, something he said Iranians feared.
Biden reiterated the U.S. position that it would be willing to enter direct talks with Iran when senior leadership in the country gets "serious."
"But it must be real and tangible, and there has to be an agenda that they're prepared to speak to," he said. "We are not just prepared to do it for the exercise."
Biden's attendance comes as part of a five-day trip to Europe. In addition to meeting with Lavrov and others on the sidelines of the conference, Biden met Friday with German Chancellor Angela Merkel. On Sunday, he travels on to Paris for a meeting with French President Francois Hollande and then to London where he will meet with British Prime Minister David Cameron.
---
---
---
---