Aviano students readying robot for tech championship
---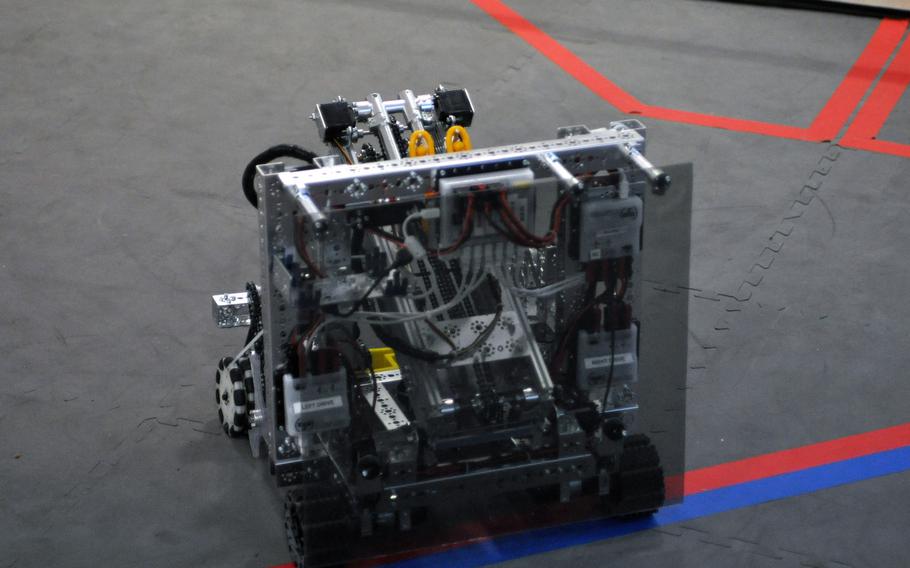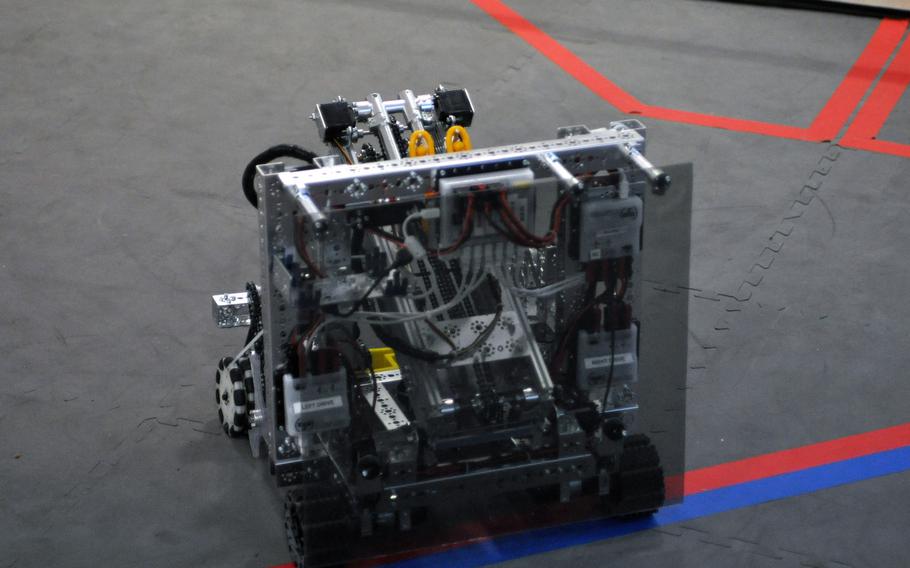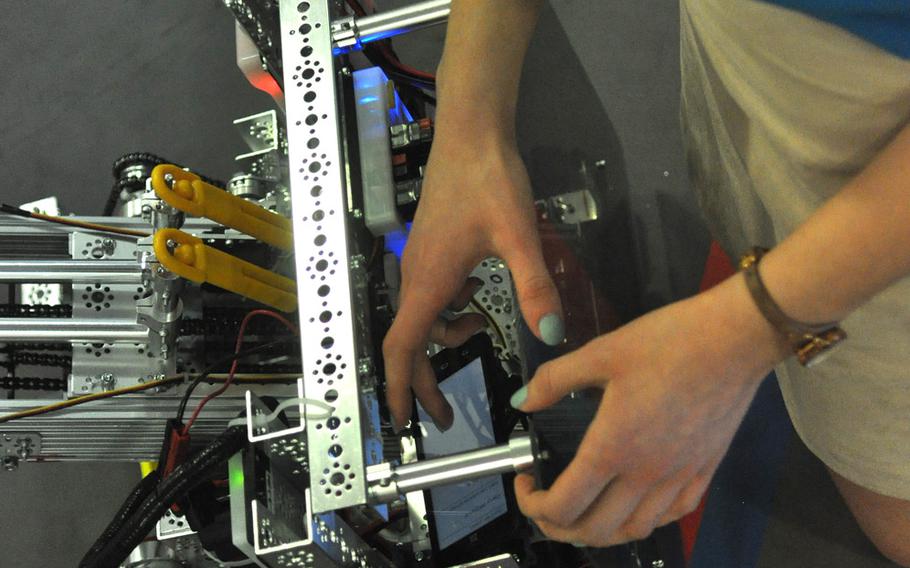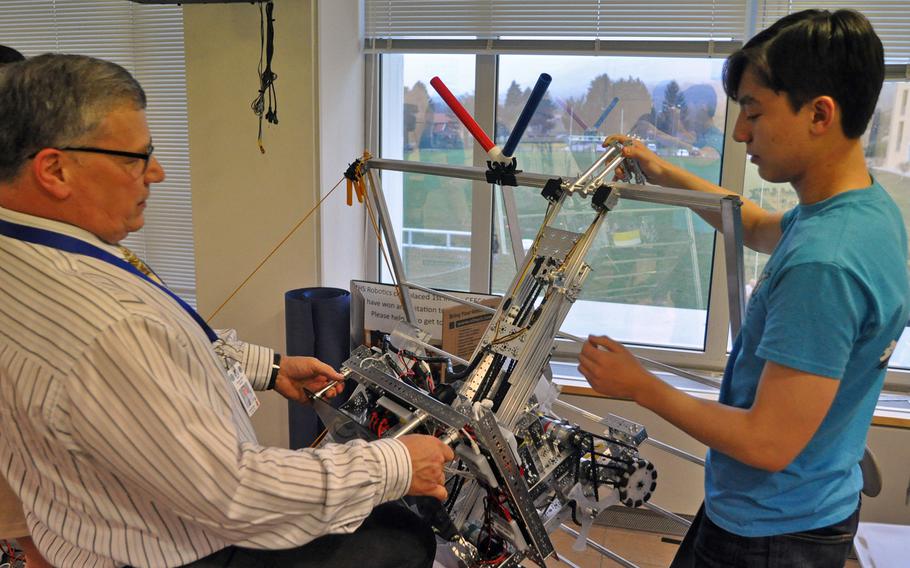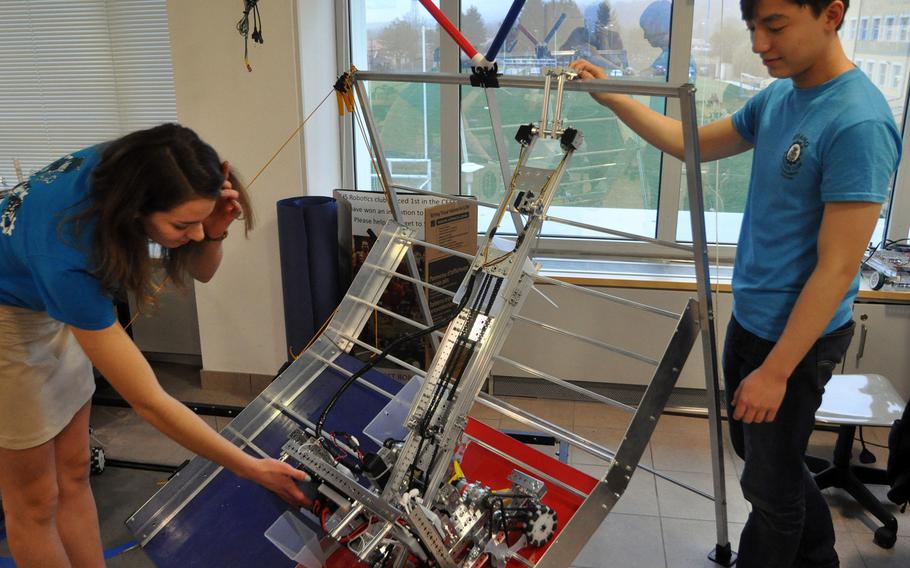 AVIANO AIR BASE, Italy — It doesn't really have a name, and not much of a personality. But a robot created by Aviano middle and high schoolers performed well enough to qualify for the FIRST Tech Challenge World Championships.
At a recent competition in Prague, the robot flipped over three times, said Julia Markel, the lead programmer on the 13-member team, which calls itself Robotica Santi Robotics Club. But it rallied enough to achieve one of the team's top goals: climb up a ramp and do a pull-up.
"We were one of the only teams that were able to do that," said Dave Izzo, the club's adviser. The robot's performance in Prague qualified the team for the championships, to be held April 27-30 in St. Louis.
If the robot, which Markel has unofficially dubbed "Marthjin" (Dutch for Martin), can duplicate that feat at the championships, it'll be awarded the highest points for a single action.
But, the Aviano-based team faces tough competition.
Most of the 128 teams that have qualified for the competition are based in the States. Many have corporate sponsors and/or professional engineers helping them out, the team members said.
"I'm competitive," Markel said. "But I understand our limitations. So I'm not going to be that competitive at the championships."
"Everybody wants to win," Izzo said. "But it's not really about the robots. It's about the learning, experimentation, teamwork and so much more."
The team spent months raising funds to defray the costs of taking the team to the championship. Izzo estimated it would cost $1,500 per student and the team has raised about 70 percent of its goal. Much of that has come from base organizations or individuals who have donated money or helped with fundraising.
Aviano is competing in one of two contests designed for high school students. Its robot is on the smaller end and has $3,000 in parts, Izzo estimates. A team from Wiesbaden, Germany, which Izzo credits with mentoring Aviano's program six years ago, annually competes in a different event with a larger robot.
Aviano's robot will perform actions in a 12-foot square arena featuring a pair of ramps at diagonal ends. The team will be randomly paired with another team and try to complete more actions for points than two other paired teams. The top teams eventually compete in the finals.
Each competition consists of a 30-second period where robots try to complete tasks just using pre-programing. After that, there's a two-minute period during which two students direct the robot's actions through remote controls.
Drew Gable, an eighth-grader and one of the youngest team members, said he's enjoyed spending three days a week during the school year coming up with improvements, then trying to make them work.
"A lot of our ideas start small, then get bigger as we experiment," he said.
Izzo credited lead engineer Kyle Kochan with two elements that could help Aviano complete more tasks at the championships. The team added cogs to help the robot climb the ramp and extended the reach of its arm from 45 inches to 51 inches since the Prague competition.
Izzo, who will retire from teaching at the end of the school year, said one of the main tenets of the robotics program — getting students interested in careers in mathematics or the sciences — is working.
Kochan, a senior, will be studying nuclear engineering at Penn State University in the fall after two years in the club at Aviano.
"I like tinkering a lot and I wanted to do something that would challenge me," he said.
---
---
---
---