GALLERY, VIDEO
Atlantic Resolve mission pushes beyond Baltics into Romania
by
John Vandiver
March 24, 2015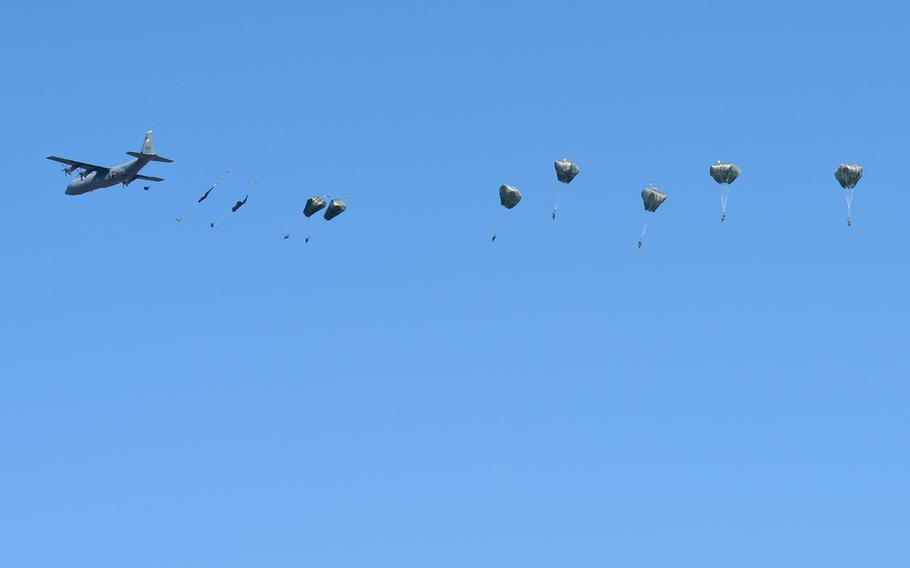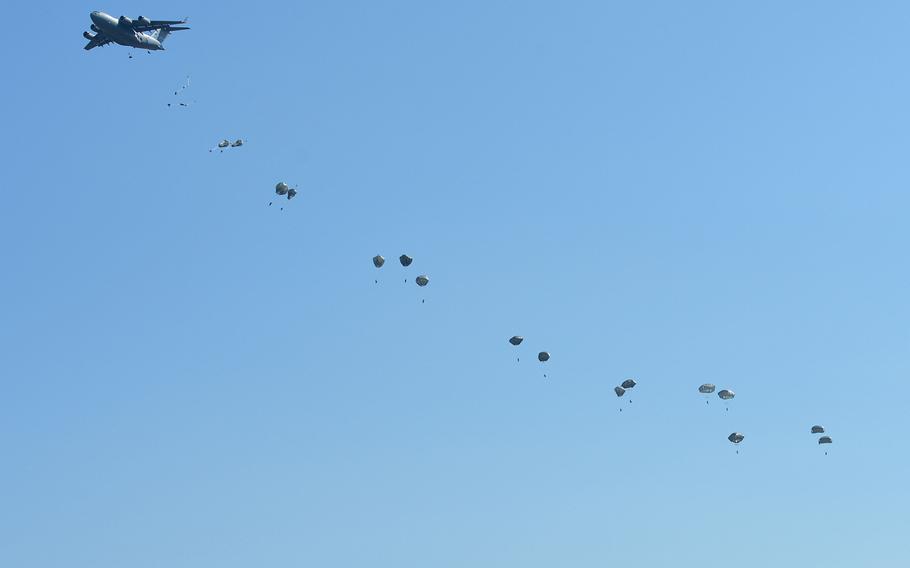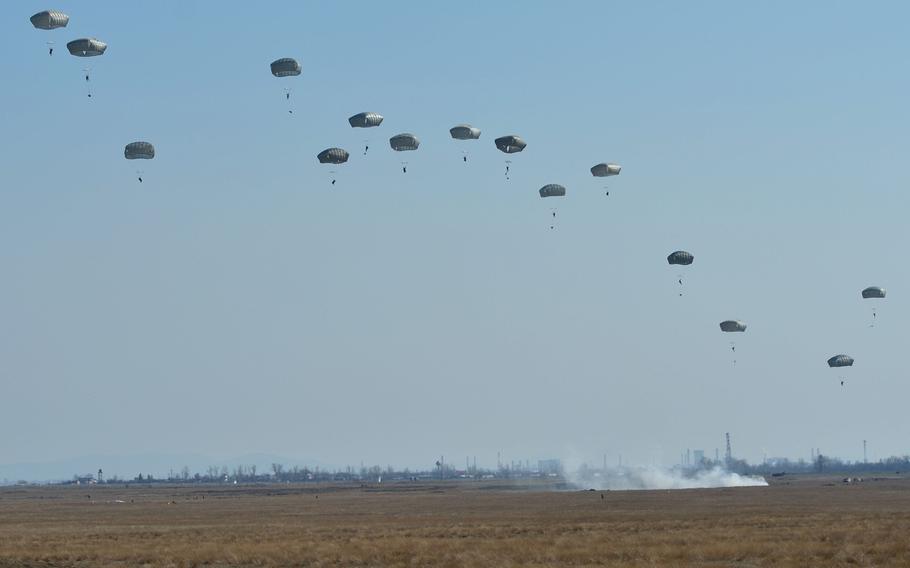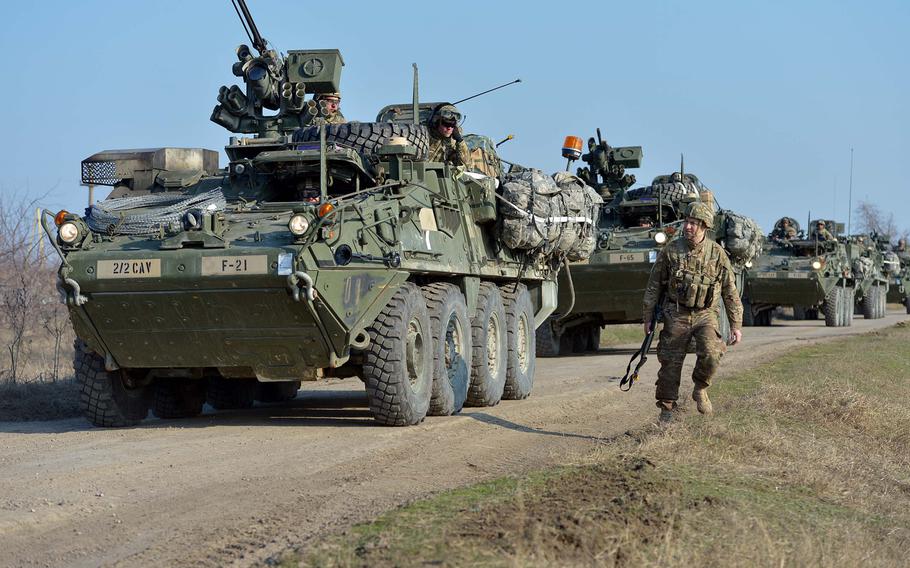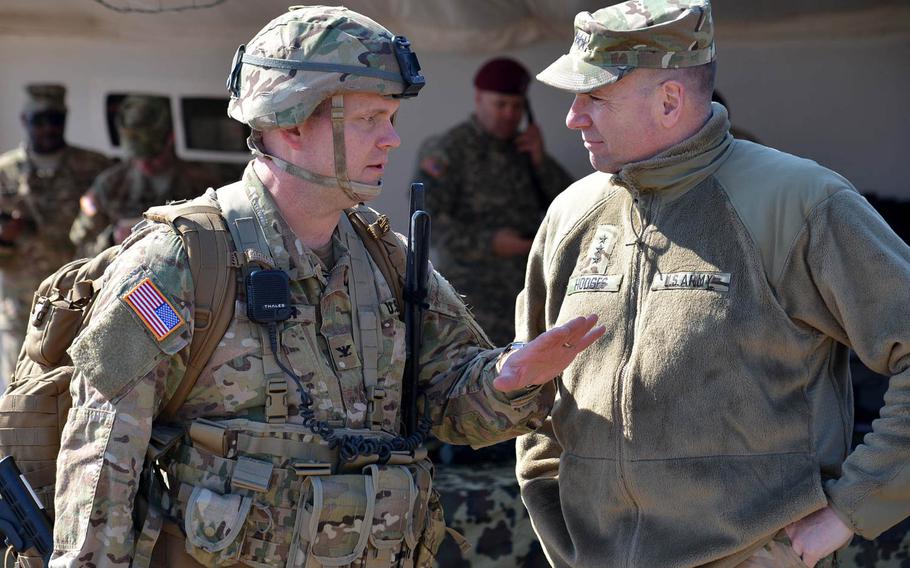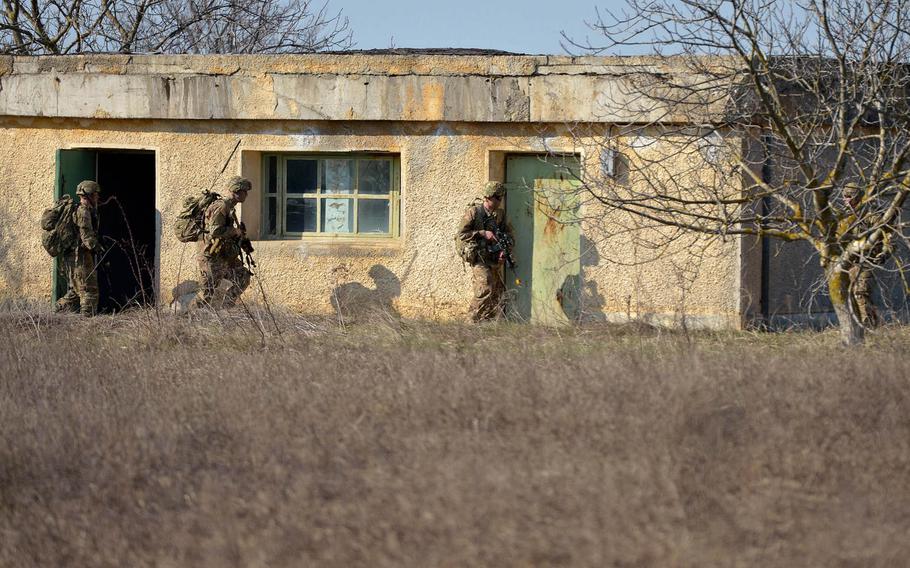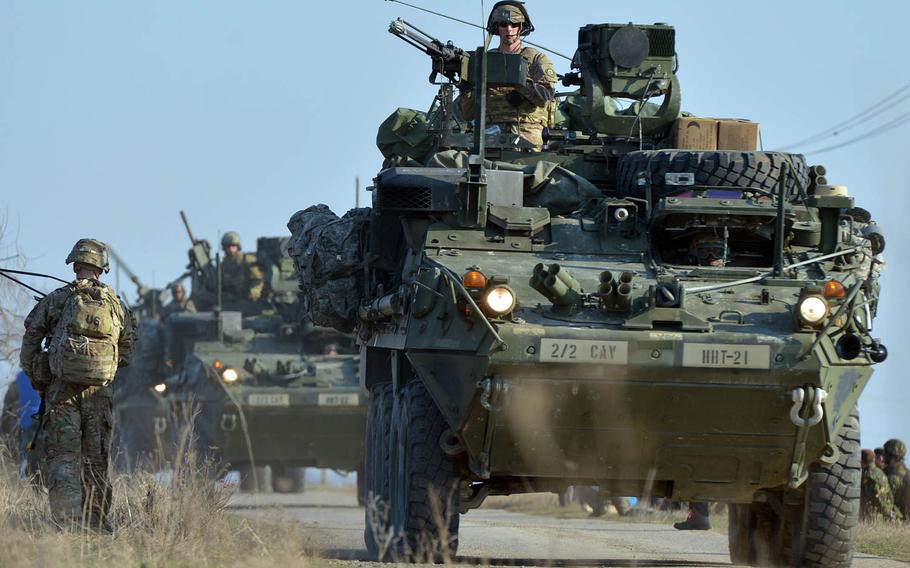 SMARDAN TRAINING AREA, Romania — Almost 200 U.S. paratroops dropped into Romania on Tuesday and were joined by a ground force of cavalrymen, marking the official expansion into southeastern Europe of a campaign to reassure allies worried about Russia's intentions.
For almost a year now, U.S. troops have maintained a constant presence in the Baltic states and Poland in response to Russia' seizure of Ukrainian territory. Now, Operation Atlantic Resolve is moving south, with a series of exercises slated to take place in Romania, Bulgaria — another NATO ally — and the Republic of Georgia, an aspiring NATO member.
"Today marks the beginning of Atlantic Resolve South," said Lt. Gen. Ben Hodges, commander of U.S. Army Europe, as soldiers with the Vicenza, Italy-based 173rd Airborne Brigade parachuted onto the training grounds in eastern Romania.
Tuesday's training exercise, which brought together troops from the 173rd with soldiers from the Vilseck, Germany-based 2nd Cavalry Regiment, is the beginning of what is expected to be a steady Army presence in the strategic Black Sea region, Hodges said.
Another major exercise, expected to start in May, will send U.S. troops across the Black Sea by ferry to train with Georgian troops.
Meanwhile, the mission on Tuesday, which included Romanian forces and was part of the Saber Junction exercise, was a test of the U.S. Army's ability to conduct quick-response missions, traveling long distances on short notice.
As Russia conducts snap exercises across its territory and moves large forces on short notice around the country, it is important for the U.S. and its allies to demonstrate their own capabilities, Hodges said.
"This shows we can do this, too," Hodges said.
On Tuesday, paratroops flew into Romania from Italy, parachuting into Smardan Training Area, where their task was to retake an airfield captured by a fictional enemy. Meanwhile, troops with the 2nd Squadron, 2nd Cavalry Regiment, convoyed three hours from Mihail Kogalniceanu Air Base, bringing about 20 Stryker vehicles with them. The task of the day was for the troops to gain control of the battlefield, with the 2nd Cavalry holding the territory.
While the 173rd will rotate back home in a few days, troops with the 2nd Squadron, 2nd Cavalry, will stay on in Smardan for about a month, working alongside their Romanian counterparts, soldiers said.
Sgt. Jordan Wright, 25, a member of the 2nd Squadron, said he expects the conditions during the next month on the Romanian training site to be austere but beneficial.
"I think it's going to build a stronger relationship," said Wright. "This is definitely a mission that feels good to be a part of and show commitment to our allies."
The increased U.S. presence across the Baltics and into the Black Sea region comes amid concerns over Russia's aggression in Ukraine and, more recently, saber rattling in connection with U.S. and NATO missile defense plans in Europe. Those plans include Romania. In recent days, Russian officials have also threatened that Denmark would be subject to nuclear targeting if it joined the missile defense effort.
For Hodges, such rhetoric is cause for worry and underscores the need to bolster readiness.
"Only Russia talks about using nuclear weapons. Only Russia threatens nuclear strike," Hodges said. "I think it is reckless language."
With U.S. troops arriving by air and land in Romania on Tuesday, the Army was able to show it can move forces quickly in response to a crisis, Hodges said.
"That's a big, long move that the Army has to be able to do," Hodges said. "That's just about the ultimate reassurance."
vandiver.john@stripes.com Twitter: @john_vandiver