At Spangdahlem, US F-16s are flying as airmen adjust exercise around the coronavirus
---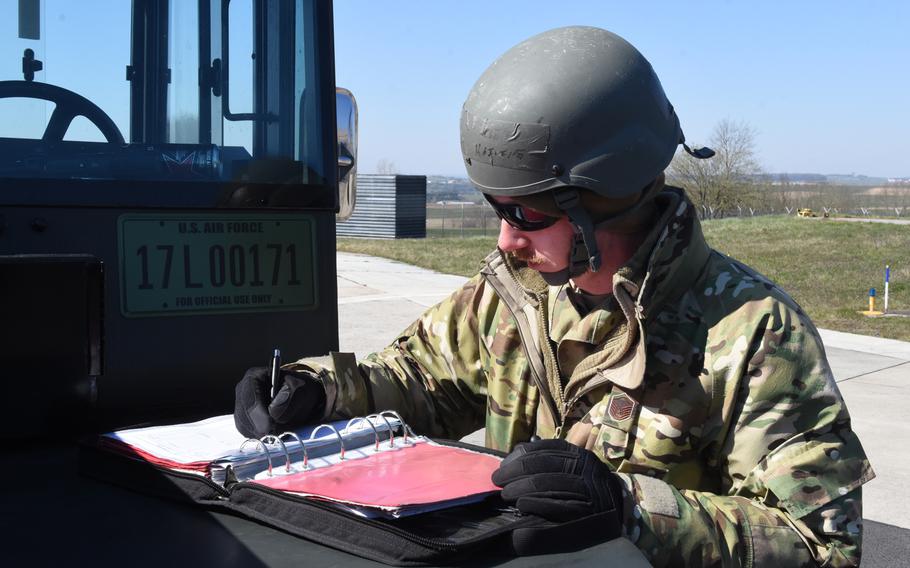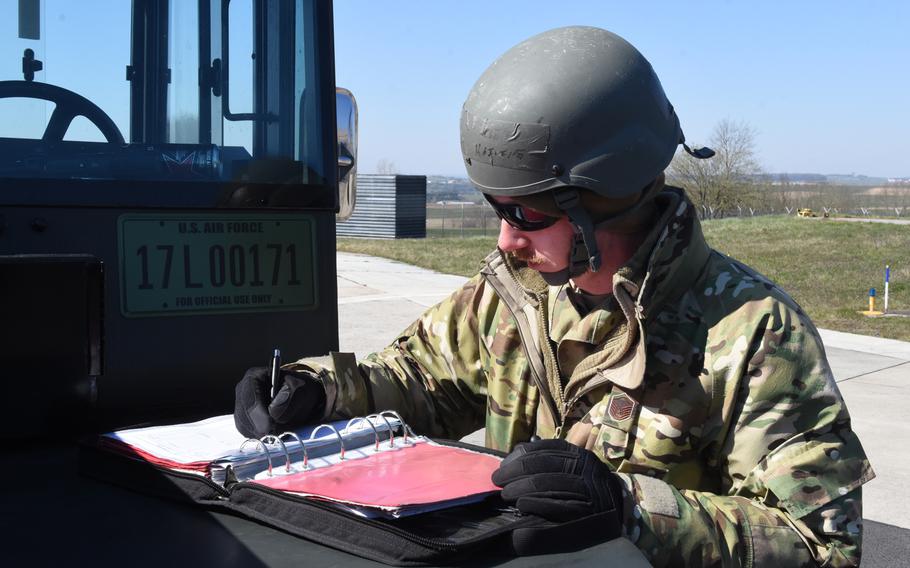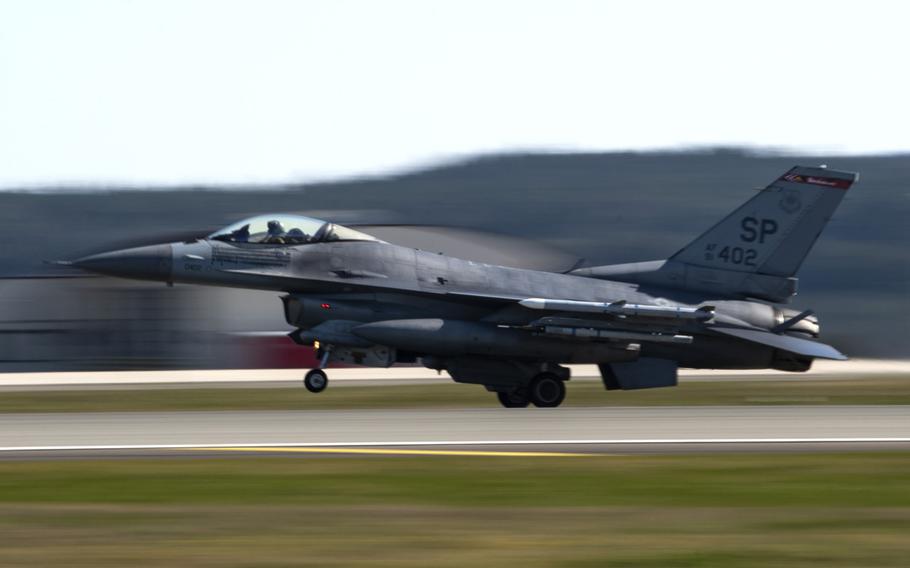 Stars and Stripes is making stories on the coronavirus pandemic available free of charge. See other free reports here. Sign up for our daily coronavirus newsletter here. Please support our journalism with a subscription.
SPANGDAHLEM AIR BASE, Germany — The coronavirus pandemic has stood daily routines on their head around the world, but at this Air Force base in Germany's rural Eifel region, one thing hasn't changed: The F-16s are still flying.
The 52nd Fighter Wing has been taking advantage of a late-March string of crystal-clear, sunny days in southwestern Germany and launching F-16 sorties as part of a combat readiness exercise — modified, of course, because of the coronavirus.
Spangdahlem reported its first confirmed coronavirus cases Thursday, after two airmen assigned to the wing tested positive, four days after they started experiencing symptoms, a base statement said. The members will remain in isolation for at least 14 days, officials said.
The wing has made adjustments to the exercise to minimize further risk to airmen, officials said before the announcement of the two cases.
"We are in a real-world COVID-19 environment, and in the future, it may be some other contagion or something like that, that we're dealing with," said wing commander Col. David C. Epperson, using the acronym for coronavirus disease.
"Our adversaries are watching how we're going to react to something like COVID-19," he said. "It's important for us to continue to exercise and to demonstrate that we have that mission readiness today."
The virus has infected more than half a million people on every continent except Antarctica and been blamed for more than 23,000 deaths as of Thursday.
Operations and maintenance crews have been split into teams that work on different days during the exercise, to allow them to maintain more social distance, Epperson said.
They alternate 10-hour shifts daily, instead of splitting two 12-hour shifts per day, shortening the typical, round-the-clock exercise schedule to reduce exposure.
"To load even a training missile on our aircraft requires three people," he said. "But by making sure that team is not close to my other team that loads munitions, I can make sure if one team gets exposed to COVID, the other team is still safe."
Keeping a safe distance from each other is tricky, but airmen are doing their best, said Master Sgt. Nicholas Kailing, a maintenance production supervisor.
"We're used to working very closely. We'll normally have three people in a three-foot area," he said.
Another adjustment is that video conferencing has replaced the face-to-face meetings that would normally take place during an exercise between the wing and leadership, Epperson said.
"It's just reminding people … that we can spread out, we can still communicate at a greater distance away from each other," he said. "And, really, it creates better security … we're not a concentrated target for an adversary."
The Agile Combat Employment part of the exercise, in which forces spread out and operate at various locations with minimal personnel, resources and time, has also been altered because of the coronavirus.
The plan before the pandemic was for a small team to set up at Ramstein for a few days and drop into another base farther afield to refuel, practicing how to pick up and go with the right items to sustain them for several days.
But the virus changed that and the team has instead set up on a separate area of Spangdahlem's flight line to simulate a forward operating site.
The airmen involved said that, even though they haven't left Spangdahlem, they've had to deal with spotty communication and long waits for small items, making them feel as if they're in a remote location.
After they unpacked, for example, and realized they'd forgotten to bring lightbulbs, they had to wait hours for them to be delivered — roughly the same time it would have taken had they been at Ramstein.
As a result, "we were in a dark tent for the first four hours of the day," said F-16 pilot Capt. Tim Miller, who's acting as a deployed squadron commander. "We're building the checklist as we go."
How to launch sorties with minimal resources while dealing with a contagious virus are among the many lessons being learned, Epperson said.
"We've had to adapt," he said. "It's not business as usual, but we have figured out ways to make sure we're still mission-ready."
svan.jennifer@stripes.com Twitter: @stripesktown
---
---
---
---