As Kerry blasts Russia's Syria campaign, Medvedev says US sparking new 'Cold War'
by
John Vandiver
February 13, 2016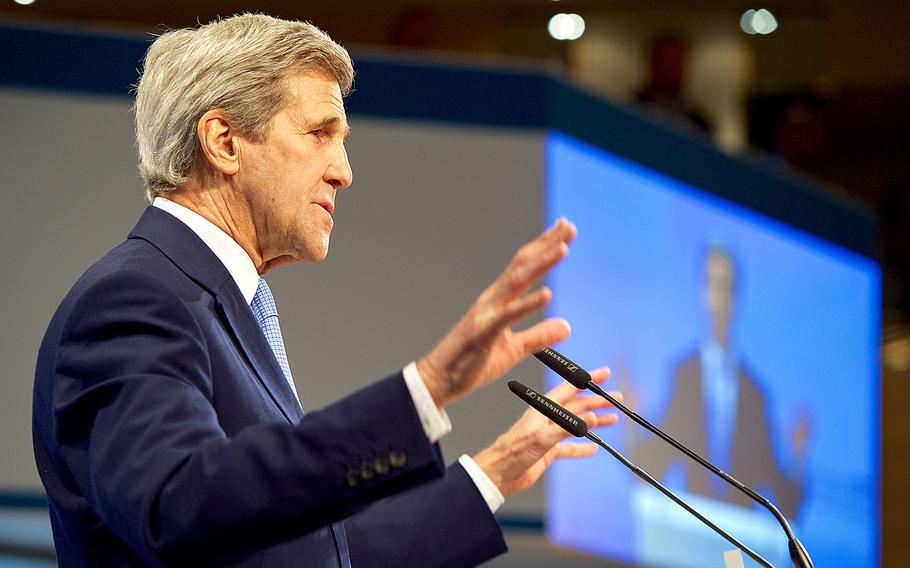 MUNICH — Prospects for advancing a cessation of hostilities in Syria appeared bleak on Saturday as U.S. Secretary of State John Kerry and his Russian counterpart traded accusations and cast doubt on the likelihood that any pause in fighting can hold.
Kerry, speaking at the three-day, annual Munich Security Conference, criticized the Russian bombing campaign in Syria, saying, "in our opinion, those attacks have been against legitimate opposition groups."
The West has accused Russia of targeting moderate opposition groups the West supports as well as killing civilians.
Russia's targeting must change, Kerry said, in order to adhere to an agreement he and Russian Foreign Minister Sergey Lavrov announced on Friday to work toward a cessation of hostilities within a week.
However, Kerry held out hope that the agreement will enable the flow of humanitarian aid beginning this weekend and could presage a wider deal.
"This is a hinge point," Kerry said. "Decisions made in the coming days and weeks and months could end the war in Syria or define a very difficult set of choices for the future."
In contrast, Russian Prime Minister Dmitry Medvedev spoke of the West sparking a new "Cold War" with Russia and said the West's description of its role in Syria was a fabrication.
"There is no evidence of our bombing civilians, even though everyone is accusing us," Medvedev said. " It is just not true."
While the West sees the regime of Syrian Presidnet Bashar Assad as a magnet for jihadis and an obstacle to political reconciliation, Moscow sees Assad as central to reestablishing order in Syria, and deems his opponents legitimate military targets.
Such opposing views of the Assad regime and its role in Syria are likely to challenge any attempt at a political deal or cessation of violence and bombing, which the U.S. says should be restrictured to Islamic State targets and fighters with al-Nusra, an al-Qaida linked group.
"You shouldn't demonize Assad. You should only demonize terrorists," Lavrov said at a later panel discussion.
Lavrov said he was doubtful that a deal for a cessation to the violence could be reached, given competing agendas. He accused the U.S. of not recognizing Moscow's view that anti-Assad forces are valid targets. Asked about the prospects of being able to declare success a week from now, Lavrov said "49 percent."
British Foreign Secretary Philip Hammond, who was on the same panel, quipped in response: "I don't speak Russian, but I would say that is very close to zero." It depends on whether the Kremlin wants to deescalate, he said.
Kerry and Lavrov later met on the sidelines of the conference to discuss details of the agreement.
NATO's 2011 intervention in Libya, which overthrew a regime but spawned a security vacuum, is an example of rebel movements gone wrong, Medvedev said.
"I recall my colleagues welcoming the Arab Spring," Medvedev said. "Where are those modern democracies today? They have probably turned into the Islamic State group."
At the Munich conference, the crisis in Syria, refugees and the battle against the Islamic State group have dominated discussions at the forum, which brings together government leaders and experts to discuss pressing security issues.
Kerry said the U.S.-led coalition is making progress in the fight against the Islamic State group, also known as Daesh. The territory the group holds has shrunk, as local forces backed by airstrikes from the U.S.-led coalition have pushed the militants back, and a bombing campaign that is increasingly going after the militant group's finances is taking a toll, he said.
"Already we are seeing the results of this," Kerry said. " They (Islamic State) have had to cut paychecks to their fighters by 50 percent and in some cases cut it off entirely."
With tighter border controls, fewer foreign fighters are flowing into Syria, Kerry said.
The crisis has spilled over into Europe, where millions of refugees have fled, challenging the ability of European governments to cope with the influx and giving rise to anti-immigrant, nationalist sentiments.
"The United States of America understands the near existential nature of this threat to the politics and fabric of life in Europe," Kerry said.
Yet tensions with Russia and competing agendas are complicating efforts in Syria and beyond.
Medvedev accused the U.S.-led NATO alliance of sparking a return to Cold War-style tensions.
"NATO's policies related to Russia remain unfriendly and opaque — one could go so far as to say we have slid back to a new Cold War," Medvedev said.
NATO Secretary-General Jens Stoltenberg, however, said Russia's intervention in Ukraine and nuclear saber-rattling has forced the alliance to reinforce its defenses.
"There can be no choice between defense and dialogue. We need both. We need more defense and more dialogue," Stoltenberg said. "We are in a new reality with Russia, but we do need a constructive dialogue with Russia."