Army to get mobile short-range air defenses to protect brigade combat teams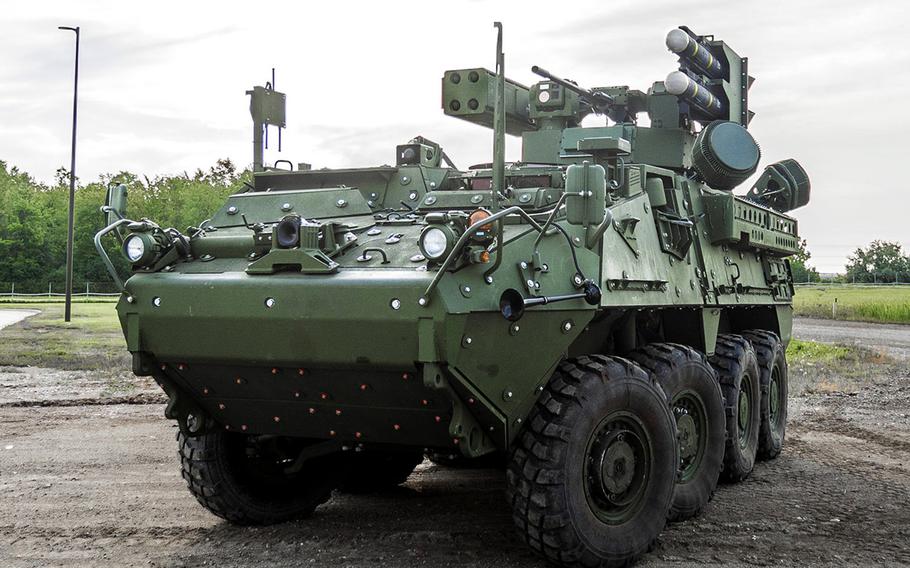 General Dynamics has been awarded a $1.2 billion contract to deliver a short-range air defense system to help protect soldiers from low-altitude threats such as ground support jets and attack helicopters.
A need for the Interim Maneuver Short-Range Air Defense system, which will accompany brigade combat teams on operations, was identified several years ago, as Russia beefed up its aerial attack capabilities. The award was announced as a study by the International Institute for Strategic Studies said the Russian military is more capable than at any time since the end of the Cold War.
IM-SHORAD will be mounted on a Stryker A1 platform and provide soldiers with protection using guns, missiles, rockets and onboard sensors, according to the contract announced Wednesday by U.S. Army Contracting Command.
The system will include a mission equipment package provided by Leonardo DRS and the Raytheon Stinger missile system, the contract said.
The initial plan was to equip four battalions with 144 IM-SHORAD systems and deploy them to Europe. But Defense Department plans to move forward with President Donald Trump's directive to pull 12,000 U.S. troops out of Germany, where the largest portion of American service members are based on the Continent, have made it unclear if the deployment will go ahead.
IM-SHORAD was supposed to undergo developmental testing in June, but the coronavirus pandemic and software problems delayed it.
The system is expected to enter service on Sept. 30, 2025, the contract said.