Army to deploy Israeli-made tank protection system in Europe next year
---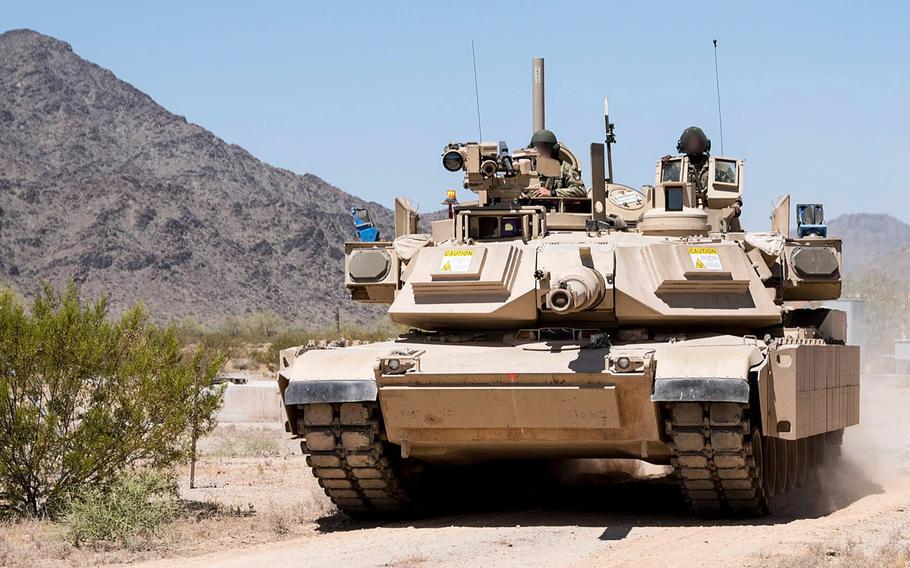 KAISERSLAUTERN, Germany — The Army has received an Israeli-made system that protects tanks from anti-armor missiles and will test it next year for the first time during the "Defender Europe" exercises.
Army units participating in the exercises will "field and conduct equipment training of the Trophy systems," U.S. Army Europe said in a statement Tuesday.
The military ordered the Trophy Active Protection System last year from Haifa-based Rafael Advanced Defense Systems. It took first delivery of the system earlier this month.
The Trophy was developed to counter "increasingly sophisticated anti-tank weapons as well as a new generation of anti-tank guided missiles that can defeat any main battle tank frontal armor," Rafael says on its website.
Modern anti-tank weapons such as the Russian Kornet man-portable missile can disable even the most heavily protected armored vehicle. But systems such as Rafael's Trophy use multiple radars to detect and intercept incoming rockets in flight, just before they reach the targeted vehicle. They can also locate the origin of the hostile fire, allowing for an immediate response.
Trophy protects armored vehicles using "soft kill" measures – electronic countermeasures or smoke grenades that confuse an incoming missile's guidance system – and "hard kill" devices, which destroy the incoming threat with counterfire. Due to their low weight and high capability, active protection systems are considered a cost-effective alternative to adding more armor to a vehicle.
First deployed on Israeli Merkava tanks in 2011, Rafael says that Trophy is the only combat-proven APS currently in service. Since 2011, "Trophy has made numerous combat interceptions with no injuries to crews, dismounted troops or damage to platforms," the company said in a statement earlier this month.
Companies in several other countries, including the U.S., Germany, Britain, China, Ukraine and South Korea, are currently developing APS.
Over the past five years, the U.S. military has been building up troop numbers and equipment in Europe as a counterweight to a more aggressive Russia. A key part of the effort has been rotating tank brigades from the U.S. to Europe to bolster NATO defenses.
The rotational force was needed because the Army no longer has an armored brigade permanently based in Europe, a result of the post-Cold War drawdown.
Defender Europe, the vast exercise where Trophy will be rolled out in Europe, will involve roughly 40,000 troops in all. The U.S. contribution will include three tank brigades. Equipment will begin arriving in February and exercises will be held in April and May across 10 different countries.
Stars and Stripes reporter John Vandiver contributed to this report.
---
---
---
---