Army readies plan to deal with coronavirus during Defender Europe exercise
---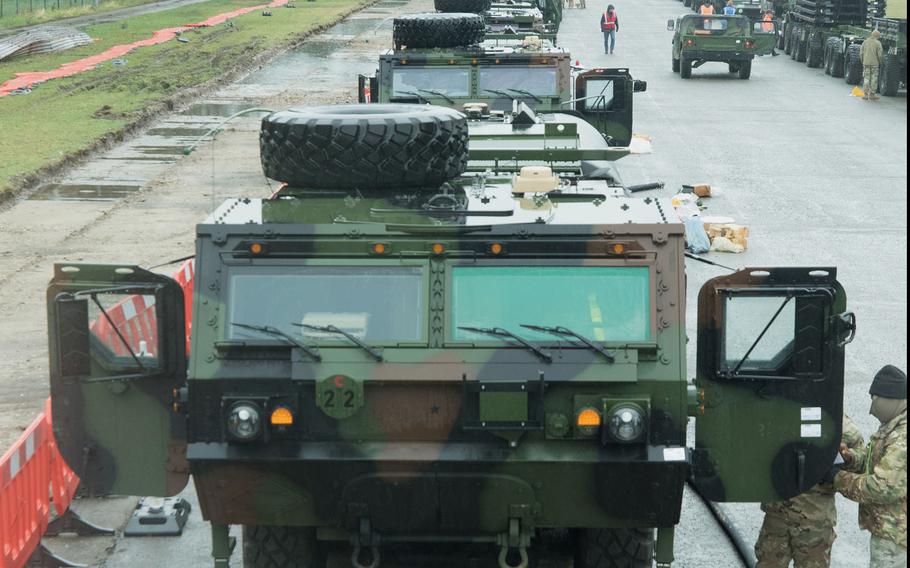 STUTTGART, Germany — The Army is "war-gaming" emergency plans that would be rolled out if the coronavirus afflicts troops taking part in Defender Europe 20, one of the largest military drills since the end of the Cold War, a top commander said Wednesday.
With the virus spreading rapidly, including in Europe, some 20,000 U.S.-based troops are rotating to the Continent for Defender Europe, which runs through July.
"We are working and war-gaming public health and medical support plans to identify any shortfall we might have and we are addressing those shortfalls and requirements with each individual host nation," U.S. Army Europe deputy commander Maj. Gen. Andrew Rohling told reporters.
"Robust medical support" has been incorporated into Defender to provide care for troops as needed, he said. The Army is aligning its plans with Defender's host nations to ensure a unified response if the virus impacts the exercise, Rohling said.
To date, no U.S. soldiers or members of the Army community in Europe have been affected by the virus, and troop and equipment convoys are proceeding as planned for Defender Europe, Rohling said.
The U.S. expects to spend about $340 million on Defender Europe, which is intended to serve as a test of military combat readiness and measure how effective the Army is at rapidly moving troops and equipment across the Atlantic.
The exercise is also intended as a stress test for increased logistics operations in Europe.
"We have gotten better, faster and more effective," Rear Adm. Peter G. Stamatopoulos, U.S. European Command's director of logistics, said in a recent interview.
Defender will use several methods to move gear to training grounds, ranging from barges on rivers to rail lines and road convoys.
About 15 of 27 planned air missions have been completed so far, bringing 3,500 soldiers to Europe, Rohling said. Four of 10 transport vessels have arrived, bringing with them 2,700 pieces of equipment, and more than 50 military convoys are underway in Germany and Poland, he said.
U.S. troops are expected to assemble at Ramstein Air Base for the exercise, which includes "forcible entry" operations, where paratroopers will launch crisis response missions into Latvia, Lithuania and the Republic of Georgia.
Restrictions on entry into Georgia from Italy — which has the highest number of deaths from the virus outside of China — do not affect Defender-connected activities in the country, Rohling said. Seventy-nine people have died of the coronavirus in Italy, the country's civil protection agency said Tuesday, according to Italian media reports.
While equipment and personnel began arriving in Europe in February for Defender, the exercise's main action will occur from April to June, before the exercise ends in July.
vandiver.john@stripes.com Twitter: @john_vandiver
---
---
---
---