Army puts off-base clubs, lounges, restaurants off limits as military coronavirus cases rise in Germany
---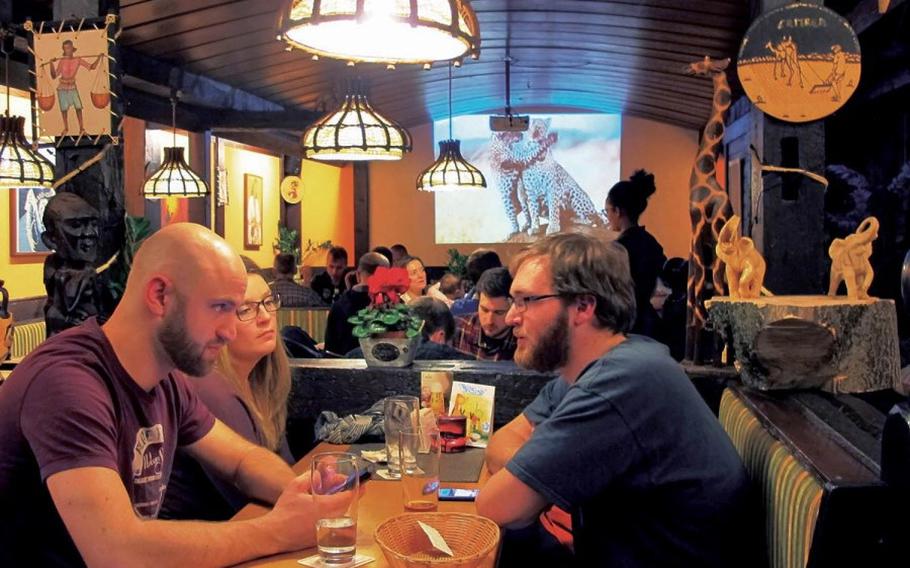 Read more coronavirus coverage from Stars and Stripes.
KAISERSLAUTERN, Germany — U.S. troops in several European countries were ordered Saturday to stop using off-base hangouts like hookah lounges and bars amid a flurry of new coronavirus cases within the military community in Germany.
Some bases in Europe were also limiting or changing on-post services to help combat the spread of COVID-19 as four new cases of the disease were reported among service members and base workers, more than doubling the number of known cases among U.S. military-connected personnel on the Continent.
Maj. Gen. Christopher O. Mohan, the Army's 21st Theater Sustainment Command commander, signed a temporary policy Saturday barring military personnel at Army bases within his area of responsibility from going to off-post night clubs, dance clubs, movie theaters, pools, spas, massage parlors, hookah lounges and the indoor seating portion of restaurants.
Sitting in outdoor tables at restaurants and picking up carry-out orders was still authorized, the policy says.
"This is not an exhaustive list and includes other high-density locations," it states, including any such establishment where it is not possible to maintain at least 1-meter interpersonal distance or there is increased risk of close personal contact with others.
All services on military installations are still authorized, Mohan's letter says. Military personnel may still use off-base pharmacies, gas stations, medical facilities, places of worship and stores necessary to buy essential goods, such as food and household staples.
Mohan also encouraged all civilian employees, contractors and family members to comply with the policy.
"Everyone has an obligation to reduce the risk of spreading the virus; the combat readiness of our formations depends on it," he said.
Mohan is the senior officer for Army installations within U.S. Army Garrison Rheinland-Pfalz, U.S. Army Garrison Benelux, Kosovo, Romania and Bulgaria. The 21st TSC, which he commands, includes some 11,000 soldiers and civilians who support the Army's troop movements across Europe.
Also on Saturday, U.S. Army Europe reported that a soldier assigned to its headquarters in Wiesbaden tested positive for the virus the day prior. The command's top general and members of his staff have been working in isolation since earlier this week, after learning they potentially had come in contact with an infected person at a conference of senior military officials from throughout Europe last week.
USAREUR did not provide further details about the identity of the infected soldier.
"The Army has begun the process of tracing and contacting people with whom the Soldier might have had contact with over the past two weeks," the command said in a statement.
Two members of the military community in Stuttgart have also tested positive for the virus, garrison commander Col. Jason Condrey said in a Facebook posting Friday evening.
"This has some implications," he said.
At eateries on base, it is now takeout only in hopes of preventing the virus' spread, Condroy said. All tables and chairs have been removed from eating establishments to ensure customers move in and out, he said. Also, all on-base gyms have been shut down.
In addition, the garrison also has set up a screening and testing facility open next to the Stuttgart health center should members of the community think they need a test for the virus, Condroy said.
At Ramstein Air Base, a civilian employee tested positive for the disease on Saturday, a spokesman said. So far no one who has been in contact with the person has tested positive, said Lt. Col. Will Powell, an 86th Air Wing spokesman.
To fight the spread of the disease, fitness centers on Ramstein and Vogelweh will be closed until further notice and the food court at the Kaiserslautern Military Community Center will be take-out or delivery only.
Vehicle Registration on Kapaun Air Base will be open on an appointment-only basis until further notice.
Ramstein's medical clinic will reduce its routine services starting Monday, with the sick call clinic in pediatrics going to appointment-only services. The pharmacy will no longer provide cold medications without a provider evaluation first.
The 86th Medical Group is standing up a separate clinical area to screen patients that have a higher risk of potential and previous exposure, and a local hotline will open to answer questions and triage patients on weekdays. The number is DSN 480-9001 or commercial 06371-47-9001.
So far there have been seven confirmed cases of COVID-19 among the U.S. defense community in Europe. Previously, a sailor's positive test was confirmed March 6 in Naples, Italy, a German employee of the Army in Bavaria tested positive Wednesday and on Thursday a U.S. civilian employee at Landstuhl Regional Medical Center in Germany also tested positive. The German was was being treated at a local medical facility and the other six individuals were in isolation, the military has said.
"Our priority is maintaining the health and safety of our Soldiers, civilian employees and family members to ensure our readiness, while implementing appropriate measures alongside our host nation partners to prevent the spread of the virus," said USAREUR chief Lt. Gen. Christopher Cavoli.
Stars and Stripes reporter John Vandiver contributed to this report.
svan.jennifer@stripes.com Twitter: @stripesktown
---
---
---
---