Army announces summer troop moves to Europe, Iraq and Afghanistan
---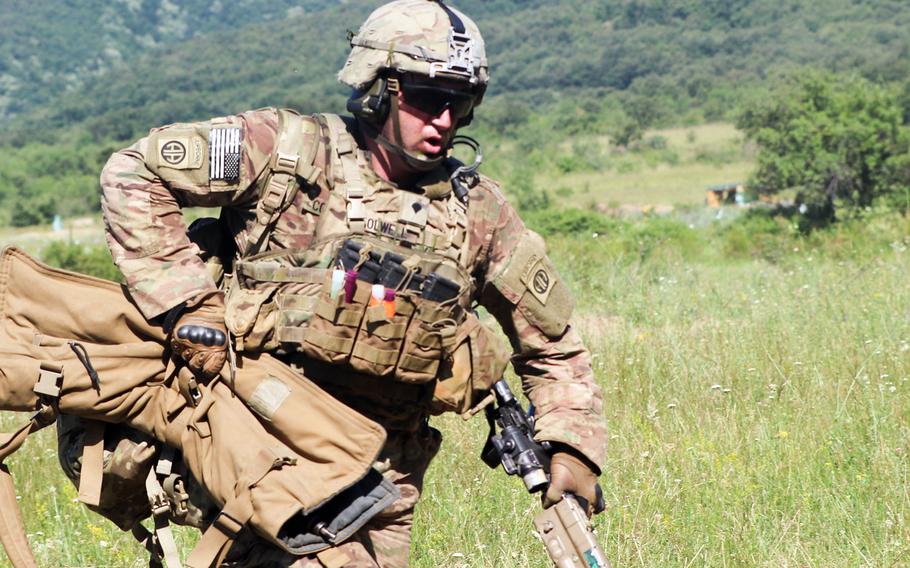 Stars and Stripes is making stories on the coronavirus pandemic available free of charge. See other free reports here. Sign up for our daily coronavirus newsletter here. Please support our journalism with a subscription.
STUTTGART, Germany — The Army is moving forward with plans for summer troop rotations to Europe, Iraq and Afghanistan even as the military grapples with the disruptive effects of the global coronavirus pandemic, the service announced Thursday.
The announcement came days after the Pentagon issued the latest version of a sweeping stop-movement order, aimed at stemming the spread of the coronavirus among troops. The latest order, which is scheduled to last through June 30, allows senior service officials to grant exemptions for service members whose new assignments are deemed essential to the Defense Department's overall mission.
Headed to Iraq are the 2nd Brigade Combat Team, 82nd Airborne Division stationed at Fort Bragg, N.C., as part of a regular rotation of forces to support the ongoing campaign against the Islamic State group.
"Our paratroopers are honored to answer our nation's call to deploy and work alongside the international coalition in support of Operation Inherent Resolve," said Col. Jason Curl, commander of the 2nd BCT, in a statement.
The 4th Security Forces Assistance Brigade out of Fort Carson in Colorado will head to Afghanistan to replace the 3rd Security Forces Assistance Brigade.
SFABs are specialized Army units launched three years ago, is designed to provide higher-end training to partners. In Afghanistan, they have also been involved in combat operations.
"The 4th Security Force Assistance Brigade is ready to advise, support, liaise and assess our partnered foreign security forces in the CENTCOM AOR," said Brig. Gen. Mark H. Landes, head of Security Force Assistance Command.
The 4th Infantry Division Combat Aviation Brigade, stationed at Fort Carson, Colo., also is headed to Afghanistan as part of Operation Freedom Sentinel.
And the 2nd Brigade Combat Team, 1st Armored Division, stationed at Fort Bliss, Texas, will deploy to Kuwait as part of a regular rotation focused on maintaining ready forces in the greater Middle East.
Among troops heading to Europe are the 2nd Armored Brigade Combat Team, 3rd Infantry Division, stationed at Fort Stewart, Ga., which will be part of the Pentagon's Atlantic Resolve campaign, focused on deterring Russian aggression. They will replace the 2nd Brigade Combat Team, 1st Cavalry Division, currently on rotation in Poland and locations along NATO's eastern flank.
Overseeing the Atlantic Resolve campaign will be the 1st Cavalry Division Headquarters out of Fort Hood, Texas, which will deploy to Poznan, Poland this summer, the Army said.
"We have trained for many months to prepare to serve in Europe and we are excited to work directly with our allies and partners to deter potential threats," said 1st Cavalry Division commander, Maj. Gen. Jeffery Broadwater, in a statement.
The 101st Airborne Division Combat Aviation Brigade stationed at Fort Campbell, Ky., is also bound for Europe to replace the 3rd Infantry Division Combat Aviation Brigade, U.S. Army Europe said in a statement. The statement did not specify where on the Continent the 101st would be based.
Deployments to the Middle East are between six and 13 months' duration, while rotations to Europe typically last nine months. Most of the movements to Europe announced this week are for missions in Poland, where troops are focused on training with allies along NATO's eastern flank.
The summer moves were announced as the Pentagon continues to make wide-ranging adjustments, including canceling exercises and delaying troop movements, to try to curb the spread of the coronavirus. Some units, such as the 82nd Airborne Division's 1st Brigade Combat Team, which was rushed to Kuwait after Christmas amid escalating tensions with Iran, have had their deployments extended as the coronavirus pandemic led to widespread restrictions on civilian and military movement around the world.
vandiver.john@stripes.com Twitter: @john_vandiver
---
---
---
---