American in Kaiserslautern tests positive for coronavirus as total active cases in area fall
By
Marcus Kloeckner Jennifer H. Svan
June 22, 2020
---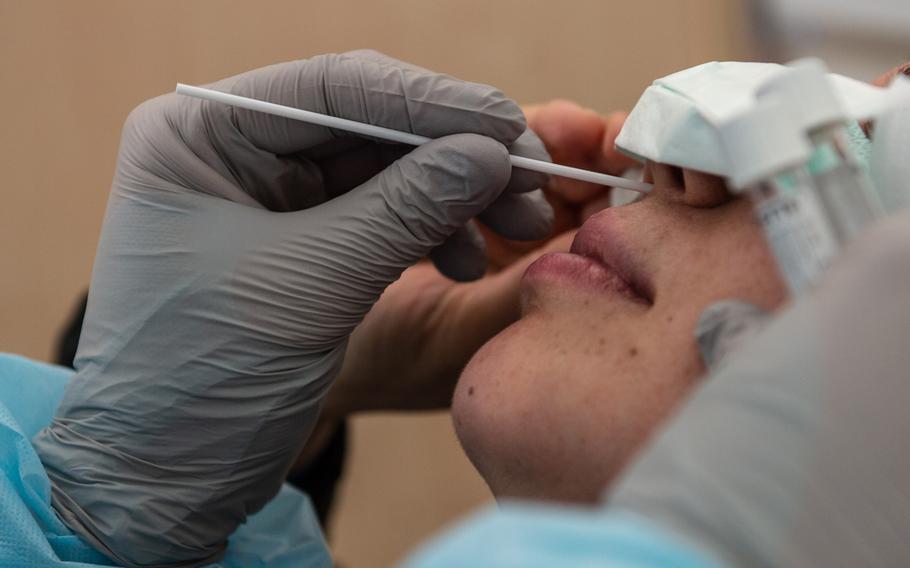 Stars and Stripes is making stories on the coronavirus pandemic available free of charge. See other free reports here. Sign up for our daily coronavirus newsletter here. Please support our journalism with a subscription.
KAISERSLAUTERN, Germany — A member of the U.S. military community in Kaiserslautern has tested positive for the coronavirus, marking the first confirmed case among defense personnel in the area in more than a month.
The American is a resident of Ramstein-Miesenbach, said Georgia Matt-Haen, a spokeswoman for the Kaiserslautern landkreis, which is roughly equivalent to a district or a U.S. county.
No other details were releasable, including whether the person is a military member or a civilian, per district health department policy and at the request of local U.S. military officials, she said.
A base official at Ramstein on Monday declined to say whether the new infection involved a member of the 86th Airlift Wing, saying that "the Air Force and other military services will only provide total numbers of service members with COVID-19 at the service level," a measure intended to "protect operational security."
The 21st Theater Sustainment Command, which is responsible for Army personnel, said Monday that they had not reported any additional positive coronavirus cases in the area.
Ramstein's lack of disclosure differs from some other commands, which have notified military communities of individual cases while continuing to follow a Pentagon order issued in March that prevents commands from discussing local coronavirus infection totals.
At the Army's garrison in Stuttgart, leaders in virtual town hall meetings still keep members informed when new cases arise, as do commands in Japan and South Korea, without providing aggregate figures or the number of people in quarantine, in line with operational security.
The new infection within the military community was reported as the number of active net coronavirus cases in Kaiserslautern continues to fall.
"Last week, we had no new infections for five days in a row," Matt-Haen said.
The cases are reported by the district health office and part of a daily Facebook post from Kaiserslautern district commissioner Ralf Lessmeister. It lists coronavirus totals, including new cases and recoveries, for the city and district, and one category for "armed forces."
The data shows eight cases for the armed forces, a net increase of one for the first time since May 16. The other seven are all considered recovered.
It's unclear whether armed forces refers to U.S. personnel only, or all military members living in the Kaiserslautern area. Personnel from other countries assigned to NATO work at Ramstein.
The Kaiserslautern area has had a total of 291 confirmed cases of the virus, as of Sunday. All but 21 have recovered and six have died, according to the health office data.
The city and district, which include tens of thousands of Americans, have a population of about 256,000 in an area roughly as large as Austin, Texas.
In Germany there have been 190,559 confirmed cases of the virus, according to the Robert Koch Institute, as of Monday. Of those, 175,300 have recovered and 8,885 have died.
The agency on Sunday said the number of new infections in the country continues to decrease in comparison to previous weeks, with about four new cases, on average, per 100,000 inhabitants reported in the past seven days.
Despite the downturn, health officials continue to emphasize the practices of proper hand-washing, hygiene, physical distancing and wearing masks when distancing isn't possible.
The coronavirus health risk in Germany remains "very dynamic and must be taken seriously," the Robert Koch Institute said on its website.
Stars and Stripes reporters John Vandiver and Kim Gamel contributed to this report.
svan.jennifer@stripes.com Twitter: @stripesktown
---
---
---
---