Airman's $15 invention could save the Air Force millions
---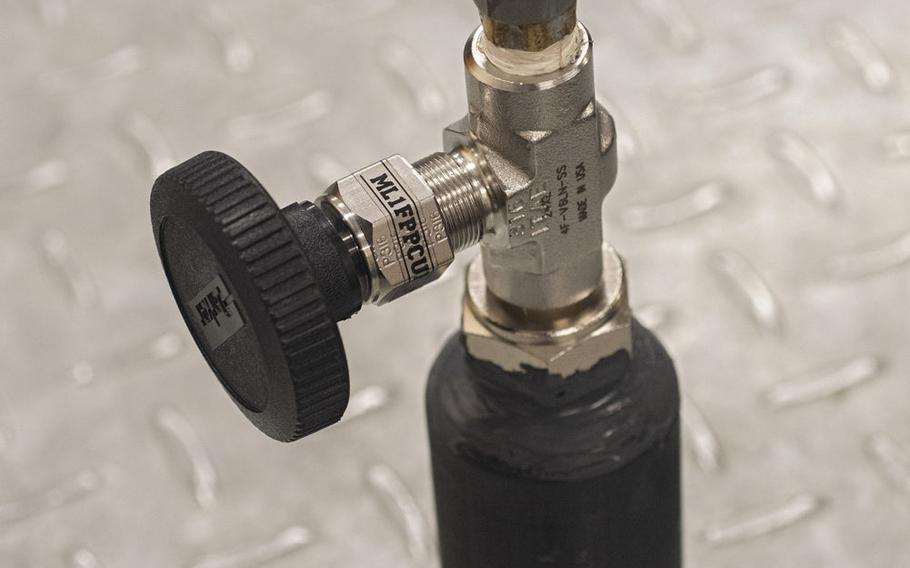 RAF MILDENHALL, England — A $15 tool developed by an airman at RAF Mildenhall could save the Air Force millions of dollars a year by greatly reducing the time needed to find fuel tank leaks.
The 3D printed, pressurized leak detection cup developed by Staff Sgt. Patrick Leach decreases by up to 75% the time it takes to detect leaks in fuel tanks, the 100th Air Refueling Wing said in a statement.
The new tool has been authorized for use on KC-135 refueler aircraft at RAF Mildenhall, where it's estimated it will save $1.5 million a year in man hours.
It works like a "reverse tire leak check by sealing the area where a leak might be, and pushing air back up the pathway to cause bubbles and foam inside the fuel tank where the leak is," Leach said in an interview Tuesday.
It cuts to about four hours the time it takes to find a leak, Leach said. Previously, it took eight to 12 hours and involved one airman spraying the outside of the aircraft with an air hose. Another airman wearing a respirator would be inside the tank, watching for bubbles or foam to form, indicating a leak.
The airman who had to crawl inside the fuel tank would "smell like fuel for a week," Leach said.
The tool has been tested on a fuel cell trainer and in simulated environments since September, said fuel systems section chief Master Sgt. Jonathan Harper.
Besides Mildenhall's KC-135s, Leach's invention is being considered for use on other aircraft at U.S. bases across Europe, the 100th Air Refueling Wing statement said.
"The ultimate goal is to be able to shape this to any aircraft, even if the wing has a weird design or angles or small areas," Leach said.
---
---
---
---