Air Force's Triple Nickel kept an eye on Aviano during 'memorable' 6-month Middle East deployment
by
Kent Harris
April 22, 2020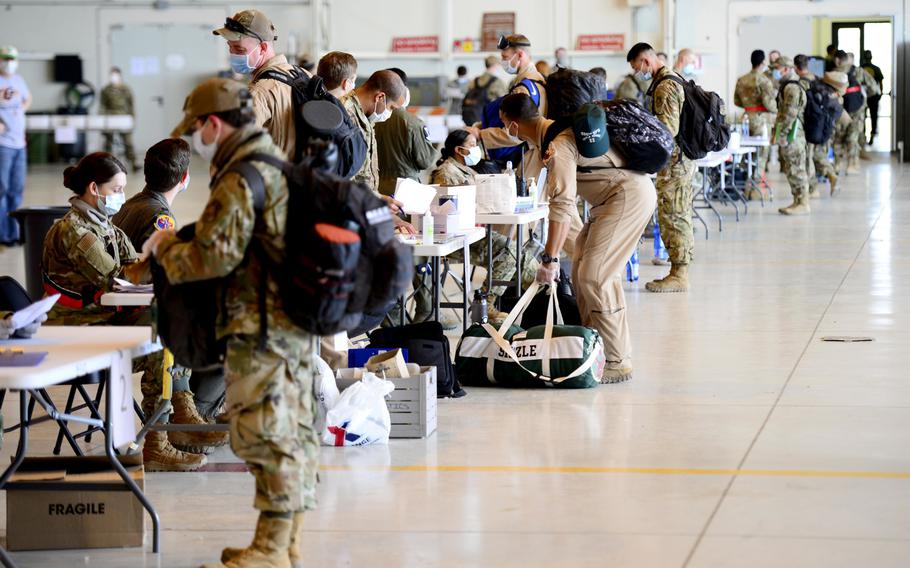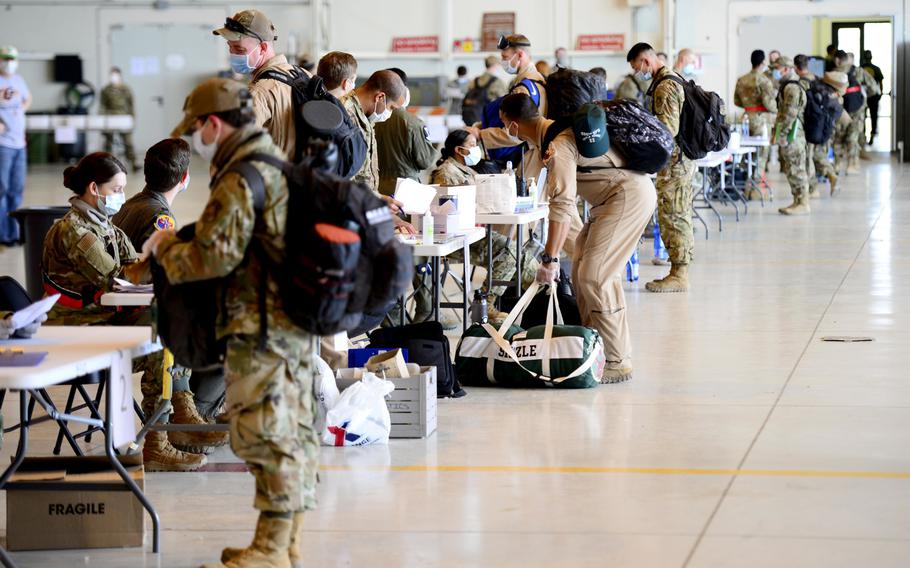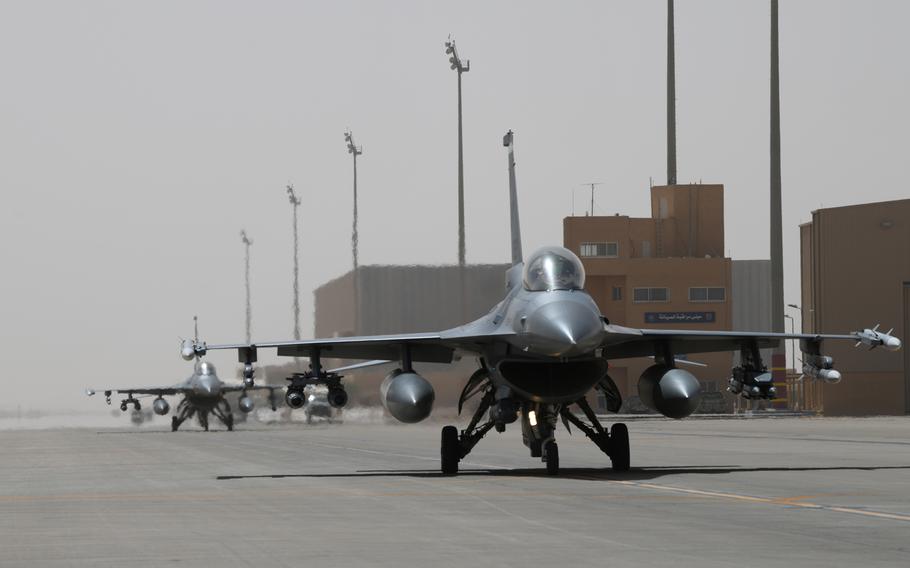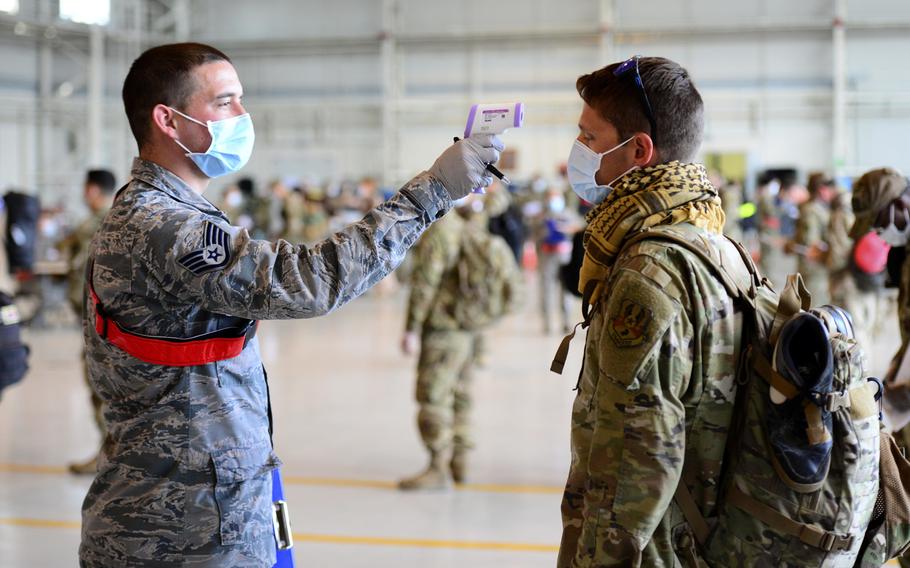 Stars and Stripes is making stories on the coronavirus pandemic available free of charge. See other free reports here. Sign up for our daily coronavirus newsletter here. Please support our journalism with a subscription.
AVIANO AIR BASE, Italy — A global pandemic wasn't on the checklist when the 555th Fighter Squadron prepared for a short-notice deployment in November.
Getting about 300 airmen, a dozen F-16 Fighting Falcons and tons of equipment ready for a departure to a base in the Middle East that hadn't seen fighter aircraft in years was challenging enough. Little did members of the Triple Nickel know what was in store.
"It was something we were ready for, but still unexpected," Senior Master Sgt. Keith Farmer, assistant superintendent of the squadron's maintenance unit, said of the deployment, which was announced two weeks before departure.
In recent days, the airmen and jets returned to Aviano — and to 14 days of quarantine in their homes, in line with Italian regulations.
The largest group was met Saturday outside a base hangar by Brig. Gen. Daniel T. Lasica, commander of the 31st Fighter Wing, and other base leaders — all clapping and wearing masks.
The squadron first deployed to Al Udeid Air Base in Qatar and later moved to Prince Sultan Air Base in Saudi Arabia during their six-month deployment.
Neither base had hosted a U.S. fighter squadron in about a decade, Farmer said.
The squadron flew 7,000 hours to support more than 1,200 missions, a wing statement said. Lt. Col. Beau Diers, the squadron commander, topped 3,000 flight hours in the F-16 in the process.
The deployment came amid tensions with Iran, which the Pentagon blamed for backing groups that had launched attacks on U.S. installations since May. In January, a U.S. drone strike killed Iran's Maj. Gen. Qassem Soleimani, whom the U.S. said had orchestrated attacks on U.S. interests for years.
The military also has thousands of troops in the region fighting the remnants of the Islamic State Group in Iraq and Syria.
Wing officials did not specify what missions the squadron focused on during the deployment.
Work kept the squadron busy, Farmer said, but many were tuned to the spread of the pandemic in their downtime. They adopted Pentagon guidance by making face masks and maintaining social distance, while having little contact with the locals. Contracting the virus didn't seem likely, Farmer said.
But back at their home base, coronavirus concerns mounted.
"We were monitoring it," Farmer said. "December, January, then in late February … everyone who had family back (in Aviano) was concerned. We were focusing on the mission, but … Italy was the epicenter of the world at that point."
The base's virtual town hall meetings answered a lot of questions and helped the group prepare for their homecoming, Farmer said.
While some might fuss at being restricted to their homes, Farmer isn't one of them.
"I just have to hang out at home with my wife and family and hug my kids," he said.
His wife, Naomi, is "glad to have me home for multiple reasons," Farmer said with a laugh.
A teacher at Aviano Elementary School, Naomi Farmer had to assume unfamiliar online teaching challenges when the school shifted to distance learning in late February. At the same time, she was trying to make sure her children, ages 7 and 4, were tuned into their lessons.
The strain on his wife was another concern for Farmer, but a spouses' network and other support eased his mind, he said.
Farmer has been on numerous deployments in his Air Force career, but the snap orders combined with the move during the deployment and the pandemic made this one stand out.
"'Memorable' is a fantastic word to describe it," he said.
harris.kent@stripes.com Twitter: @KentHar08780839