Air Force B-1 bombers fly over East Siberian Sea in latest US show of force
by
John Vandiver
September 11, 2020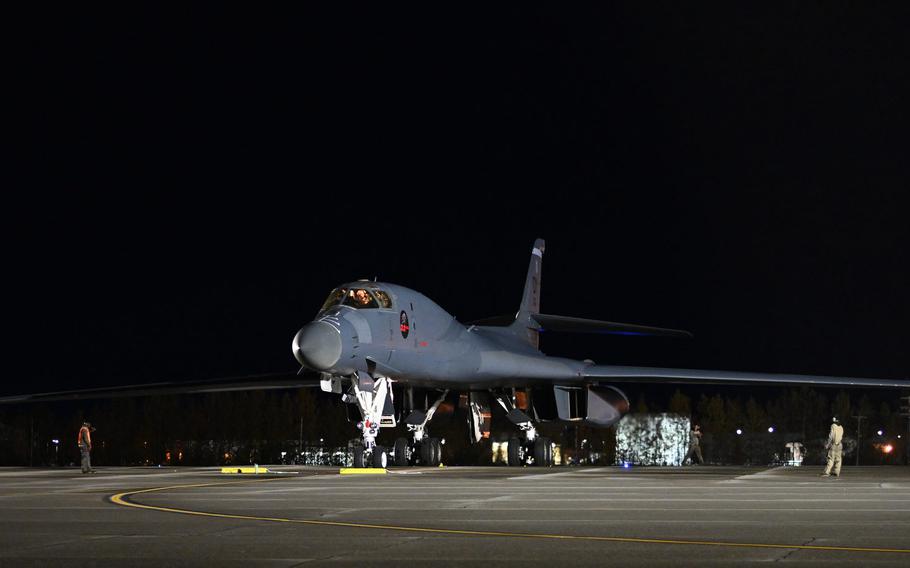 Three B-1 Lancer bombers flew above the East Siberian Sea near Russia on the eastern edge of U.S. European Command's territory this week, the military said Friday.
The B-1s, assigned to the 345th Bomb Squadron at Dyess Air Force Base in Abilene, Texas, "demonstrated how U.S. strategic bombers are able to support any mission, anywhere around the globe at a moment's notice," EUCOM said.
The 14-hour mission on Thursday was a precursor to the 345th's long-planned deployment to Europe, EUCOM said. After the flight, the aircraft and crew moved to Eielson Air Force Base near Fairbanks, Alaska, to prepare for the deployment.
During the past two weeks, the Air Force has been flexing its muscles in Europe, where six B-52s have recently flown missions stretching from the Baltic and Black Seas to northern Africa.
While the B-1s were flying toward Russia, Air Force B-52s, F-15s, F-16s and Marine Corps F-35s conducted drills in the North Sea with dozens of other allied aircraft. In all, more than 50 aircraft, including warplanes from Britain and the Netherlands, took part in the one-day Point Blank drill in the North Sea.
The B-1s' 4,300 nautical-mile journey marked the first time a European Bomber Task Force mission was supported by a U.S. Air Force Reserve B-1 Lancer unit, EUCOM said.
The exercises in Europe, which are aimed at deterring Russian aggression, have prompted complaints from Moscow and led Russia to launch several intercept flights, including some in international airspace.
vandiver.john@stripes.com Twitter: @john_vandiver