GALLERY
After years of downsizing, new Landstuhl commander foresees stability
---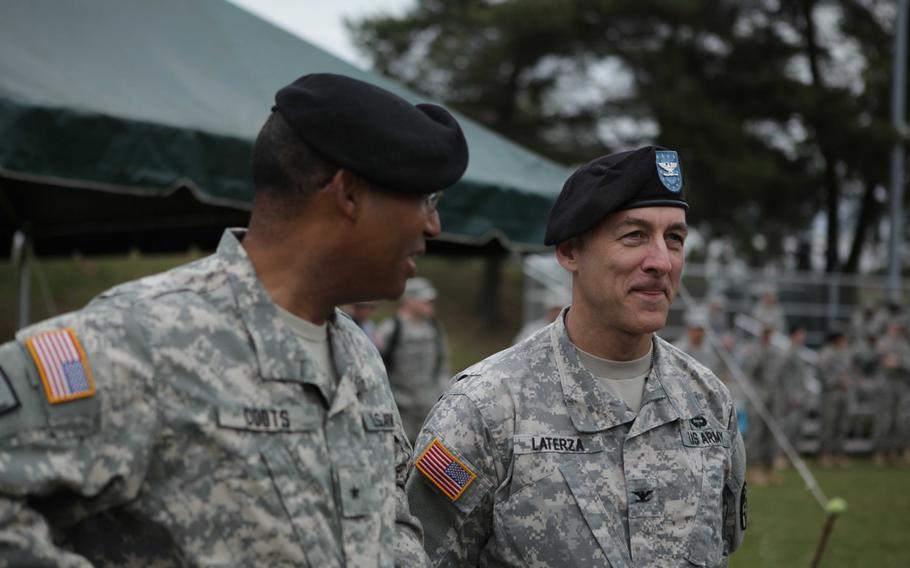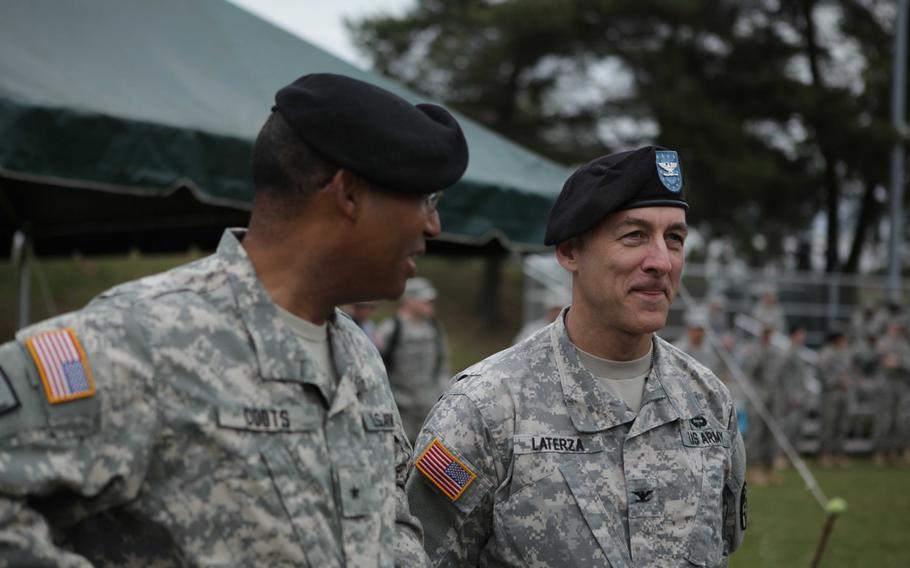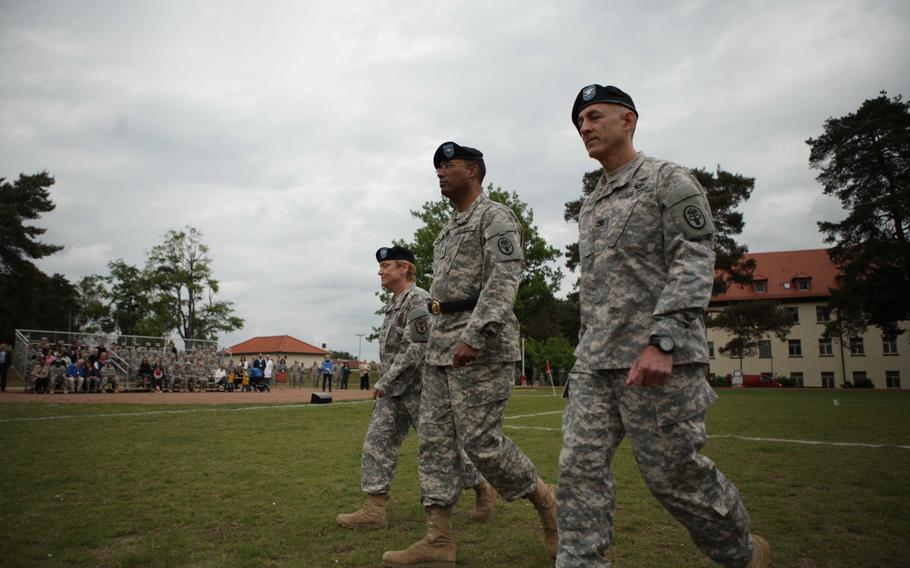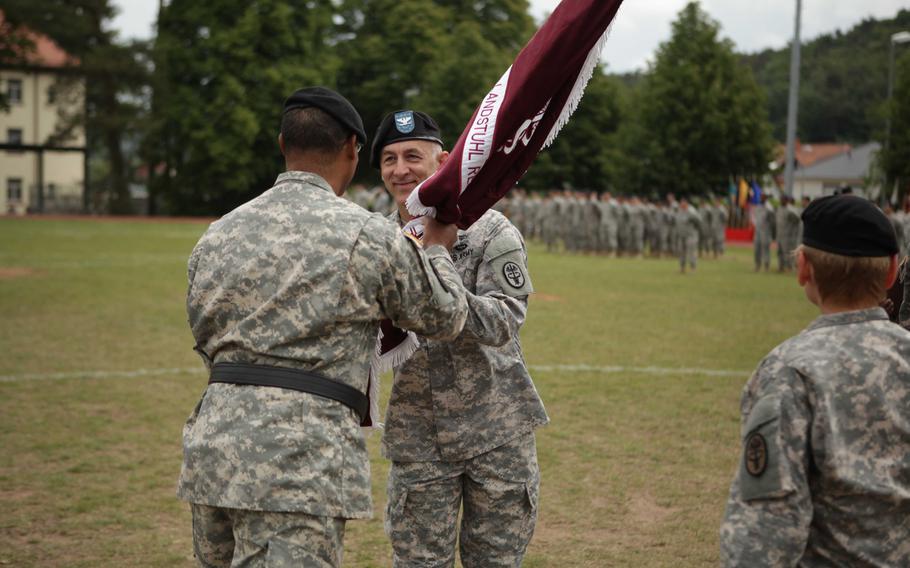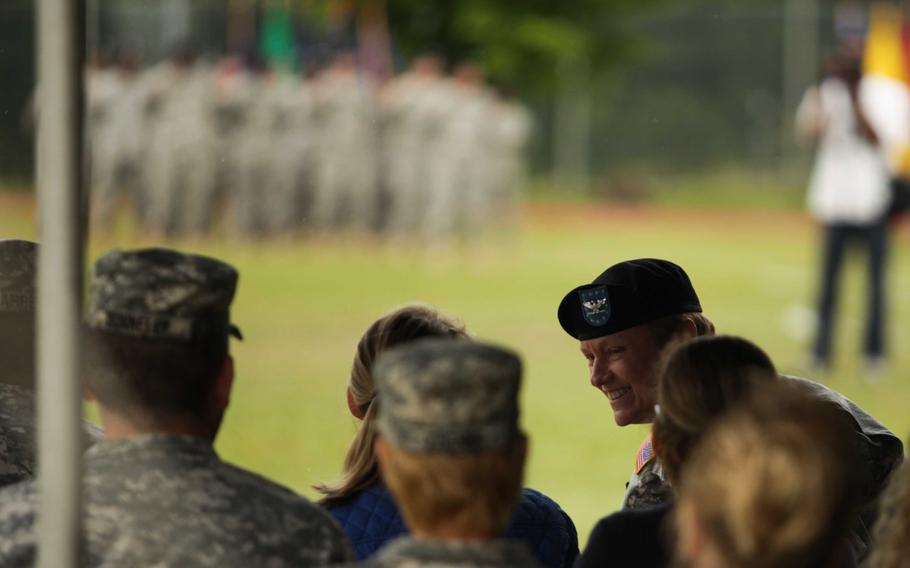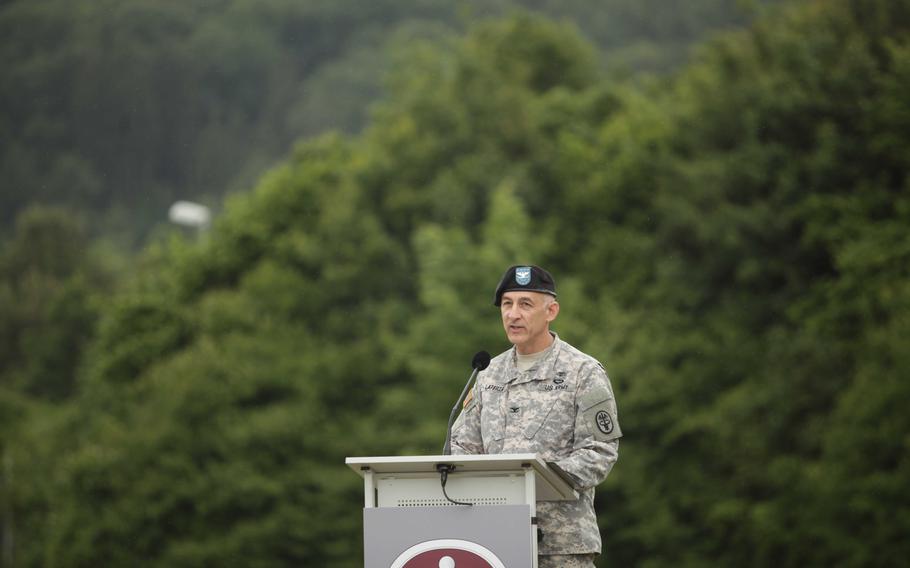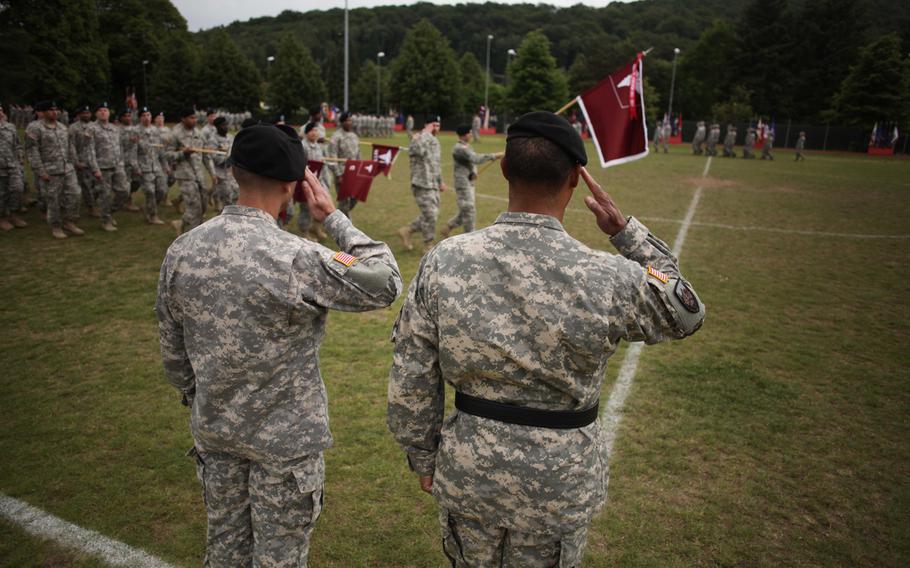 LANDSTUHL, Germany — The new head of the Army's Landstuhl Regional Medical Center said he thinks the hospital is in a period of stability after a tumultuous couple of years that included massive staff cuts and a rethinking of the center's postwar mission.
Army Col. James A. Laterza took command of the hospital Friday, two years to the day after his predecessor, Col. Judith Lee, stepped into the job.
Back then, Landstuhl was in the process downsizing after the end of the Iraq war and the drawdown in Afghanistan.
Soon after Lee took command in 2013, the hospital's staff faced a number of issues, Lee said in a speech at a change-of-command ceremony. The Army strengthened enforcement of rules limiting overseas tours; many employees were caught up in a housing allowance snafu that caused many to leave Germany abruptly; and furloughs caused by funding fights in Washington forced some to take unwanted days off.
Before she took over in 2013, Army Medical Command reviewed Landstuhl's manning "and were told to reduce by 330 civilians and 100 active duty to 'rightsize,'" she said.
"It was a difficult first six months," Lee said.
During her tenure, the hospital has navigated the identity crisis that followed the end of Iraq and winding down of Afghanistan.
Landstuhl, which rose to become the Pentagon's only top-level overseas trauma center during the wars, has recently fallen out of the spotlight. As its patient load dwindled, Landstuhl was certified as a lower-level trauma center. While it has more capabilities and capacity than it had before 9/11, the distinction was a symbolic end to the hospital's vaunted image as a bustling wartime surgery ward.
Despite its diminished status, it continues to excel, Lee said. It was the first in the Army to meet more stringent safety standards and will be the first in the service to have its own dog park, which she called her "final accomplishment."
"Jim, my boots are not very big, so you should have no problem filling them," she told Laterza.
A 28-year Army veteran, Laterza is the second health care administrator to command the hospital, he said. His immediate predecessors were both female nurses.
A former enlisted soldier turned medical comptroller, Laterza has spent much of his service working in hospitals. For the last year, though, he's served as the chief of staff to Brig. Gen. Norvell Coots, head of Europe Regional Medical Command.
Coots said Landstuhl's staff shouldn't pay too much attention to the rumors that their new commander is a "numbers guy." He is, Coots, said, but he's "a fun-loving" numbers guy.
In his first remarks as commander, Laterza said his new job running "the most important hospital" the Army has is "the greatest honor and privilege of my career."
"We've been through a lot of years of war," he said in an interview after the ceremony. The hospital is working to bring in retirees and other eligible patients so that the remaining staff can keep their skills sharp, both for the existing population of servicemembers in Europe and in case of another conflict.
"I think we are where we're going to be at for a while," in terms of staffing, he said. "I don't think there's any downsizing on the horizon from my perspective. And upsizing can always occur based on conflict."
millham.matthew@stripes.com Twitter: @mattmillham
---
---
---
---