AFN broadcasters receive 10 first-place awards in military journalism competition
---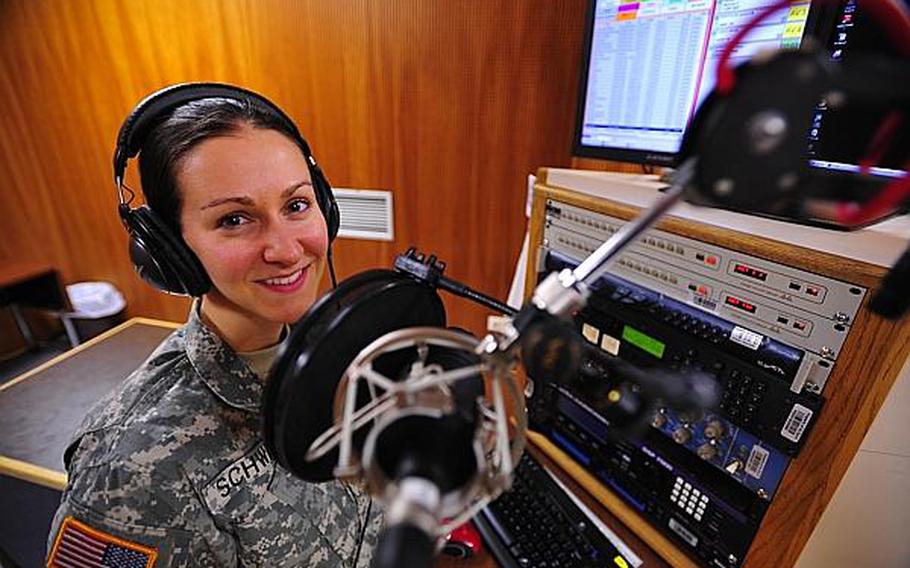 WIESBADEN, Germany — American Forces Network broadcasters received 10 first-place Department of Defense Thomas Jefferson awards for broadcast journalism for 2012.
Sgt. Rebecca Schwab from AFN-Bavaria was named DOD broadcast journalist of the year.
The Thomas Jefferson Awards Program is an annual competition that recognizes achievements of military and civilian journalists involved in military print and broadcast media.
List of first-place winners:
Broadcast Division
• Radio Entertainment Program:
"K-town Morning Show," Demarrio Spence (AFN Kaiserslautern, Germany)
• Radio Spot Production:
"Family Fun Night," Luke Burns (AFN Benelux)
• Radio News Report:
"Be a Good Scout," Lance Milsted (AFN Stuttgart, Germany)
• Radio Feature Report:
"Gary Bautelle Feature," George Smith (AFN Europe, Mannheim, Germany)
• Radio Sports Report:
"The Murph," Gregory Holmes (50th Space Wing Office of Public Affairs, Schriever Air Force Base, Colo.)
• Radio Newscast:
"Benelux Radio Report," Sean Patrick, Airman Daniel Asselta, Cpl. Zachary Burke, Airman 1st Class Benjamin Landon, Luke Burns (AFN Benelux)
• Radio Information Program:
"Disability Awareness," Lance Milsted, Staff Sgt. Jarrett Simpkins, Staff Sgt. Justin Kuhl (AFN Stuttgart)
• Television Information Program:
"Level Black: PTSD and the War at Home," Staff Sgt. Robert Ham (U.S. Army Pacific, Fort Shafter, Hawaii)
• Television Spot Production:
"Airman Magazine Tablet Edition," Andrew Breese (DMA – Air Force Production)
• Television News Report:
"Be a Good Scout," Lance Milsted (AFN Stuttgart)
• Television Feature Report:
"Shock Trauma," Andrew Breese (DMA – Air Force Production)
• Television Sports Report:
"Marine Week Flag Football," Sgt. Todd Hunter (DMA – Marine Production)
• Local Television Newscast:
"The 70," Petty Officer 3rd Class Kevin Harbach, Seaman Matthew Haran, Mass Communication Specialist Petty Officer 2nd Class Zachary Bell, Petty Officer 2nd Class Patrick Green (USS Carl Vinson)
• Regional Television Newscast:
"ACC News Now," Tech Sgt. Trevor Pedro, Staff Sgt. Jason Shamberger, Staff Sgt. Michael Wykes, Senior Airman Traci Keller, Airman 1st Class Hillary Herrick (Air Combat Command Office of Public Affairs)
• Television Newsbreak:
"Europass – Criminal," Honey Shewbert (AFN Spangdahlem, Germany)
• Command Information Campaign:
"Bath Salts: It's not a fad…It's a Nightmare," Shishona Pilip-Flores, Charles Allen, Shane Steifel, Valerie Kramer, Joshua Wick (U.S. Navy Bureau of Medicine and Surgery)
• Outstanding New Broadcaster:
Sgt. Elliott Valdez (AFN Bavaria, Germany)
• DOD Broadcast Journalist of the Year:
Sgt. Rebecca Schwab (AFN Bavaria)
• DOD Civilian Broadcast Journalist of the Year:
Matthew Clouse (88th Air Base Wing Office of Public Affairs, Wright-Patterson Air Force Base, Ohio)
• Outstanding Flagship Television Program:
"Recon: Dunes of Defense," Gene Brink, Staff Sgt. Josh Hauser (The Pentagon Channel)
Print Division
• Metro Format Newspaper:
The Bayonet, USAG Fort Benning Public Affairs Office (Ga.)
• Tabloid Format Newspaper:
Okinawa Marine, III Marine Expeditionary Force Public Affairs (Japan)
• Magazine Format Publication (Other than Flagship):
Pass in Review, Marine Barracks (D.C.)
• Newsletter Format Publication:
The Convoy, 1st Marine Logistics Group Public Affairs Office (MCB Camp Pendleton, Calif.)
• Web-Based Publication:
@ease Express, Wisconsin National Guard Public Affairs Office (Madison, Wis.)
• Outstanding Flagship Publication:
Marines Magazine, DMA – Marine Corps Production (Fort George G. Meade, Md.)
• Outstanding Flagship Website:
Army.mil, Online and Social Media Division (Office of the Chief of Public Affairs, HQDA, D.C.)
• Website:
U.S. Transportation Command website (https://www.ustranscom.mil/), US Transportation Command Public Affairs (Scott Air Force Base, Ill.)
• News Article:
"PFPA commemorates its 10th anniversary," John Guardiano (Pentagon Force Protection Agency, Corporate Communications Office, D.C.)
• Feature Article
"Bringing behavioral health to the troops," Elizabeth M. Collins (DMA – Army Production, Fort George G. Meade)
• Commentary:
"Goodbye 'Birth Control Glasses," Staff Sgt. Mark Fayloga (DMA – Marine Corps Production, Fort George G. Meade)
• Sports Article:
"Journey of 100 Miles," Sgt. 1st Class Wieser Willson (North Dakota National Guard JFHQ, Bismarck, N.D.)
• Series:
"Faces of Transition," Cpl. Reece Lodder (Marine Corps Base Hawaii, Kaneohe Bay)
• Photojournalism:
"Operation Shahem Tofan: Afghan Border Police, Marines extend reach toward Helmand border," Cpl. Reece Lodder (Marine Corps Base Hawaii)
• Contribution by Stringer (Writer):
"Rusty Spike," Lt. Col. Robert L. Hefner (75th Training Command USARC, Houston, Texas)
• Contribution by Stringer (Photojournalist):
No winner
• Outstanding Initiative in New Media:
30 Days on Pinspiration: The USMC and Pinterest (http://www.pinterest.com/usmc/) (DMA – Marine Corps Production)
• Outstanding Blog:
Marines Blog (http://marines.dodlive.mil/) (DMA – Marine Corps Production)
• Outstanding New Writer:
Staff Sgt. Katie Ward (633rd Air Base Wing Office of Public Affairs, Joint Base Langley-Eustis, Va.)
• DOD Military Print Journalist of the Year:
Tech. Sgt. Matthew Bates (DMA)
• DOD Civilian Print Journalist of the Year:
Elizabeth M. Collins (DMA – Army Production)
— Source: AFN Europe
---
---
---
---