A soldier died of natural causes in Kosovo. He was a dedicated staff sergeant, loving father — and Ray Charles' grandson
by
Chad Garland
September 6, 2019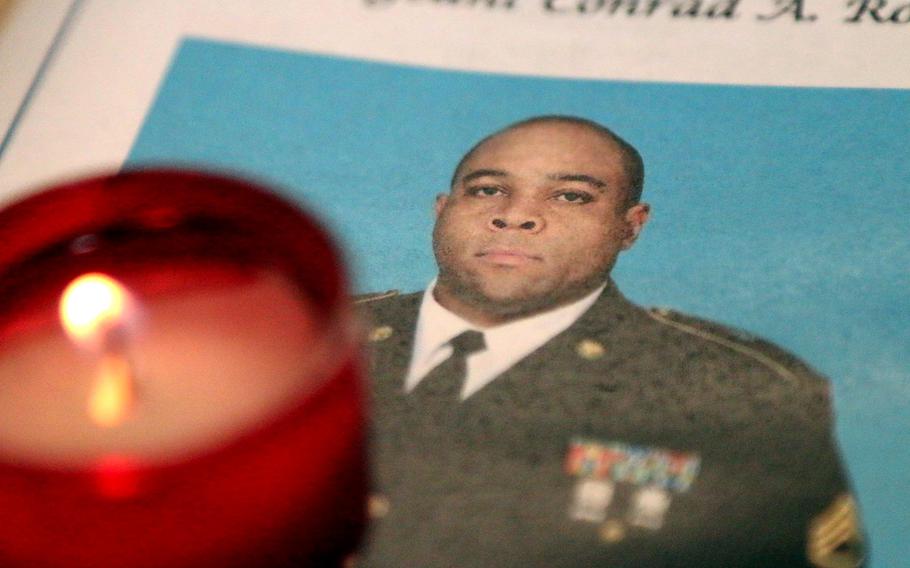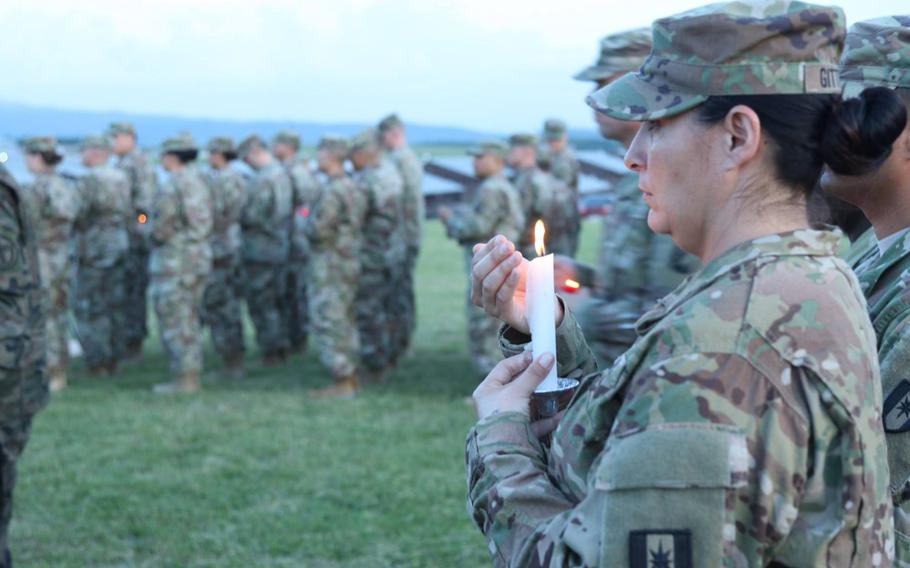 Staff Sgt. Conrad Robinson followed one of his grandfathers into the Army, but what he shared with few colleagues before he died was that his other one was "the Genius" of soul music, Ray Charles.
Robinson, 36, died last year on a deployment to Camp Bondsteel, Kosovo, just days before Memorial Day.
His death left loved ones back home stunned, confused and in his wife's case, questioning whether his health conditions should have kept him from deploying in the first place.
An autopsy sent to Army investigators late last year revealed that he had died from a heart condition, a report Stars and Stripes recently obtained from the Army's Criminal Investigation Command shows.
"Big Rob" as his friends knew him deployed to the ongoing Kosovo peacekeeping mission on a nine-month tour with the Fort Bragg, N.C.-based 28th Combat Support Hospital.
He was found dead, alone in his barracks room, after failing to show up for a mission on May 24, 2018.
Little else was disclosed about what happened to Robinson, a preventive medicine specialist, as the Army conducted its investigation.
Jo Oloteo, a friend who served with Robinson, knew him from when they served in Germany, deployed to Afghanistan in 2010 and traveled Europe in 2011. He called him "Bear" because he looked intimidating but had "the biggest heart."
Of several friends asked, only Oloteo knew Robinson's grandfather was the Grammy-winning blind recording artist, born Ray Charles Robinson, who died in 2004.
Robinson's father, David Robinson, who died in 2013, was the second son of the Georgia-born musician and Della "Bea" Howard Robinson, the couple portrayed by Jamie Foxx and Kerry Washington in the 2004 movie "Ray."
"Conrad was low key about it," Oloteo said via Facebook Messenger recently. "I remember asking him to sing 'Georgia On My Mind,' but he wouldn't."
His mother confirmed the relationship, but Synthia Robinson said she preferred to focus on her son's life and service, which took him to Kuwait, twice to Afghanistan and to Korea before Kosovo.
A bright child who had played Little League and high school football, he enlisted after a year of college, hoping to gain discipline, direction and money for education, she said. Then he just kept reenlisting.
"I could see a good change in him that he carried up until his death," she said, adding that he had been planning for "the next chapter after retirement."
He joined in part to follow the footsteps of his mother's father, an Army veteran who died in 2008 and who he was very close with throughout his life, Conrad Robinson's wife said.
Yolanda Robinson had met him after he'd already served four years and said he encouraged him to stay in to continue his education and better their lives. His family always came first, both his wife and mother said.
He often entertained his daughters — 10 and 5 when he last saw them — with tea parties, game nights and bedtime stories, his wife said. He took off work for school events whenever he could.
"We would try to sneak some time for ourselves" about twice a month, she said. When he was sent overseas, they spoke every week by phone.
Army colleagues and friends praised his work ethic and strong example. As a new father, he'd often pick up his infant daughter from day care at his friend Jaime Mendoza's house hours after work, drenched in sweat from long workouts, Mendoza said.
"He motivated me to work harder," said Mendoza, who knew him since arriving at Fort Irwin, Calif., as a private in 2007, calling him a "truly great friend."
Despite working out three times a day, Robinson "had always been on the Army's weight control program," his wife told investigators last year.
He was taking three medications for hypertension when he deployed and had sleep apnea, too.
She now questions whether he should have been sent to Kosovo in the first place, she told Stars and Stripes recently.
Pentagon policy doesn't bar soldiers from deploying with high blood pressure if it's controlled by medication or doesn't require frequent monitoring.
But his condition had gotten uncontrollable in the weeks before his death, his wife said.
"My husband went to the doctor because his blood pressure was high" and because he needed a refill of his prescriptions, she said after reviewing his health records.
After monitoring his blood pressure for five days in early May, a doctor determined the condition wasn't severe enough to warrant sending him home, she said.
He hadn't complained of feeling unwell, his roommate and two soldiers who worked with him told investigators.
The medical examiner found that high blood pressure and the hardening of his arteries had caused his death. A toxicology test found two blood pressure medications in his system.
He'd apparently fallen asleep in his desk chair doing college homework late on May 23 and died the next morning, likely hours before his roommate found him unresponsive at about 9 a.m.
"I miss him terribly," Oloteo said more than a year later, speaking of the man who he said used to be his "bodyguard" whenever they went out.
Mendoza hoped finding out why he died might bring him closure, but just talking about him "opened up the wound," he said in a June email.
"I miss him every day and I'm just lucky I got to know him," Mendoza said.
garland.chad@stripes.com Twitter: @chadgarland