A-10s headed back to Spangdahlem for 6-month rotation
by
Jennifer H. Svan
February 11, 2015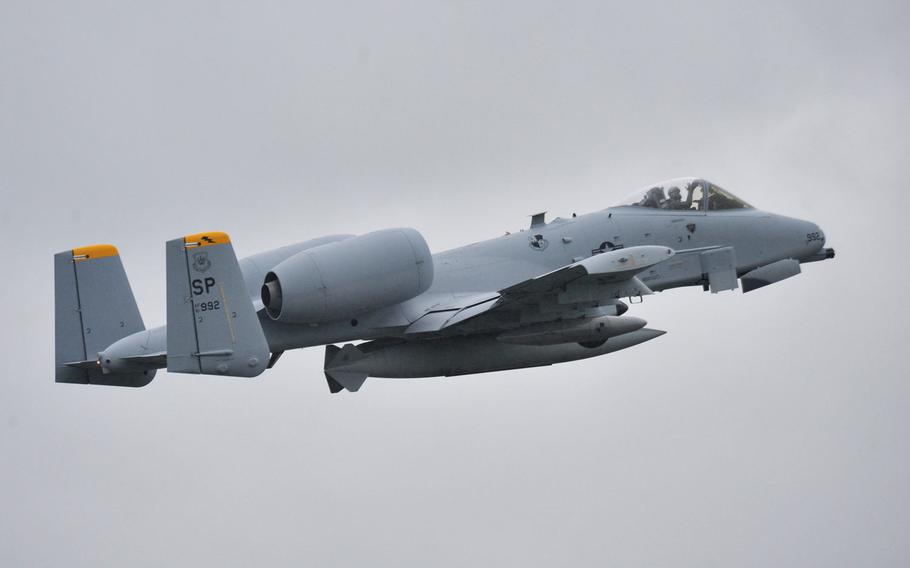 KAISERSLAUTERN, Germany — The Air Force will deploy 12 A-10 Thunderbolt II aircraft and about 300 airmen from the States to Spangdahlem Air Base for six months, a move intended to bolster regional security as fighting continues to escalate in eastern Ukraine, the service announced Tuesday.
The close-air support Warthogs — which the Air Force has been pushing to retire from the fleet — are expected to arrive at Spangdahlem by the end of the week, said Capt. Sybil Taunton, spokeswoman for U.S. Air Forces in Europe–Air Forces Africa.
The European deployment is part of a so-called theater security package in support of Operation Atlantic Resolve, the military's response to the Ukraine crisis.
"They will be here to augment the USAFE-AFAFRICA units already participating in Operation Atlantic Resolve exercises and flying training deployments," Taunton said.
In addition to training with NATO allies, the A-10s will forward deploy to eastern European NATO nations, USAFE said in a news release.
Taunton said the command does not have specifics yet on which exercises and training events the planes will take part in.
"The U.S. Air Force's forward presence in Europe area provides the support infrastructure needed to increase our current force and build new and deeper partnerships across the continent," Lt. Gen. Tom Jones, USAFE-AFAFRICA vice commander, was quoted as saying in the news release.
The planes' deployment marks the first theater security package to come to Europe, Taunton said. The Air Force has been conducting similar rotations in the Pacific region since 2004, USAFE said.
"We anticipate more rotations to come through," Taunton said, with each subsequent one expected to last about six months. "The airframes could vary."
Though the future of the A-10 is uncertain — Air Force brass have pushed to retire the platform to free up funding for the more pricey F-35A — the service continues to call on the scrappy plane. The Pentagon has said the A-10 has been flying missions against Islamic State militants in recent months.
The A-10s and airmen are deploying from the 355th Fighter Wing at Davis Monthan Air Force Base in Arizona.
When they arrive, most of the aircraft will be landing on familiar asphalt. Ten of the 12 planes were part of the former 81st Fighter Squadron previously assigned to Spangdahlem, USAFE said.
The last A-10s to be permanently based in Europe left Spangdahlem in May 2013, after being stationed at the fighter base for nearly 20 years. Spangdahlem lost its 21 A-10s in steep Air Force budget cutbacks and a shift at the time away from Europe to the Asia-Pacific region. The planes departed less than a year before Russia's incursion into eastern Ukraine.