6th Fleet to get newer destroyers better able to shoot down missiles
---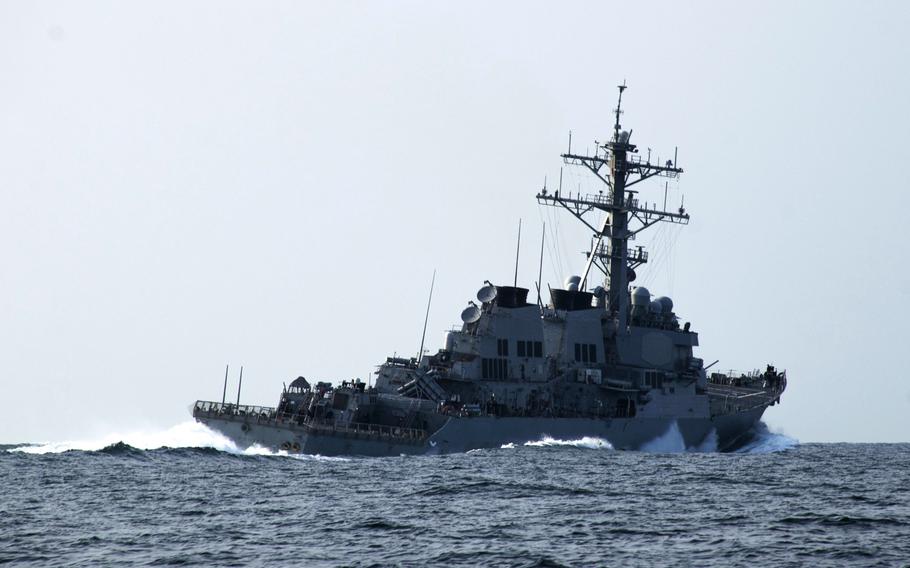 The Navy plans to replace 6th Fleet's four destroyers in Europe with newer ones that have upgraded missile defense capabilities, 6th Fleet announced this week.
The newer destroyers' improved capabilities would include Aegis Baseline 9 missile defense systems.
These systems enable them to simultaneously target high-altitude ballistic missiles and counter closer-range threats, such as guided missiles fired from enemy aircraft and ships. The missile defense systems on 6th Fleet's current destroyers can't do both at the same time.
The Navy is bringing in modernized warships "to posture the most capable forces forward in the U.S. European Command area of responsibility," 6th Fleet said in a statement.
The changeover is scheduled to take place between 2020 and 2022, the Navy said. The current Arleigh Burke-class destroyers, which were built in the late 1990s and are based in Rota, Spain, will be replaced one at a time.
A helicopter squadron will relocate to Rota to support the new destroyers.
Cmdr. Kyle Raines, 6th Fleet spokesman, declined to discuss further details or identify any potential new destroyers.
Navy leaders have said guided-missile destroyers are vital in maintaining security in Europe and deterring a more aggressive Russia.
The USS Porter was the first to arrive in Rota in February 2014, just before Russia seized Crimea from Ukraine. The USS Carney, USS Donald Cook and USS Ross followed over the next two years.
The four ships are part of NATO's larger missile defense in Europe. Other facets include the land-based systems in Romania and Poland, an early warning radar system in Turkey, and a command center at Ramstein Air Base, Germany.
The destroyers have been among the most active ships in the theater, frequently taking part in multinational exercises and patrolling the Black Sea.
In April 2017, the Porter and Ross fired a total of 59 Tomahawk missiles into Syria in response to President Bashar al-Assad launching a chemical attack against civilians.
wyland.scott@stripes Twitter: @wylandstripes
---
---
---
---