2nd Cavalry Regiment soldiers head to Poland in 'spartan' mission
by
Marty Egnash
March 25, 2017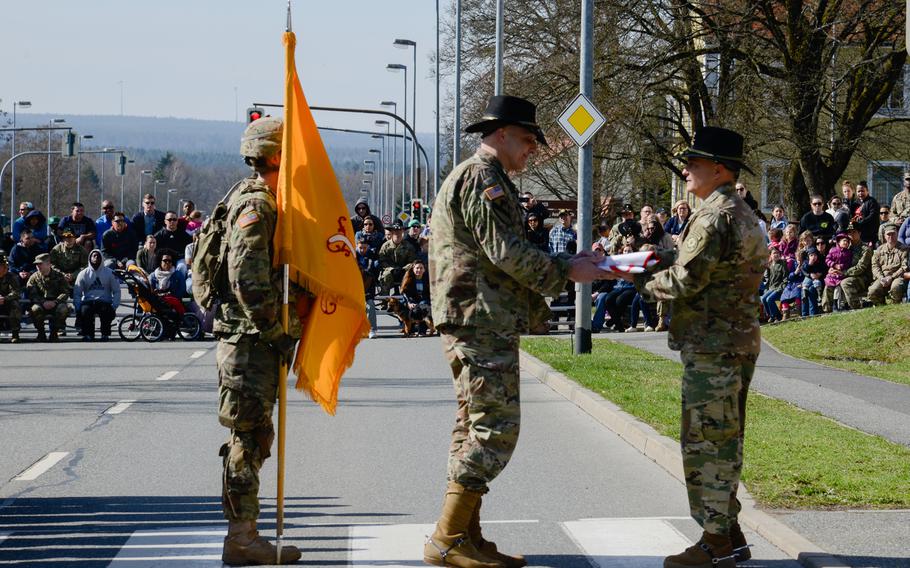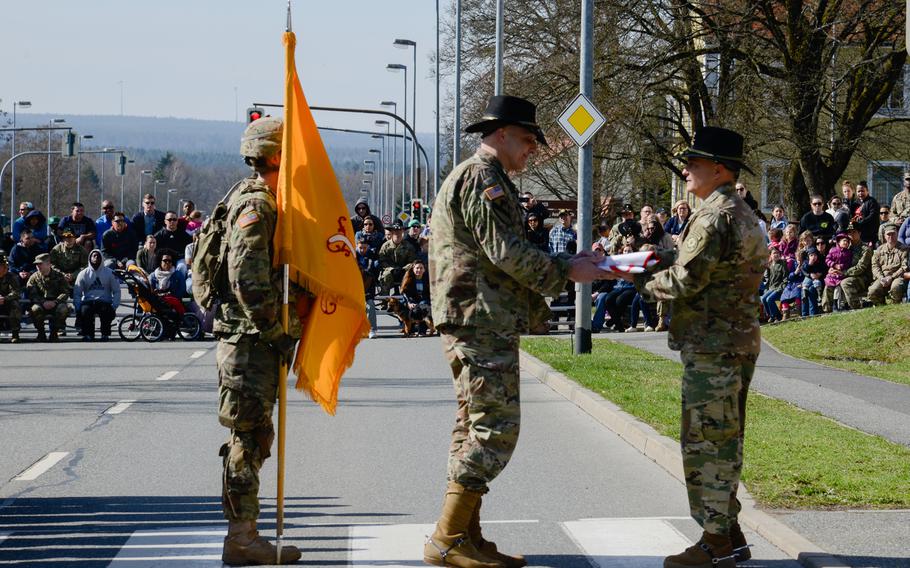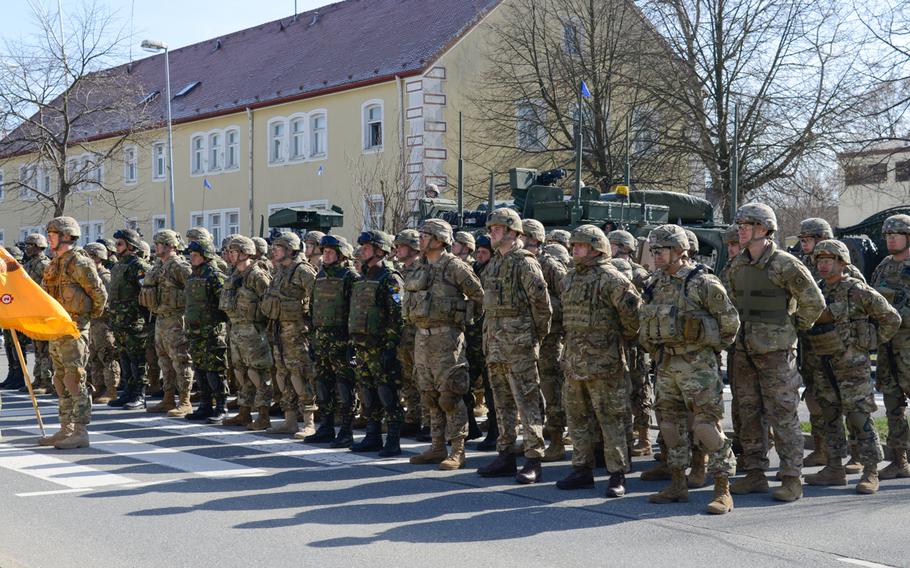 VILSECK, Germany — A long line of combat vehicles filed out of the 2nd Cavalry Regiment's Rose Barracks here Saturday, beginning a 560-mile road march to northeastern Poland in a hard-power show of force to Russia.
Soldiers with the Army's 2nd Cavalry Regiment are headed to the small city of Orzysz, bound for a no-frills base where the focus will be on field work rather than chowing down at the local food court.
"Spartan with WiFi," said U.S. Army Europe's Lt. Gen. Ben Hodges, describing the living conditions soldiers can expect in Poland.
Still, the six-month mission to Poland, while perhaps more austere than life in Vilseck, is far removed from the kind of rugged terrain 2nd Cavalry troops have encountered in deployments to Iraq and Afghanistan.
In the weeks building up to their deployment, there has been a sense of growing anticipation for soldiers as they worked in their motor pools, tinkering with vehicles. Inside their barracks and in the chow hall, soldiers of 2nd Cavalry Regiment spoke of a mission that will offer a chance to immerse themselves into life in a new country.
"We're all pumped about this," said Sgt. Graylen Curtis, a 2CAV soldier going with the Enhanced Forward Presence in Poland. "This is a different kind of experience. There's always a bit of mixed feelings whenever you go to another country (on a deployment) like this, but the excitement overtakes everything."
The purpose of the mission, to serve in a multinational NATO effort intended to deter Russia from aggression in the region, is also novel. After 15 years of unrelenting focus on the Middle East, the military has shifted attention to a region that was a strategic afterthought a few years ago.
Poland has emerged as the "center of gravity" for USAREUR as it pushes solders deeper into NATO's eastern flank. Besides 2CAV, the Army has soldiers with the 3rd Brigade, 4th Infantry Division, conducting operations in Poland.
The Polish garrison town of Orsyz, which once hosted Soviet troops, is less than 100 miles from the small Russian enclave of Kaliningrad. It has been a way station for troops for generations, and now nearly 1,000 Americans are coming.
Though the troops will be spending much of their time in the field, they'll be able to break up the monotony, with trips into town expected to be relatively routine. Leaders are still working out the details for how weekend passes will be allocated, but soldiers will not be restricted full time to post for their deployment. And local restaurants are getting ready, adding English to menus in anticipation of GIs mingling with the town people.
Sgt. Gunner Franks, a 2CAV soldier who spent five months in Poland on a previous exercise, said his troops are looking forward to the experience.
"I had a blast training in Poland. The Polish and Americans get along really well. They are a proud and kind people," Franks said. "They want nothing more than to work with us, and they're always in a good mood."
The soldiers will be living in temporary barracks in a training area left over from the Soviet era, which the Polish army recently renovated to accommodate the Americans.
"The Poles have put a lot of effort into upgrading the facilities to get them suitable for more permanent habitation," said Capt. Craig Hymel, commanding officer of the 2nd Cavalry Regiment's 2nd Squadron. "I've seen them personally, and they look great. Honestly, they look better than some of the temporary facilities I've stayed in with the American military,"
The training area will have a fitness center, an exchange and a dining facility, in addition to the online capabilities of the base.
"The troops will have nice rooms, showers and good facilities, but the intent is for us to focus on the mission, and not to become an American resort in the middle of [Poland]," said Hymel.
In other words, not the kinds of accouterments that come with life back in a U.S. Army garrison.Still, it is a step up from the kind of austere combat outposts infantryman called home in Iraq and Afghanistan.
"You are never going to see Burger King," Hodges said at a rehearsal drill. "Be ready for potatoes three meals a day for six months. The Irish have figured out how to make it interesting. I am sure you can, too."
The rotation to Poland also means a long time away from family, a hardship to be endured regardless of the destination, soldiers said.
"The Army routine is something you have to get used to when you're a part of this lifestyle," said Curtis. "My wife is used to the routine. It's a different kind of rhythm with me being in another country, but we will be able to stay in touch and we'll make it work."
egnash.martin@stripes.com Twitter: @Marty_Stripes