1st wave of Army tanks, other gear arrives in Germany
by
John Vandiver
January 6, 2017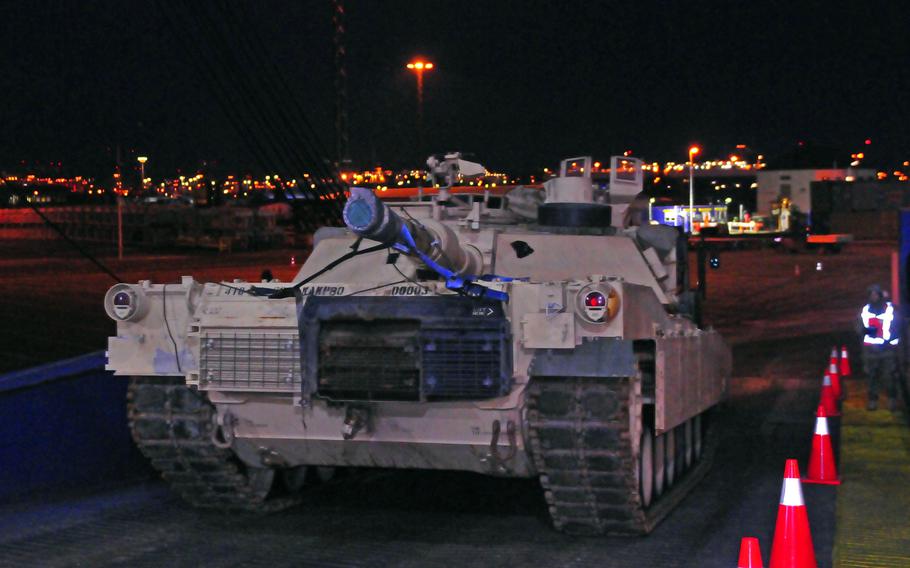 STUTTGART, Germany — The U.S. Army began unloading tanks and other weaponry in the German port of Bremerhaven Friday, marking the arrival of the first wave of gear that will support the rotation of an armored brigade in Europe.
Over the next several days, the equipment will be offloaded and moved by rail, commercial lines and convoy into staging sites in Poland.
The arrival of the military hardware and troops from the Fort Carson-based 3rd Armored Brigade Combat Team, 4th Infantry Division marks the start of the first full-time presence of a tank brigade in Europe since the last armored units on the Continent were inactivated several years ago.
For U.S. Army Europe, the arrival of the heavy brigade is a culmination of a steady build up that commenced in the wake of Russia's 2014 annexation of Ukraine's Crimea Peninsula, a move that sparked new security fears in Europe.
For U.S. European Command, increased troop rotations are aimed at reassuring nervous allies and sending a signal of deterrence to Russia. Moscow has blasted the plans as an unnecessary provocation.
While U.S. rotational forces have increased, there have been gaps in deployments during the past few years. Now, the plan is, once the 4th Infantry's brigade of 3,500 troops completes its nine-month rotation, it will be immediately replaced by another brigade.
In all, the Fort Carson brigade will bring 87 tanks, 18 Paladins; 419 multi-purpose and 144 Bradley Fighting Vehicles; as well as some 2,000 additional vehicles and trailers.
Once the equipment is consolidated in training zones in Poland, troops will begin fanning out across the region for exercises with allies in the Baltics, Romania, Bulgaria, Poland and Germany.
vandiver.john@stripes.com Twitter: @vandiver_john