VIDEO
Yongsan Garrison tests South Korean emergency response during knife-attack exercise
by
Matthew Keeler
September 26, 2019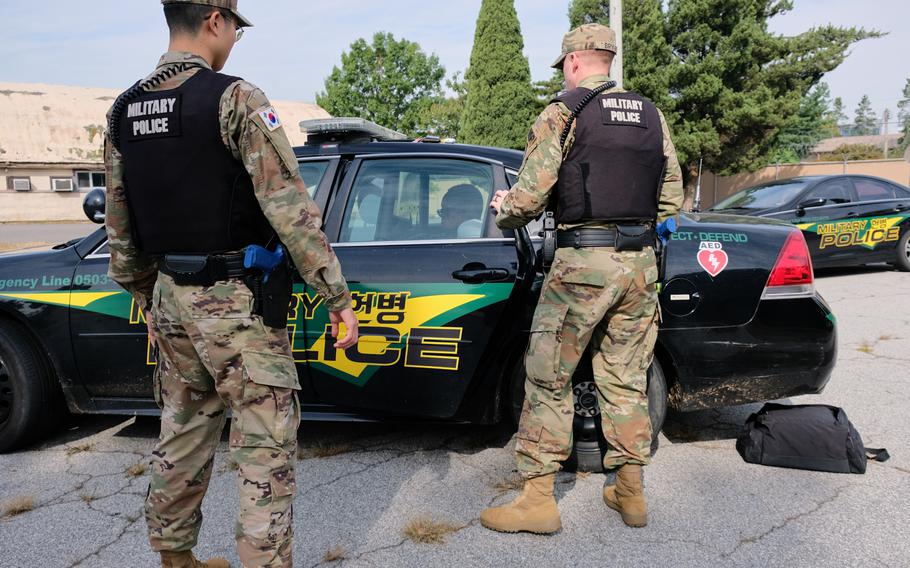 YONGSAN GARRISON, South Korea — Starting Tuesday, this Army post in the middle of Seoul will rely on local emergency services from outside the gates when the base hospital suspends its emergency services.
To test that relationship, the garrison security force on Thursday practiced summoning South Korean first responders to a pretend slasher attack by a knife-wielding soldier that yielded several casualties.
"As the hospital begins to transition and move farther south, we are going to rely on host nation emergency medical services to provide response to medical emergencies on the installation," Sgt. 1st Class Daniel Nichols, Yongsan provost sergeant, told Stars and Stripes. "Today, part of what we are testing is the ability to coordinate with the host nation EMS, get them onto the installation, and respond to a situation quickly."
Army emergency medical services on Yongsan will cease as medical personnel prepare to move to Brian D. Allgood Army Community Hospital on Camp Humphreys. The move is part of the massive relocation of U.S. military assets south of Seoul.
The exercise kicked off at 9 a.m. with a call to the Yongsan Provost Marshal's Office. Within a minute all patrols were dispatched to an old two-story office building that provided a barracks-like setting on adjacent Camp Coiner.
"All of our patrols responded within three to five minutes, arrived on scene, assessed the situation and entered the barracks to eliminate the threat," Nichols said.
Meanwhile, the garrison loudspeaker system alerted personnel on base to shelter in place. The post gates were closed but opened again immediately once all were verified shut.
The garrison fire department arrived, accompanied by civilian first responders and together they treated two soldiers playing the roles of victims with major lacerations. The scenario ended for the medical team after the victims were loaded into the ambulance.
"Everything we had planned and expected went extremely well," Nichols said. "It was efficient, it was quick, and we are quite pleased with the results we achieved here today."
Starting Tuesday, patients from Yongsan Garrison in need of emergency medical treatment will be taken to the National Medical Center in Seoul.
A knife attack was an apt training scenario, said Spc. Taylor Bryant, a military police investigator assigned to 142nd Military Police Company.
South Korean law on the possession of knives, or what it considers swords, is strict. A 2.16-inch-long switchblade, or a 2.36-inch pocketknife, are both considered swords, possession of which without permission could mean up to five years at labor in prison or a fine of up to 10 million won, about $8,300.
Nonetheless, a knife crime is more likely than one involving a firearm, Bryant said.
"Here in Korea it's a lot harder to get your hands on a firearm, so the knife scenario helps us because it's a little more realistic to our environment," Bryant said. "We are more likely to get called to a knife scenario here than we would a handgun."
keeler.matthew@stripes.com Twitter: @MattKeeler1231