WWII warbirds arrive in Hawaii for historic flyovers to commemorate end of war 75 years ago
by
Wyatt Olson
August 12, 2020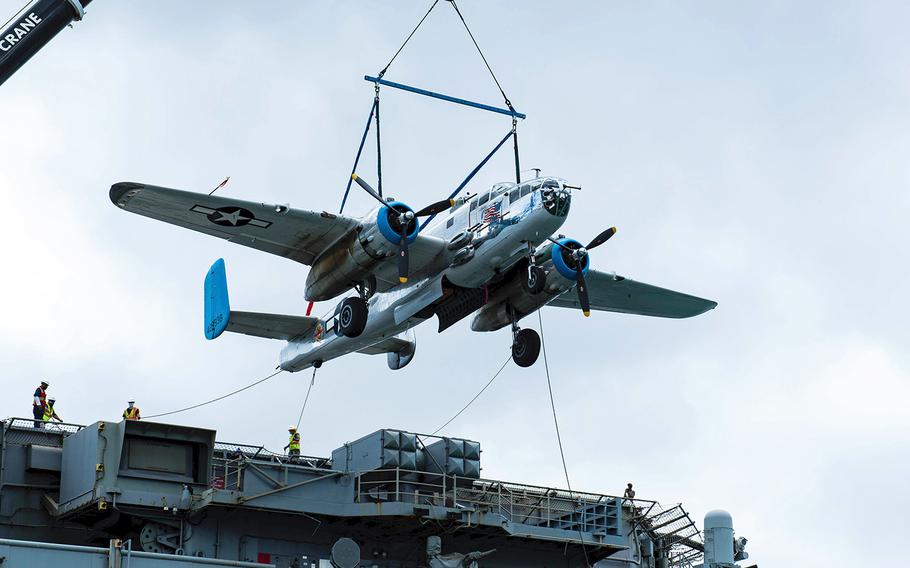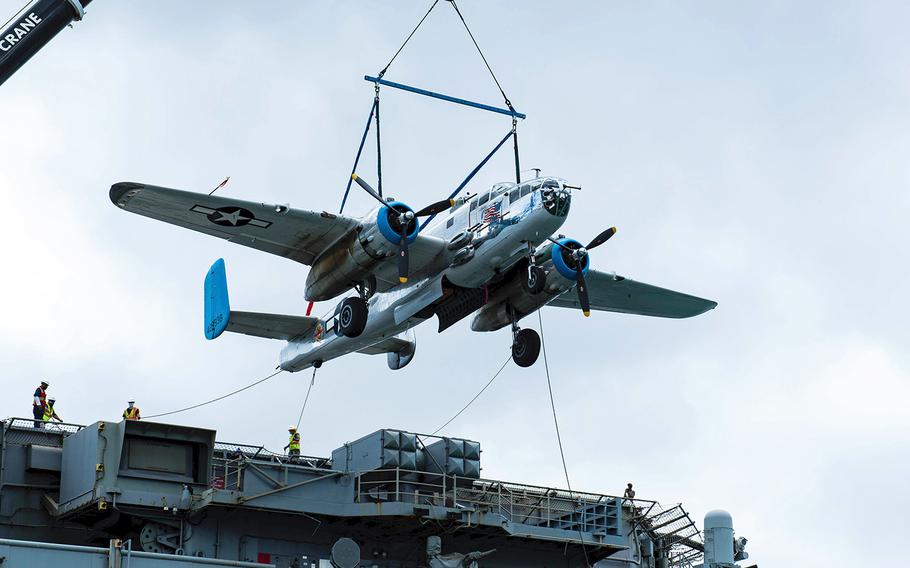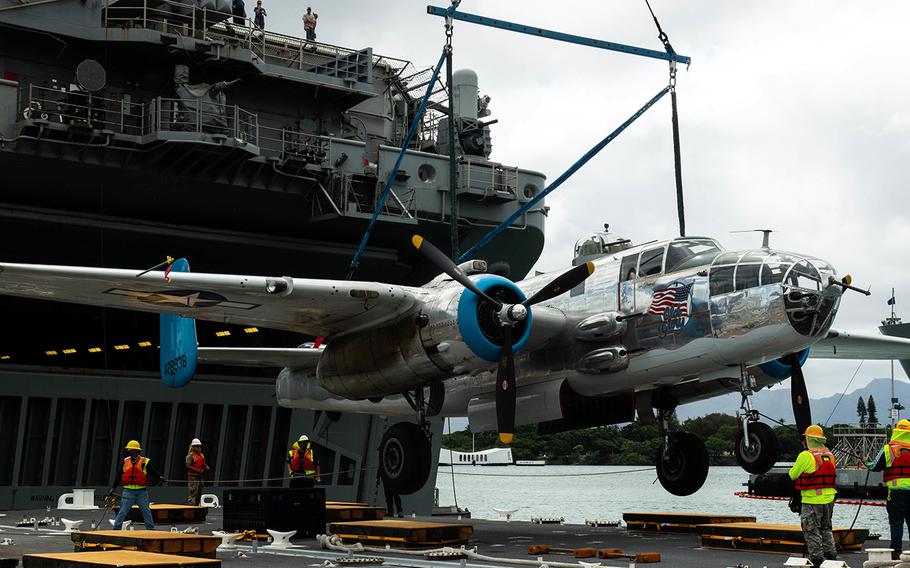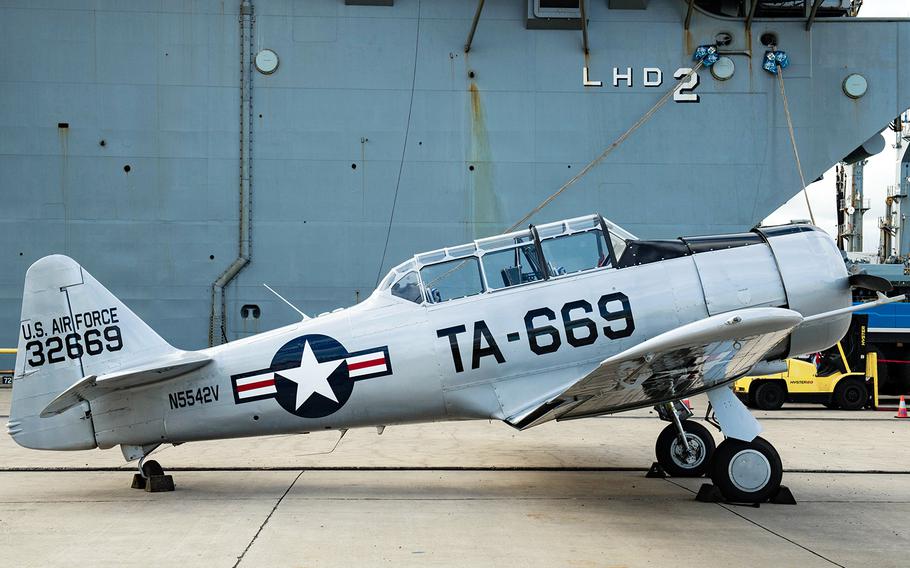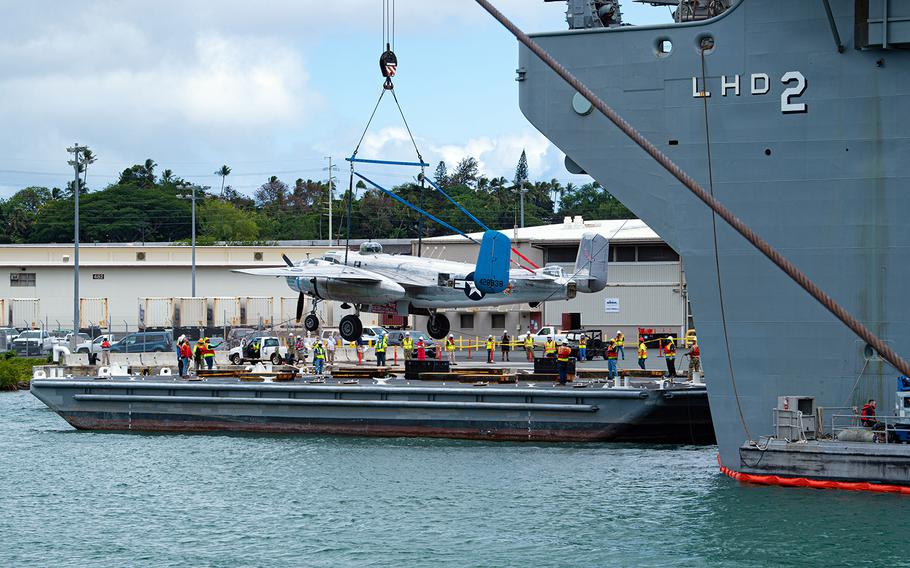 FORT SHAFTER, Hawaii — Massive cranes began hoisting 14 World War II-vintage warplanes from an amphibious assault ship Tuesday at Joint Base Pearl Harbor-Hickam, two weeks before they will take to the sky for a series of aerial parades over Oahu to commemorate the 75th anniversary of the war's end.
The collection of warbirds made the journey from San Diego aboard the USS Essex. Some owners and maintenance crews of the planes also made the trip on the Navy vessel.
The first two flyovers are scheduled for the afternoons of Aug. 29 and 30. The routes have not yet been announced, but planners have said one will likely be viewable from Waikiki Beach, while the other will be over the western part of Oahu.
The third and final aerial parade will commence immediately after a ceremony on Sept. 2 aboard the Battleship Missouri Memorial in Pearl Harbor that marks the exact day Japan formally surrendered.
Among the warbirds arriving were:
• Several SNJ/AT- 6 Texans, a training plane widely used during World War II.
• A B-25 Mitchell bomber, the kind used in the daring Doolittle Raid on Tokyo in April 1942.
• A Grumman FM2 Wildcat, a carrier fighter that was used by the Navy and Marine Corps in battles at Guadalcanal, the Coral Sea, Midway and the Solomon Islands.
• A Grumman F8F Bearcat, which was Grumman's last piston-engine fighter that was introduced late in the war.
• A Boeing-Stearman Model 75, one of more than 10,000 training plane of this type produced during the war.
• A Grumman TBM Avenger, a Navy torpedo bomber that the Navy first used in the Battle of Midway.
A P-51 Mustang, which served as a long-range, high-altitude bomber escort.
Fourteen U.S. veterans who witnessed Japan's surrender aboard the USS Missouri while in Tokyo Bay in 1945 plan on attending the Sept. 2 commemoration called "Salute Their Service, Honor Their Hope."
Most of the events originally planned to commemorate the war's end have been dropped due to the coronavirus pandemic. Visiting veterans and their chaperones will be kept in "bubbles" intended to keep them separated from others.
They will be among the small group of people allowed to attend the ceremony on the Missouri, which will be livestreamed.
olson.wyatt@stripes.com Twitter: @WyattWOlson