Workers uncover third unexploded bomb at airport construction site on Okinawa
by
Aya Ichihashi Matthew M. Burke
April 30, 2020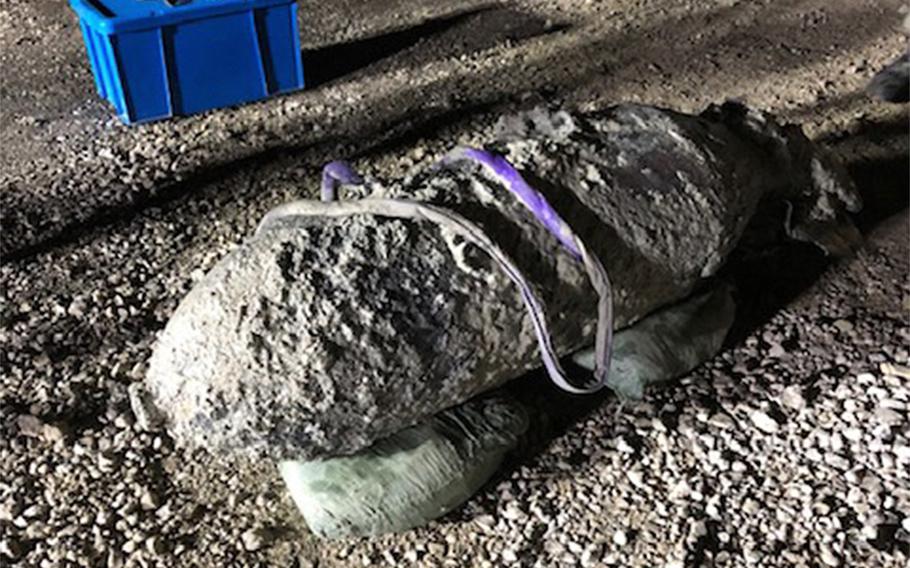 CAMP FOSTER, Okinawa — A third unexploded bomb likely dropped by U.S. forces during World War II has been uncovered at Naha Airport, prompting a second round of runway closures, Japanese officials said this week.
The 550-pound explosive, like the two discovered previously, measured 4 feet long by about a foot in diameter, a spokesman from Japan's Ministry of Land, Infrastructure, Transport and Tourism office in Naha said Thursday. It was discovered by construction crews at 2:10 a.m. Wednesday near the airport's runway No. 1.
The bomb was unearthed less than 30 feet from the previous two, a Naha city spokesman said.
A protective plate was placed over the ordnance by Naha city at approximately 6 a.m. Wednesday, before scheduled flights for that day, the ministry spokesman said. Runway No. 1 was closed pending disposal by the Japan Ground Self-Defense Force, but no flights were delayed or canceled as a result. Naha Airport has two runways.
Runway No. 1 was last closed on April 17 after the first bomb was discovered, officials said at the time. A second bomb was discovered April 23 while preparations were being made to defuse the first.
Both bombs were defused Sunday, the Naha city spokesman said. Runway No. 1 was then reopened Monday.
Officials have not yet settled on a date to defuse the most recently discovered bomb, the city official said. They are coordinating with the JGSDF and police and will "make it happen as soon as possible."
"It is not so rare to find a cluster of bombs in such a close area like this, but we haven't made a similar discovery [in the city] for about two years," the city official said. "There is a possibility that we will see more bombs like this until road construction is completed by the runway."
Some government officials in Japan customarily speak on the condition of anonymity.
The JGSDF 15th Brigade disposes of approximately 600 bombs annually, according to its website. As of April 22, it has disposed of 38,064 bombs.
burke.matt@stripes.com Twitter: @MatthewMBurke1
ichihashi.aya@stripes.com Twitter: @AyaIchihashi