Workers uncover another unexploded bomb at airport construction site on Okinawa
by
Aya Ichihashi Matthew M. Burke
April 24, 2020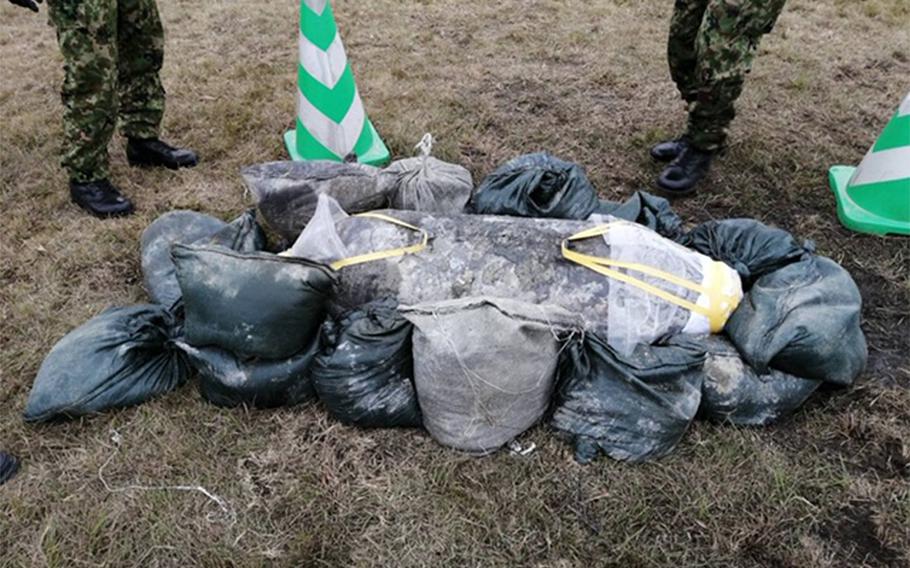 CAMP FOSTER, Okinawa — A runway at Naha Airport remained closed Friday after construction workers uncovered a second unexploded bomb likely dropped by U.S. forces during World War II.
The 550-pound explosive — 4 feet long by about a foot in diameter — was discovered early Thursday during preparations to defuse the first one, a spokesman from Japan's Ministry of Land, Infrastructure, Transport and Tourism office in Naha said Thursday.
The first bomb, which is the same size as the second, was discovered April 17 near the No. 1 runway, leading to its closure, flight delays and cancellations.
The second bomb was found in a trench about 65 feet away from the first, said a Naha city spokesman. It's customary for some government officials in Japan to speak on the condition of anonymity.
After discovering the second bomb, the airport closed a taxiway that connects to the No. 2 runway while a contractor installed a protective plate over the ordnance, the ministry spokesman said Thursday. The plate was placed by approximately 9:30 a.m. Thursday but two flights had to be canceled and 10 delayed.
The bombs will be disposed of by the Japan Ground Self-Defense Force, a JGSDF spokesman said.
Officials hoped to defuse and remove the bombs together either Saturday or Sunday, the city spokesman said. It remains unclear when the runway, one of two at the airport, will be reopened.
The JGSDF's 15th Brigade disposes of approximately 600 bombs annually, according to its website. To date, it has disposed of 38,061 bombs.
burke.matt@stripes.com Twitter: @MatthewMBurke1
ichihashi.aya@stripes.com Twitter: @AyaIchihashi