Workers find WWII-era unexploded ordnance in Okinawa seabed
By
Aya Ichihashi Carlos M. Vazquez II
June 13, 2019
---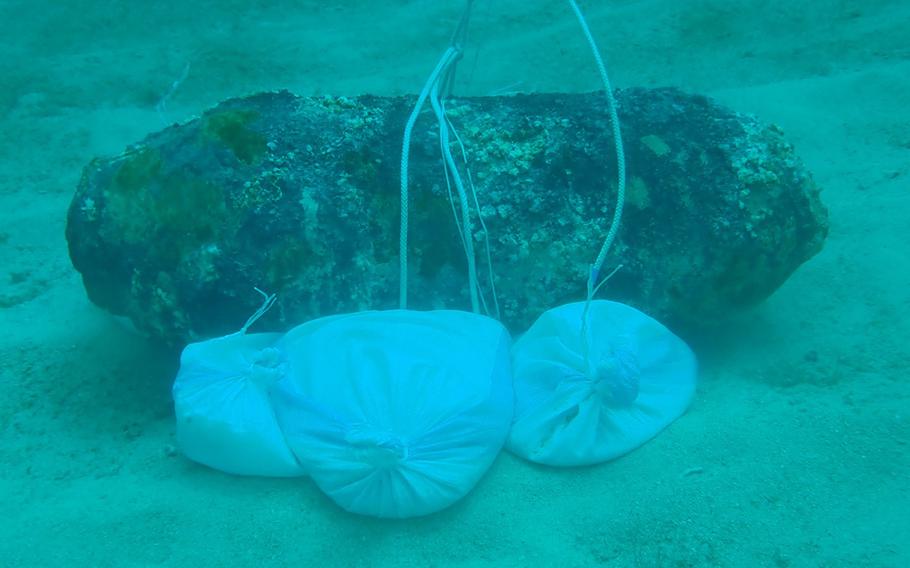 CAMP FOSTER, Okinawa — An unexploded bomb likely dropped by U.S. forces during World War II was safely removed Wednesday from Naha Military Port on Okinawa, according to the Japan Maritime Self-Defense Force.
A private contractor dredging the seabed Tuesday morning discovered the 1,100-pound bomb in soil reclaimed for a second runway under construction at Naha Airport.
"The fuse [was] still intact when they found it in the dirt," JMSDF spokesman Lt. Keisuke Araki told Stars and Stripes on Thursday.
A team of underwater explosive ordnance disposal technicians from the JMSDF moved the 5-foot-long, 1½-foot-diameter bomb to an underwater site three miles west of the port, away from the coast, Araki said.
The EOD team is planning to safely detonate the bomb, which it grounded with weights to the bottom of the ocean, the spokesman said.
According to the Naha-based Japan Ground Self-Defense Force 15th Brigade's website, 600 unexploded pieces of ordnance are processed on Okinawa each year.
In December, more than 2,500 Okinawans from more than 1,000 homes and offices were evacuated from a Naha neighborhood so the JGSDF could explode an artillery shell that once belonged to the Imperial Japanese Army.
vazquez.carlos@stripes.comTwitter: @StripesCarlos
---
---
---
---