With ball in his court, Trump welcomes summit between 2 Koreas
by
Kim Gamel
April 28, 2018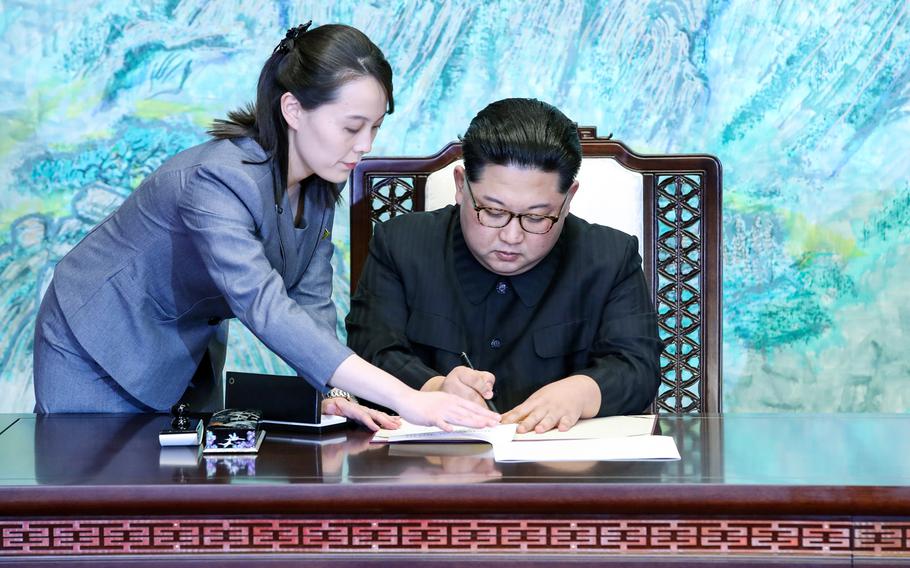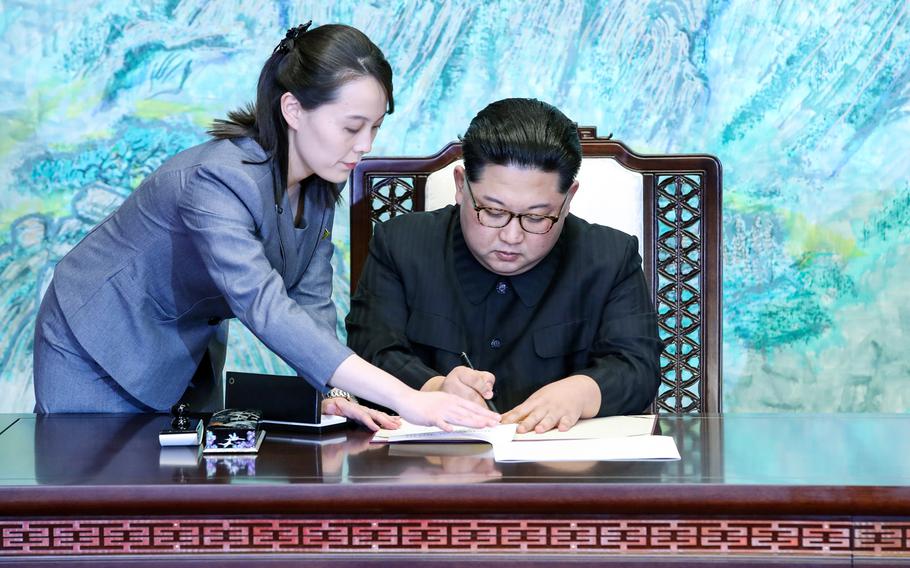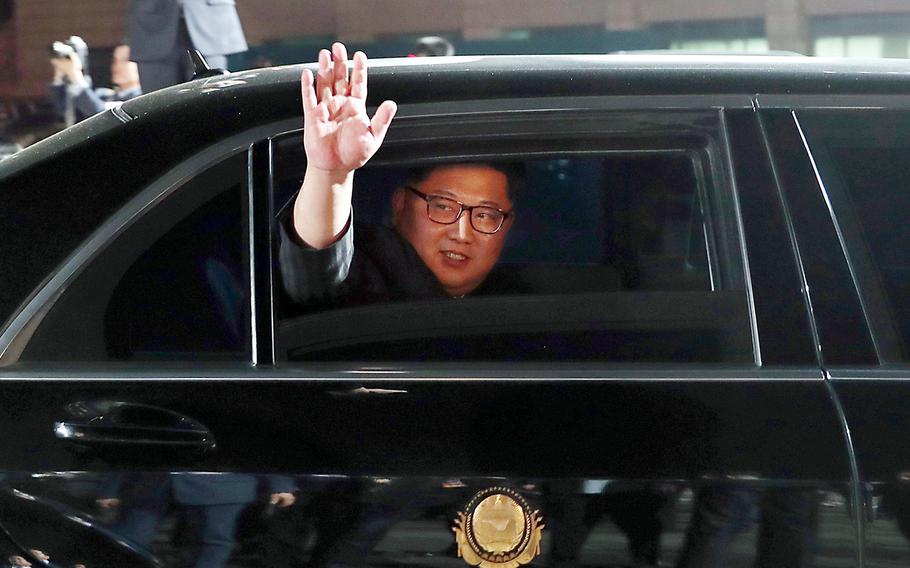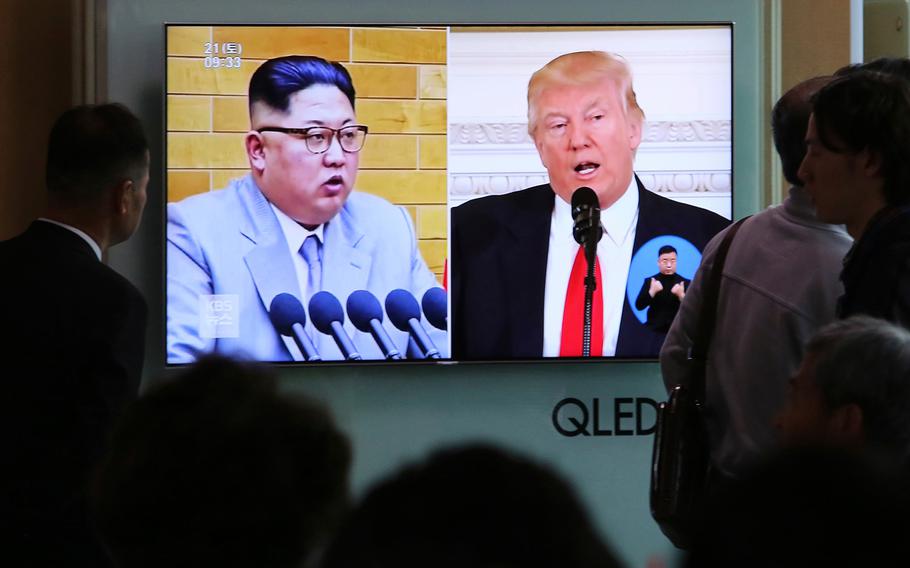 SEOUL, South Korea — With the ball in his court, President Donald Trump said Saturday that "things are going very well" after a historic inter-Korean summit that led to promises to pursue denuclearization and a permanent peace on the divided peninsula.
Trump said he had spoken with South Korean President Moon Jae-in by telephone a day after Moon held a meeting with North Korean leader Kim Jong Un that raised hopes of peace and reconciliation after decades of hostilities.
While short on specifics, the summit laid the groundwork for Trump's upcoming meeting with Kim, which is expected in coming weeks.
"Just had a long and very good talk with President Moon of South Korea," Trump said in a tweet. "Things are going very well, time and location of meeting with North Korea is being set."
Trump said the list of potential summit sites has been narrowed to two countries, which he didn't list.
He also said he had spoken with Japanese Prime Minister Shinzo Abe "to inform him of the ongoing negotiations."
The comments came after a day of bold declarations and stunning symbolism as Kim became the first North Korean leader to step foot on South Korean soil since the 1950-53 war ended in an armistice instead of a peace treaty.
Kim and Moon emerged from several hours of walks and talks promising in a joint declaration to seek the "complete denuclearization" of the peninsula and to work toward a formal end to the war.
Kim didn't use the word denuclearization in his remarks during the meeting. But North Korea's state-run Korean Central News Agency did so as it hailed the summit.
"At the talks both sides had a candid and open-hearted exchange of views on the matters of mutual concern including the issues of improving the north-south relations, ensuring peace on the Korean Peninsula and the denuclearization of the peninsula," it said.
Rodong Sinmun, the North's official state newspaper, also devoted four pages to summit coverage with dozens of photos of Moon and Kim.
But the final declaration offered no specific measures on ending the decades-old nuclear standoff, leaving it up to Trump to try to close the deal in his planned summit with Kim.
On Friday, Trump said he has a responsibility to try to achieve peace and denuclearization and vowed to maintain the U.S.-led maximum pressure campaign of punishing economic sanctions and other measures until that happens.
"And if I can't do it, it'll be a very tough time for a lot of countries, and a lot of people. It's certainly something that I hope I can do for the world," he said during appearances with visiting Chancellor Angela Merkel.
He also hit back against skeptics who doubt Kim's sincerity and cite decades of broken promises by the North that have caused past nuclear agreements to collapse.
"The United States has been played beautifully, like a fiddle, because you had a different kind of a leader," Mr. Trump went on. "We're not going to be played, O.K.? We're going to hopefully make a deal."
Friday's summit got high marks for optics after beginning with a historic handshake at the border in the truce village of Panmunjom, the heart of the heavily fortified Demilitarized Zone.
Moon and Kim also strolled together to a footbridge where they held a half-hour private conversation before completing formal talks and assembling for a lavish banquet.
South Koreans were captivated, with many stopping to watch as the developments were broadcast live on a big-screen TV in a major square in the capital.
Kim Wonmyung, 59, a Won Buddhist clergyman, said he teared up with joy when he saw the Korean leaders shaking hands after decades of animosities.
"It was like a miracle," he said, adding that he recognized many challenges lie ahead.
"North Korea will dismantle nuclear weapons maybe only after hearing from the U.S., South Korea and others what the U.S., South Korea and others are going to do in exchange for that," he said.
Analysts noted the language on the nuclear issue in the final declaration contained only a general commitment to denuclearization, which the North has promised before.
That's a far cry from demands for the complete, verifiable and irreversible dismantling of its arsenal that U.S. officials have said would be demanded.
Ahead of the summit, Kim said the North was freezing tests of intercontinental ballistic missiles and closing its nuclear testing facility. But that left open the possibility of resuming tests at any time.
Still, the international community welcomed the steps to ease tensions after more than a year of saber-rattling and threats that raised fears the sides were heading toward a nuclear war.
Kim, the 34-year-old third-generation leader in a family dynasty that has ruled the North since it was founded in 1948, said after the talks that the Koreas are "linked by blood as a family and compatriots who cannot live separately."
His smiles and jovial mood were a sharp contrast to the leader presiding over missile tests. Human rights groups also say the regime has clamped down on individual liberties as it sought to consolidate power.
The meeting took place in the same area where a North Korean soldier was seriously wounded after he fled south in a barrage of gunfire by his comrades in November.
The North also demonstrated rapid progress toward its stated goal of developing a nuclear weapon that could reach the U.S. mainland after test-firing three ICBMs and conducting its sixth and most powerful nuclear weapon last year.
The two Koreas made more substantial progress in bilateral relations, with Moon agreeing to visit Pyongyang in the fall.
Both sides promised to improve communication, exchange calls via a recently established hotline and hold high-level military talks in May.
They also agreed to resume reunions of families separated by the war.
Stars and Stripes reporter Yoo Kyong Chang contributed to this report.
gamel.kim@stripes.com Twitter: @kimgamel