'Who they were, what they gave': Iwakuni Marines dedicate memorial to victims of 2018 midair collision
by
James Bolinger
December 19, 2019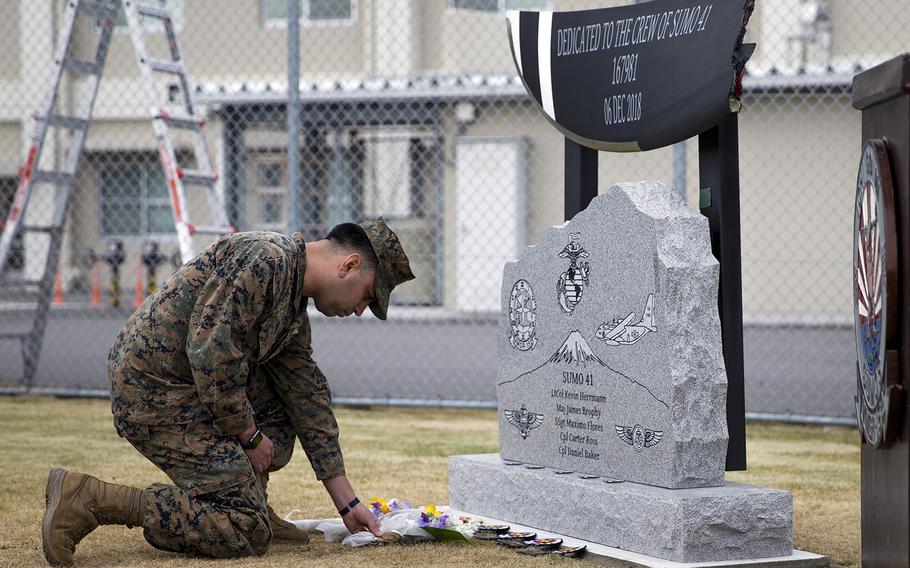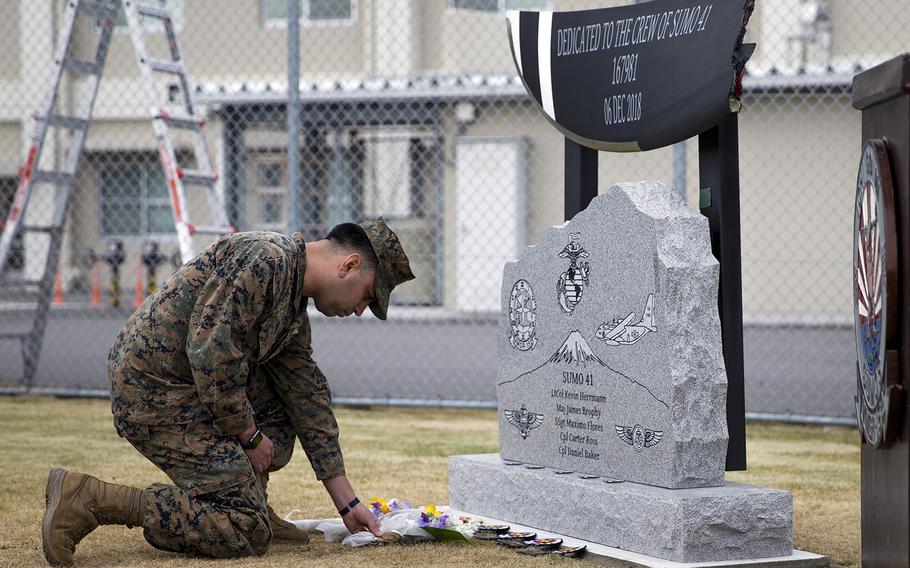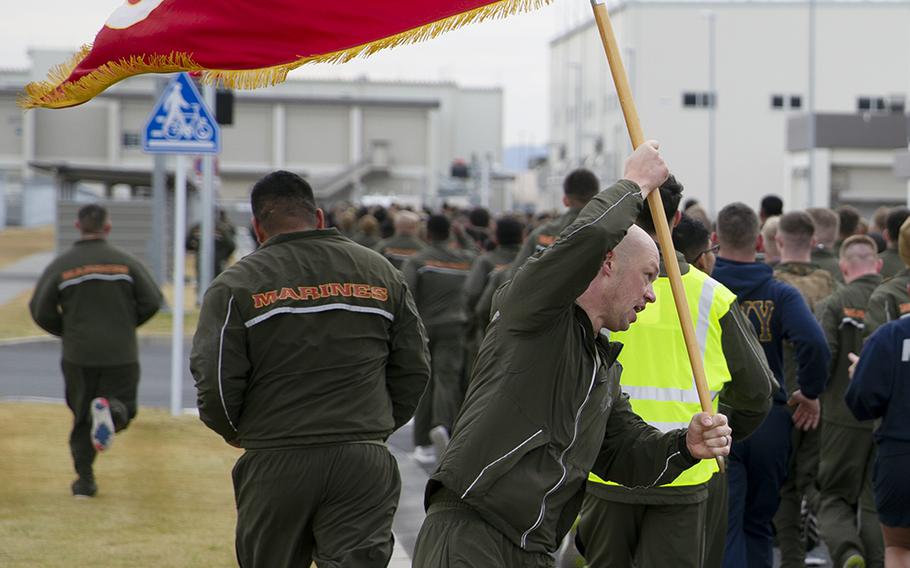 MARINE CORPS AIR STATION IWAKUNI, Japan — Iwakuni Marines dedicated a memorial to five aviators who died one year ago after the tail of their KC-130J Hercules, call sign Sumo 41, was struck by an F/A-18 Hornet during a nighttime training mission.
The Marines were assigned to Marine Aerial Refueler Transport Squadron 152. The granite monument honoring them was unveiled outside the squadron's building on the first anniversary of the accident.
Lost on Dec. 6, 2018, from the refueler squadron were Cpl. Daniel Baker, Maj. James Brophy, Staff Sgt. Maximo Alexander Flores, Lt. Col. Kevin Herrmann and Cpl. William Ross.
The Hornet pilot — Capt. Jahmar Resilard of Iwakuni's Marine All-Weather Fighter Attack Squadron 242 — was also killed. The jet's weapons officer survived after ejecting.
Four officers from the fighter squadron were fired after investigators determined the pilot's inexperience conducting nighttime, in-air refueling and a toxic command climate contributed to the collision.
It's tough to plan a memorial, said refueler squadron commander Lt. Col. Mitch Maury in an interview Monday. He was in command the day of the incident.
"You never feel like you can do enough for the families or to properly put things into perspective to honor those who we lost," he said. "If I try to put myself in the family's shoes, I think my biggest fear would be people not remembering what great men they were, what selfless individuals, what they contributed. We needed something that would remind those coming into the squadron about who they were, what they gave."
A committee within the squadron decided on a granite memorial beneath a torii gate. A section of a propeller recovered from the wreckage forms the gate's top beam. Maury said the memorial was designed by Capt. Anthony Walter and his wife, Emily.
A torii is often found near the entrance to a Shinto shrine and symbolically marks a transition to a sacred place.
"Being able to use a piece of the wreckage that was recovered allows us to be reminded about our brothers, and all events that took place that day," Gunnery Sgt. Andrew Torrecillas, also of the refueler squadron, said in an email Thursday. "Sumo 41 will always be tied to those 5 great Americans, but also to the aircraft lost. We will never forget."
The granite marker, which was flown in from Salt Lake City, was purchased with donations collected within the squadron, Maury said.
On the morning of the anniversary, the Marines participated in a 4.1-kilometer memorial run. The 4.1 signified Sumo 41, and the group made five stops where two Marines shared stories about one of their friends who didn't make it home, Maury said.
"From my personal experience, it is nice to have other personnel to talk to who are going through similar emotions," Torrecillas said. He said he was friends with Herrmann, the squadron's operations officer.
"Sharing stories and celebrating their lives together is beneficial to the grieving process. It also allows an opportunity to not forget the sacrifices we all make in the line of duty," Torrecillas said. "And it strengthens our bond immensely."
As a final ode to the fallen, the squadron showed a video recorded in late November when a KC-130J dropped two wreaths at the crash site off the coast of Japan in remembrance of Baker and Ross — the only two Marines whose remains were not recovered.
bolinger.james@stripes.com Twitter: @bolingerj2004