'When anyone calls:' Okinawa-based Navy medical team showcases pop-up hospital
by
Carlos M. Vazquez II
November 22, 2019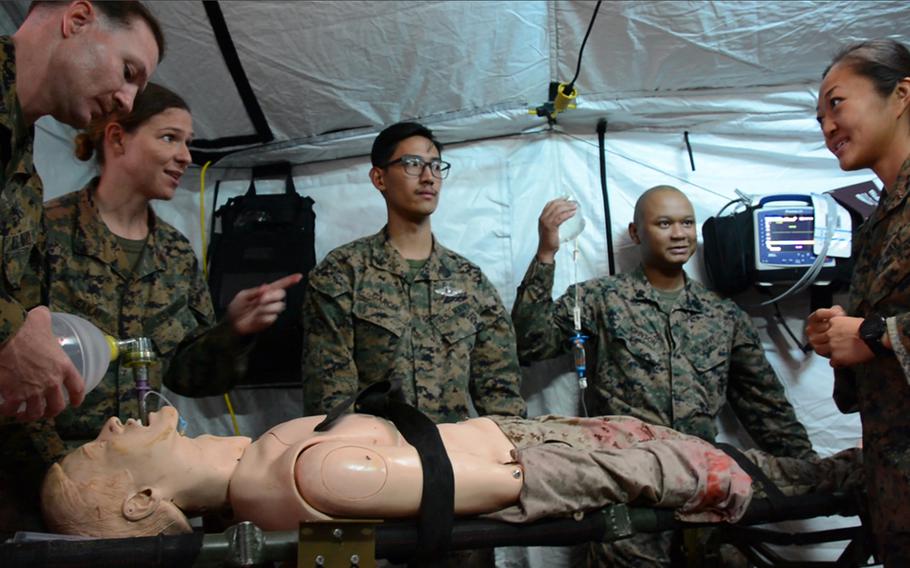 CAMP HANSEN, Okinawa — Navy doctors and hospital corpsmen from the 3rd Medical Battalion erected within hours Thursday a complex of interconnecting tents that serves as a field hospital.
They engage in the same exercise every year, but it's always the first time for some members of the unit. This year, that was Hospital Corpsman 1st Class Rosalie Gutierrez, a surgical technician and native of the Philippines.
While previously stationed at a brick-and-mortar base hospital, Gutierrez saw firsthand how the procedures performed at field hospitals, also called Role 2 facilities, saved the lives of patients brought to her hospital. A base hospital is called a Role 3 facility.
"The care that they can do is very important because it might take a while for the patient to get to a Role 3," she said. "So whatever intervention that they have done has already added to the patient's life."
Field hospitals like the one erected for practice by the 3rd Medical Battalion are the first stop for critical care for wounded Marines and sailors. They can also provide needed medical services in the event of a natural disaster or humanitarian crisis in the Pacific region, said Lt. Cmdr. Brandi Sakai, an emergency medicine physician.
"Not only does 3rd Medical Battalion provide the care for any humanitarian crisis or any fight that we may have and supports our allies, we're available for anything that may be needed in the Indo-Pacific," she said, "We're there when anyone calls."
A team of about 70 service members propped up the interconnecting tents in under four hours. The facility can treat 100 patients for 72 hours before requiring a resupply of medical equipment.
Each tent is sectioned off for various needs, from immediate response upon patient arrival, to a holding area for patients awaiting transfer to a higher level of care. One tent is dedicated to critical dental procedures.
The battalion can field up to eight individual hospitals. "We can break up depending on what they need or what the fight is going to be," Sakai said.
Most recently, 3rd Medical Battalion erected Role 2 field hospitals for military exercises in Australia and the Philippines. The exercises are more than practice, Sakai said.
The doctors and corpsmen sometimes treat injured service members.
"We also spend a lot of time doing subject matter expert exchanges and we learn from each other while sitting with our counterparts in foreign countries," she said. "I think that's where we really make a difference in this part of the world."
vazquez.carlos@stripes.com Twitter: @StripesCarlos