Weekend rush leaves Japan commissary and exchange shelves short on toilet paper, hand sanitizer
---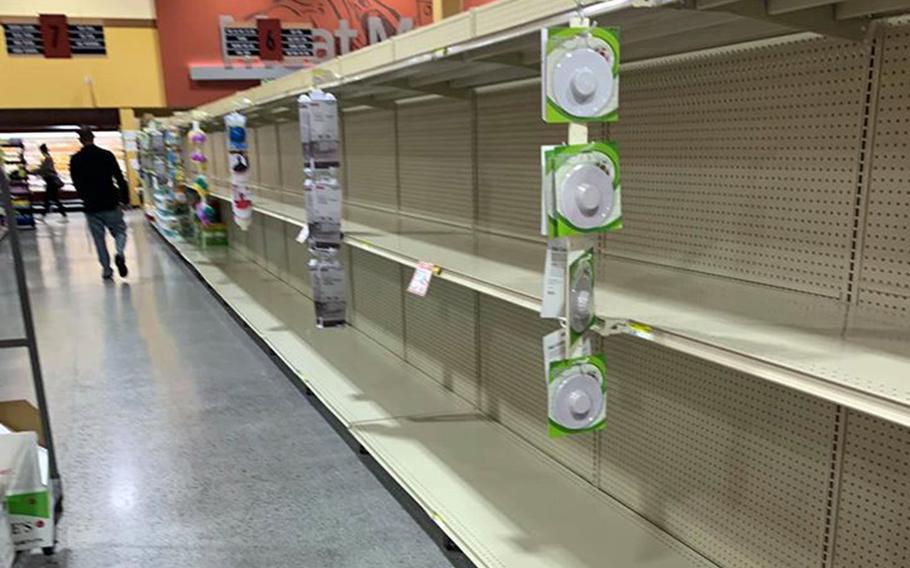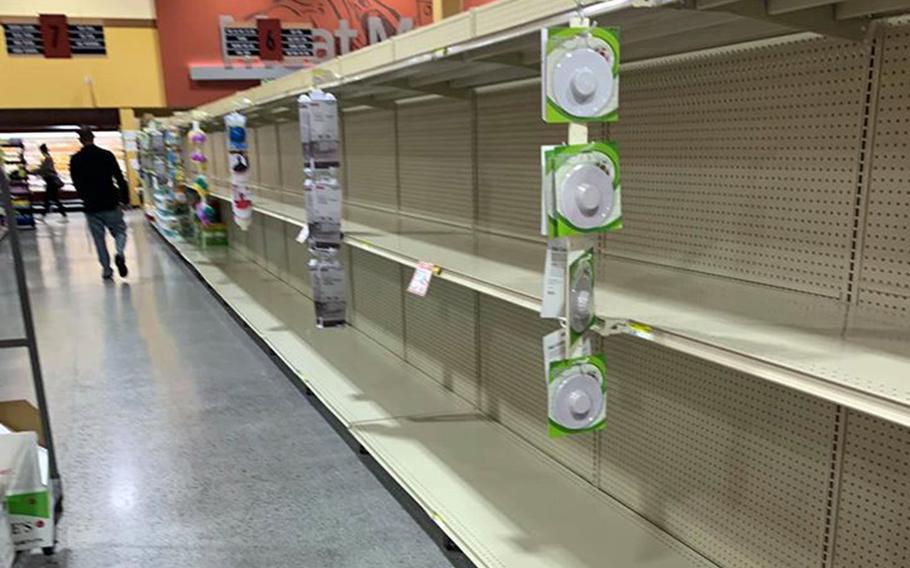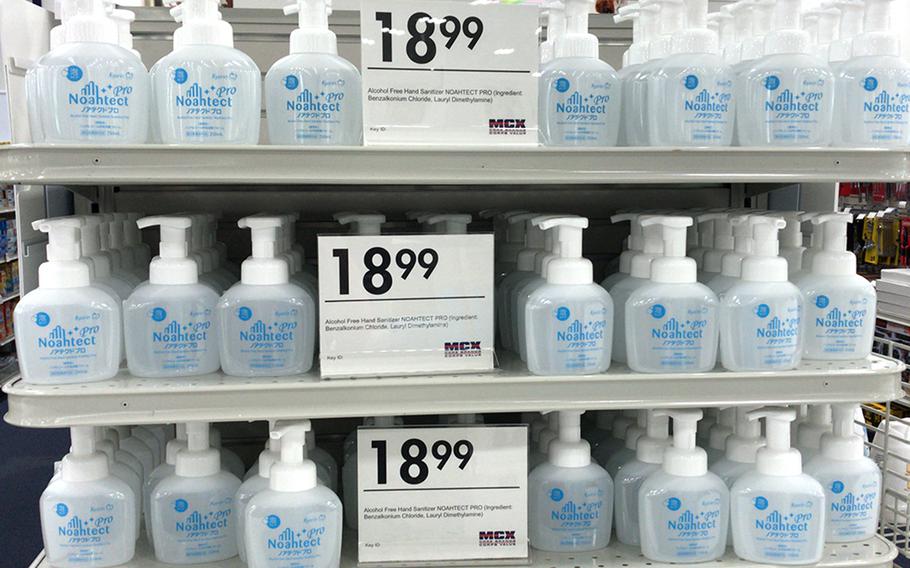 MARINE CORPS AIR STATION IWAKUNI, Japan — Shelves at commissaries on military bases across Japan ran short of toilet paper over the weekend as service members prepared for possible quarantines due to COVID-19.
Shoppers in Japan faced long lines over online rumors that Chinese-made toilet paper wouldn't be exported, The Japan Times reported Saturday, in spite of industry and official assurances that enough toilet paper for everyone is made in Japan.
Lauren Ignaffo, spouse of Petty Officer 2nd Class Austin Ignaffo from Fighter Attack Squadron 102, said that by Saturday the shelves at the MCAS Iwakuni commissary had been stripped of toilet paper and, oddly enough, pasta and spaghetti sauce.
"In the States the joke is like bread and milk and now it's toilet paper and paper towels," Ignaffo said Monday, after she shared several photos on social media of empty shelves. "I thought the pasta was really funny, though."
Yokosuka Naval Base, home of the Navy's 7th Fleet, reported on a base-affiliated Facebook page that its commissary shelves were being restocked Monday after the weekend run on toilet paper.
The post asked consumers to limit themselves to one item per family per day of several items including toilet paper, cleaning products, disinfecting wipes and rice in order to prevent hoarding.
A shipment of toilet paper arrived Monday at MCAS Iwakuni, said 2nd Lt. Phillip Parker, a base spokesman.
There is historical precedent for stockpiling toilet paper, The Japan Times report said.
"In 1973, after Arab countries embargoed oil exports to Japan, there were sometimes violent scenes of panicked buyers grabbing toilet paper," the report said. "There were also buying sprees after the March 11, 2011, mega-quake and tsunami."
Hand sanitizer has also been in short supply both in Japanese stores and at base exchanges and commissaries.
Sanitizer was scarce on exchange shelves at bases in South Korea, where the Army garrison at Daegu is under a self-imposed quarantine. Sanitizer was restocked at Osan Air Base and Camp Humphreys, home of the U.S. Forces Korea headquarters, over the weekend.
At the MCAS Iwakuni exchange, bottles of a Japanese-made hand sanitizer were being sold for $18.99, sparking commentary on social media pages. "I first thought that's insane, and I don't know why they couldn't somehow get a hold of American hand sanitizer," Ignaffo said.
The exchange paid that price to a local supplier, Parker told Stars and Stripes in an email Monday.
"The hand sanitizer available at the MCX is passed to the consumer at cost and was purchased from a Japanese supplier to ensure the demand for hand sanitizer is met in response to the COVID-19 virus," Parker said. "The (Marine Corps Community Service) works to keep prices as low as possible for SOFA-status personnel aboard the station."
Stars and Stripes reporters Matthew Keeler, Christian Lopez and Caitlin Doornbos contributed to this report.
---
---
---
---