Visually impaired rugby team shows military kids how those with low vision can stay in the game
---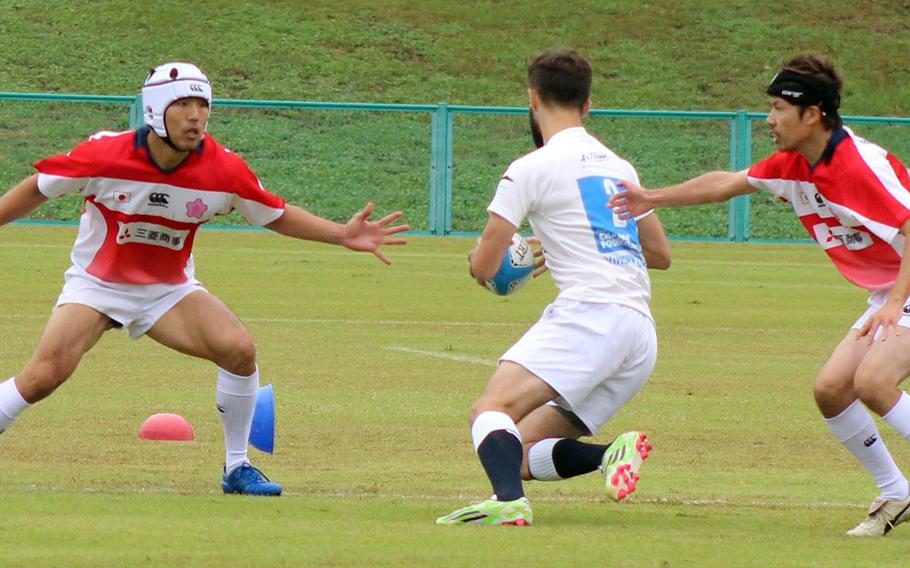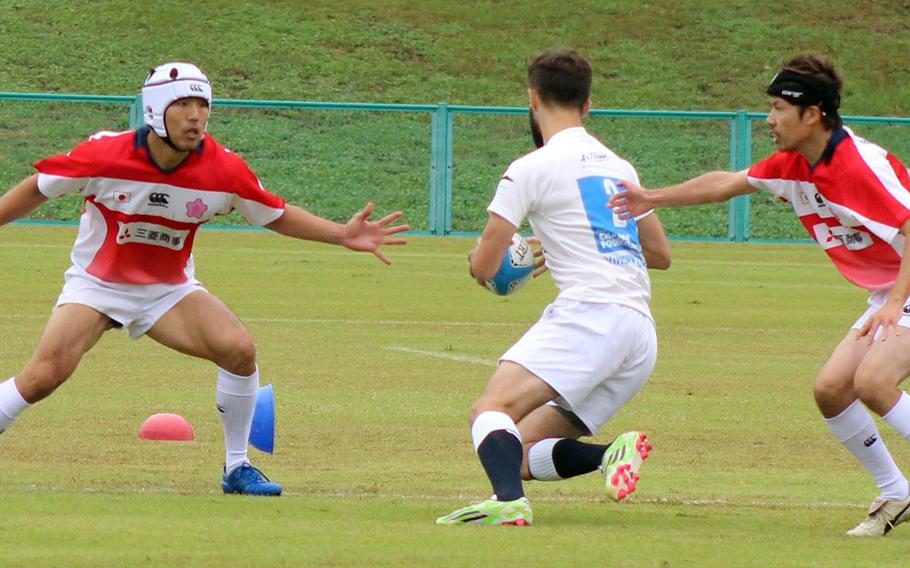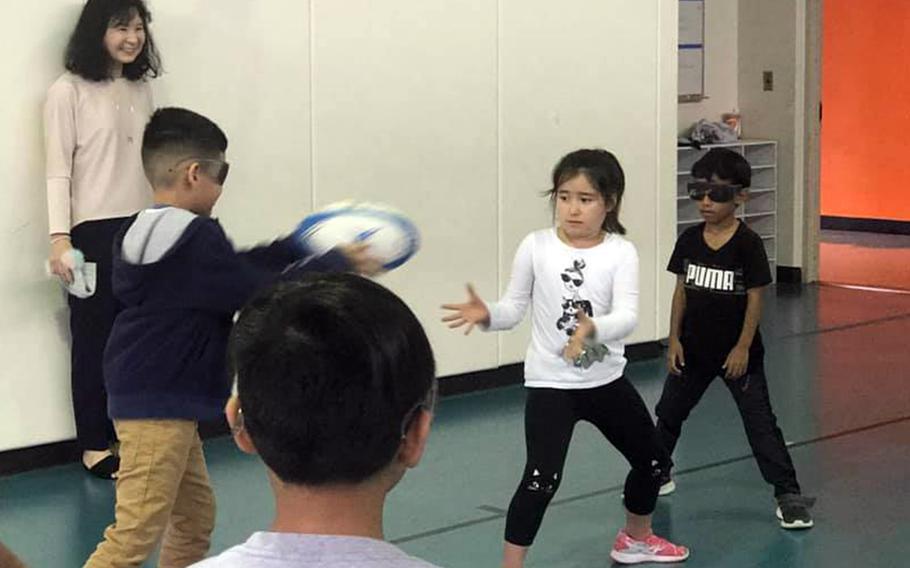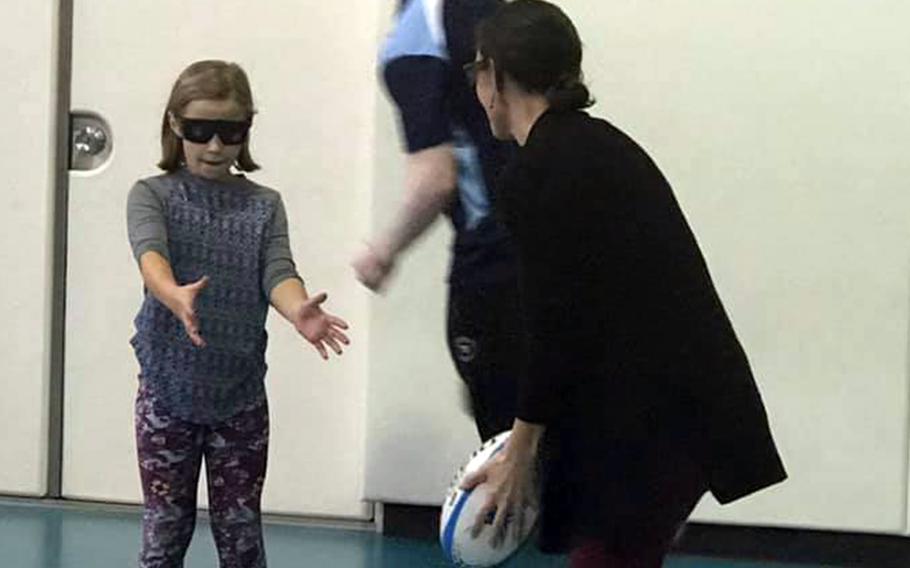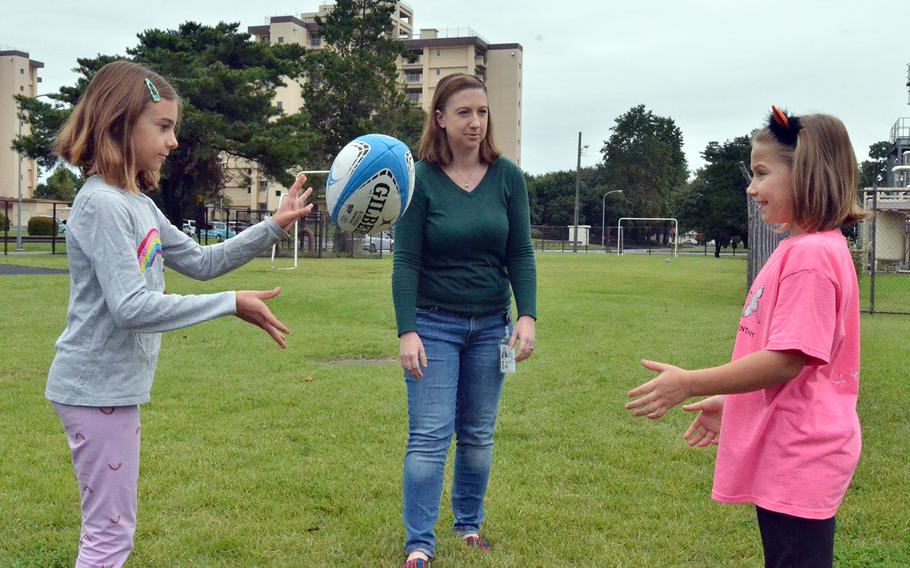 window.location = "http://www.stripes.com/1.603559";
YOKOTA AIR BASE, Japan — Running, passing and tackling aren't the easiest things to master, even for people with 20-20 eyesight. But visually impaired rugby players reckon they're good enough, with the aid of a ball with a bell inside, to beat some sighted teams.
A team of English players showed off their skills on Wednesday to youngsters at the home of U.S. Forces Japan in western Tokyo. They taught the kids from Yokota West Elementary School how to pass a rugby ball, then let them try again while wearing special glasses that simulate visual impairments.
"Some of the glasses were really hard to see through," fourth-grader Katie Petty, 9, told Stars and Stripes on Friday.
Third-grader Emery Horne, 9, said wearing the glasses showed her what visually impaired people see every day.
Horne has seen plenty of rugby on television this month. Her dad has been watching the Rugby World Cup, which has brought 20 top international teams to Japan.
Department of Defense Education Activity teacher Katherine Ericson, who arranged the rugby team's visit, works with visually impaired students in mainland Japan, Okinawa, South Korea and Guam.
Overseas military kids with visual impairments might use magnifiers to enlarge text or listen to audiobooks during lessons, she said. Some with more serious impairments learn to read braille or walk with a white cane.
The English team's coach, Alex Bassan, said visually impaired rugby was developed by a British charity, the Change Foundation, which sent the team on its first international tour to New Zealand in 2017. The charity has helped establish teams in England, Japan and New Zealand.
"We were invited to come to Yokota to show kids that just because you have lost your sight it doesn't mean you can't play sports," he said.
During the Yokota rugby skills session the players got plenty of questions from curious youngsters, Bassan said.
"Kids were asking questions like: 'How do you make breakfast?' and, 'Do you struggle on transport?'"
Players on visually impaired teams have a range of eyesight problems such as tunnel vision or loss of sight in one eye. Some were born with impairments and others lost vision due to things such as strokes, accidents or genetic conditions, Bassan said.
Tackle rugby isn't an option for people with visual impairments since a head knock could make their vision worse, he said. During games players wear bright shirts with large numbers and make sure they're talking to one another on the field.
"The players practice passing and communicating a lot," he said.
Totally blind players practice with the team but don't participate in competitive games, Bassan added.
The players may lack sight, but they've got plenty of skills, he said.
"They're athletes who have played other sports; I reckon they could beat some sighted teams," he said.
During games, the team takes account of each player's vision problems.
For example, players with tunnel vision generally stay in the middle of the field and players with problems in one eye might play in a position that allows them to keep their good eye on the ball, Bassan said.
The team has won three games against its Japanese counterparts. While in Japan, the members have been doing what other rugby teams in the country are doing — gathering at bars to watch the Rugby World Cup, drink beer and have a laugh, although they prefer to sit close to televisions and give each other a verbal commentary during the games, he said.
robson.seth@stripes.com
Twitter: @SethRobson1
---
---
---
---