Visa denials lead Guam to oppose Marine Corps move
by
Matthew M. Burke
April 6, 2017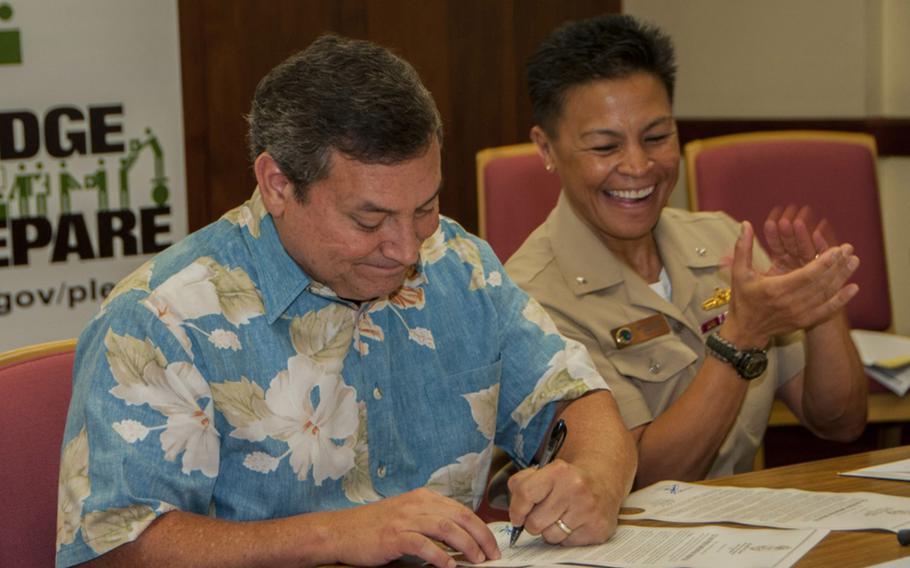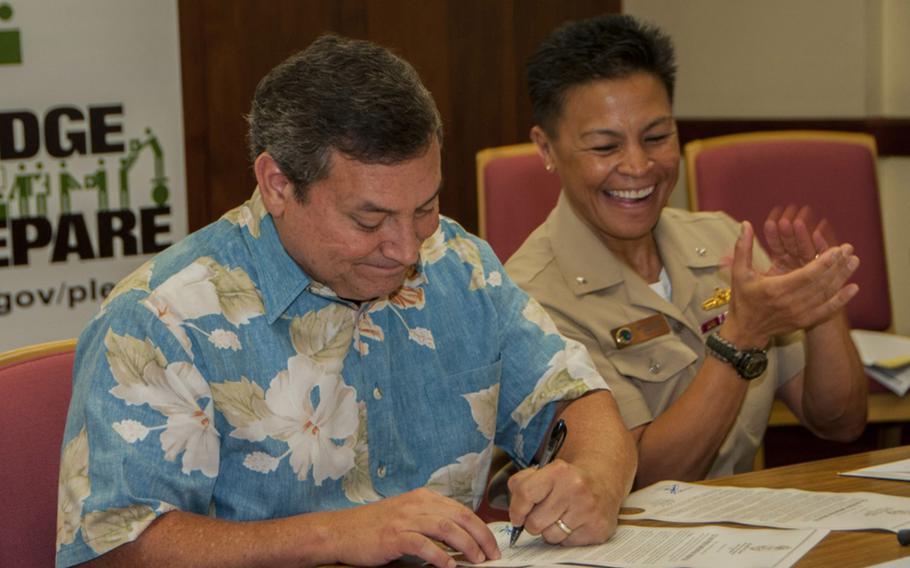 CAMP FOSTER, Okinawa — Gov. Eddie Calvo said Guam will no longer support a planned U.S. military buildup critical to realignment plans in the Asia-Pacific region, unless the federal government allows more foreign workers to come to the island.
The Thursday afternoon announcement came following a Government Accountability Office report – released Wednesday – that said the Marine Corps has neither a reliable schedule for moving 4,100 Marines from Okinawa to the tiny Western Pacific territory, nor a plan to address delays caused by labor shortages and endangered-species protections.
"When the Department of Defense signed a programmatic agreement, we agreed to a mutually beneficial buildup — the idea being what's good for inside the fence is good for outside the fence. It was the One Guam approach," Calvo said in a statement. "But the federal government hasn't kept up with its part of the bargain. There has been a breach in the agreement that was made to ensure Guam is not negatively impacted by the shift in military forces."
Calvo said the Obama administration adopted "a new interpretation of labor policies" in early 2016 that caused a drastic reduction in approvals for H-2B temporary work visa requests, despite the federal government's acknowledgement of the need for foreign laborers to supplement local workers.
Calvo said that led to delays, either because contractors refused to take jobs they didn't think they could finish or because competition for scarce labor inflated job costs.
"We watched as we went from a nearly 100 percent approval rate [of the visas] to a nearly 100 percent rejection," said Oyaol Ngirairikl, Calvo's director of communications. "There was no clear reason why … Guam's local skilled labor force isn't sufficient to fill the needs of our growing economy, in addition to what's needed to prepare for the shift in military forces from Okinawa to Guam."
The Guam Contractors Association filed suit last year seeking an end to the visa rejections.
The Department of Justice responded in a November court brief that the contractors cannot "simply abuse this system to fulfill a permanent need for workers who perform the same labor or services year round, for an indefinite period of time."
Calvo has asked Guam's attorney general to join the contractors as a plaintiff.
Opposition to the disproportionate deployment of U.S. forces in Japan, which places about half of the approximately 100,000 servicemembers, civilian base workers and their families on the southern Japanese island of Okinawa, spurred the decision to move Marines to Guam.
In 2006, a realignment was agreed upon that would send approximately 5,000 Marines and 1,300 dependents from Okinawa to Guam and also shift around other forces in the region. The figure rose past 8,000 people at one point before settling at current estimates.
"Over the last year and a half I have written letters to President Obama and his administration and met with a number of officials leading the regulatory agencies but to no avail," Calvo said in the statement. "While I am still hopeful that the new administration, under President [Donald] Trump, is willing to work with us, we are at a critical point.
"I will no longer support the buildup; and will not support further progress on the military re-alignment to Guam, so long as the federal government continues to choke our economy," Calvo said.
Calvo also said he plans to send letters to Trump and Japanese Prime Minister Shinzo Abe stating his opposition to the buildup until action is taken.
The Marine Corps did not reply to requests for comment following Calvo's late announcement.
No immediate comments were available from Japan's Ministry of Defense or the Okinawa prefectural government's military affairs office.
Stars and Stripes reporter Chiyomi Sumida contributed to this report.burke.matt@stripes.com
---
---
---