Analysis
Virus outbreak tests US military readiness in South Korea
---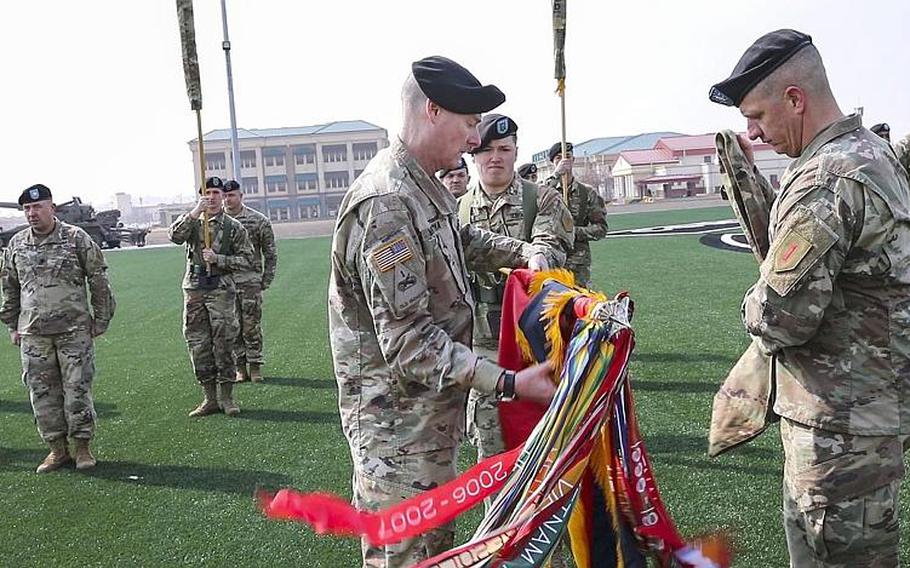 SEOUL, South Korea - The rapidly spreading new coronavirus has put the U.S. military on defense against a new enemy in South Korea as it struggles to keep troops ready to fight the old one.
The virus has infected more than 100,000 people after spreading to more than 60 countries, including the United States. Uncertainty surrounding the pneumonia-like illness has caused stock markets to plunge as people increasingly stay home.
In many ways, the military is uniquely poised to keep the virus at bay by sharply restricting access to fortress-like bases and ordering service members to stay inside the perimeter as much as possible.
Soldiers armed with questionnaires and thermometers have been deployed to access gates to check everybody trying to enter posts for possible exposure to the virus and signs of a fever.
So far, only seven people affiliated with U.S. Forces Korea, including an American soldier and his wife, have been infected, a tiny fraction of the more than 7,300 confirmed cases nationwide.
But the possibility of a prolonged outbreak has raised concerns about the military's ability to maintain fighting capabilities against the growing nuclear threat from North Korea while preoccupied with keeping its forces from getting sick.
Balancing act "You have to strike a balance between maintaining your readiness and trying to prevent the spread of the virus," said Thomas Spoehr, a retired Army lieutenant general. "But in the end you have to keep training, unless it really gets to be a real crisis situation."
The United States and South Korea have canceled a computer-simulated joint command post exercise that had been planned for this month, citing coronavirus fears. The Army also halted moves to new assignments in South Korea and Italy through May in a bid to slow the spread of the virus.
Both U.S. allies are suffering from the worst outbreaks of the virus outside China, where it first appeared in late December, with more than 7,300 confirmed cases in South Korea and nearly 6,000 in Italy.
The Army's decision - announced this weekend - left many military families in the midst of a permanent change of station, or PCS, scrambling to adjust.
It also appeared to catch the command off-guard, with USFK planning, then canceling a Facebook live update to discuss the implications on Sunday. It promised to hold one on Monday to give officials time to get answers.
CNN has quoted several anonymous defense officials as warning that overall U.S. military readiness may start degrading by the end of March if countries continue to close borders and restrict travel.
In a reminder that the threats remain, North Korea conducted a short-range ballistic missile test on March 2 in what experts said was likely aimed at projecting strength after the U.S. and South Korea postponed their training drill.
Difficult choices Commanders on the ground have faced difficult decisions while insisting their No. 1 priority is protecting the force.
The Fort Riley, Kan.-based 2nd Armored Brigade Combat Team, 1st Infantry Division, known as the Dagger Brigade, completed its transfer of authority from the previous rotational brigade in a ceremony on Wednesday.
Last week, USFK also resumed sending soldiers and their families who had been held at Camp Humphreys for about 10 days to the Army garrison in the southeastern city of Daegu, which is at the center of South Korea's outbreak.
"It's all about maintaining combat readiness," Maj. Gen. Patrick Donahoe, the Eighth Army's deputy commander for operations, said. "We've got to maintain the strength of those units."
"We're still moving forward with an abundance of caution," he said in an interview last week about the decision to send the troops to USAG Daegu. "We have got to be focused on preserving our readiness through protecting our force from this virus."
"The normal training, normal activities - that is something we'll look at really over time," he added.
USFK faces additional worries as an expected furlough of South Korean employees is due to begin in just over three weeks amid deadlocked defense cost-sharing talks between the allies.
Officials have warned that will lead to delayed services and reduced hours for many administrative functions, although they have prepared measures to reduce the impact on health and safety needs.
Spoehr, who now serves as a defense expert with the Heritage Foundation, said the military has to maintain business as usual as much as possible.
"You can't keep piling up people at Camp Humphreys," he said.
"People were sent to Korea to join units that have already had people rotating out or about to rotate out," he added. "You've got to fill those holes otherwise you start to go down in readiness."
USFK commands some 28,500 American troops in South Korea, which remains technically at war with the North after their 1950-53 conflict ended in an armistice instead of a peace treaty.
Contingency plans Daniel Davis, a retired Army officer who served in South Korea, said soldiers are used to risk but fears of a pandemic could be distracting.
"You used to just have to worry about missiles from North Korea. Now you've got to worry about viruses in your backyard," he said. "It really can't help but have some impact as soldiers worry about family members."
Davis, a senior fellow with the Washington, D.C.-based think tank Defense Priorities, also said he would be surprised if officials hadn't begun contingency planning for potential evacuations.
USFK already has well-honed plans for noncombatant evacuation operations due to the threat from the North.
But Davis noted a coronavirus evacuation would face the additional need for quarantines. "You've got to plan for the worst case scenario," he said.
Military commanders also have acknowledged another danger for American troops and families who are largely confined to base as the crisis enters its third week - boredom.
Pvt. Derika Walters, a petroleum specialist with the 194th Combat Sustainment Support Battalion, said she spends more time in the gym since "there is nothing else to do."
"We can't really go out into the community," the 20-year-old Beaumont, Texas, native said last week at Camp Humphreys, the main U.S. base in South Korea.
Walters said she's not scared of the virus since most of the people who have died were elderly or had other health problems.
"They keep reassuring me that because I am 20, I will be fine," she said.
Stars and Stripes reporter Matthew Keeler contributed to this report.
gamel.kim@stripes.com Twitter: @kimgamel
---
---
---
---