USS Theodore Roosevelt arrives in Vietnam, becoming second US carrier to visit since the 1970s
---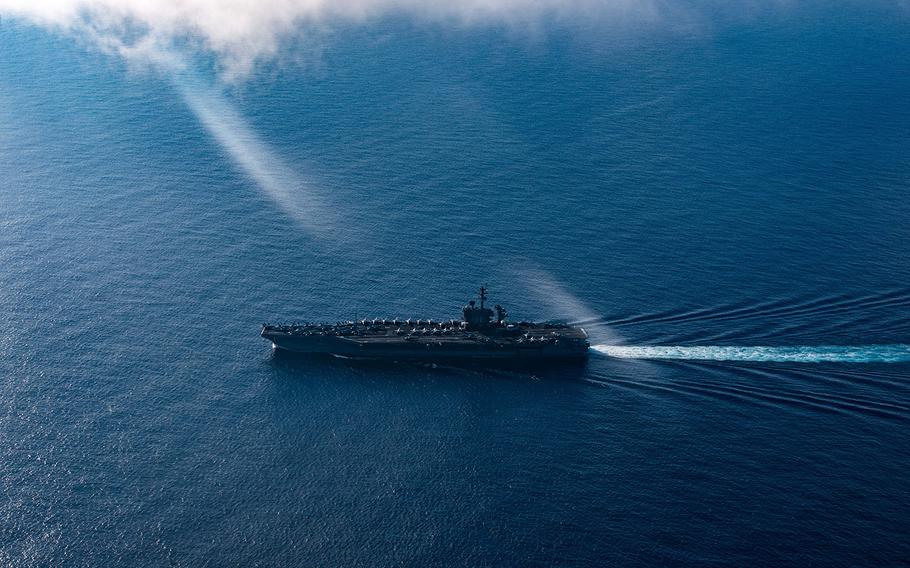 The USS Theodore Roosevelt arrived Thursday in Vietnam, becoming only the second U.S. aircraft carrier to make a port call there since the fall of Saigon in 1975.
The carrier, accompanied by the guided-missile cruiser USS Bunker Hill, steamed into Danang, where they were met by Vietnamese and U.S. government and military officials, according to a 7th Fleet news release. Waiting to greet the vessels were Adm. John C. Aquilino, commander of the U.S. Pacific Fleet, and U.S. Ambassador to Vietnam Daniel Kritenbrink.
The port call by the Roosevelt and its strike group, a total of 6,500 military personnel, marks 25 years since the two former foes normalized their diplomatic relations.
Adm. Phil Davidson, commander of the U.S. Indo-Pacific Command, announced Tuesday that the Roosevelt would stop in Vietnam.
"It's true. We do have TR pulling into Danang this week," he said in response to a reporter's question during 2020 West, a naval conference in San Diego.
The BBC's Vietnamese language online news site reported that the Roosevelt would stay in port five days. The strike group crew is expected to take part in community service projects, sports competitions and other events, according to 7th Fleet.
"This visit will not only serve to strengthen our bilateral defense relationship, but also help further advance our cultural and professional ties," said Capt. Brett Crozier, the Roosevelt's commanding officer, according to the 7th Fleet.
The Theodore Roosevelt Carrier Strike Group left San Diego on Jan. 17 for deployment in the Indo-Pacific region.
The strike group also includes the guided-missile destroyers USS Russell, USS Paul Hamilton, USS Pinckney, USS Kidd and USS Rafael Peralta.
The carrier USS Carl Vinson made the first historic visit to Danang in March 2018.
Davidson remarked Tuesday on the growing importance of Vietnam's support of U.S. efforts to push back on China's broad but disputed claims of sovereignty over most of the South China Sea, which also borders Vietnam, Malaysia and the Philippines.
Vietnam has been "quite vocal and supportive" of U.S. freedom-of-navigation operations near islands claimed by China in the South China Sea, Davidson said. The Navy sails ships close to islands claimed by China in a subtle show of force during those operations.
Vietnam is also chairing the Association of Southeast Asian Nations this year, thus taking the lead on negotiating a code of conduct with China for defined "rules of the road" for international air and sea traffic in the South China Sea, he said.
The U.S. has a growing interest in deepening military ties with Vietnam, a country that America was at war with in the 1960s and early 1970s.
Vietnam's importance as a regional partner became even more relevant last month after Philippines President Rodrigo Duterte moved to terminate his country's visiting forces agreement with the United States.
If Duterte follows through with that termination, "U.S. access to ports in Vietnam on a regular basis will become all the more urgent to support U.S. naval presence patrols in the South China Sea," Carlyle Thayer, emeritus professor at The University of New South Wales at the Australian Defence Force Academy, wrote Tuesday in a background brief for Thayer Consultancy.
The U.S. tried and failed last year to convince Vietnam to approve U.S. aircraft carrier visits on an annual basis, Thayer said. "This proposal was part of a larger U.S. diplomatic initiative to raise bilateral relations to a strategic partnership," he said.
"It is likely that China's intrusion into Vietnam's Exclusive Economic Zone in waters near Vanguard Bank for several months last year proved to be a tipping point."
The Roosevelt's visit is a signal by the U.S. that it "intends to remain the pre-eminent naval power in the Western Pacific and South China Sea," Thayer said.
By granting the port call, Vietnam is indicating it supports the U.S. Navy in nearby waters "as long as it contributes to peace and stability," he said.
olson.wyatt@stripes.com Twitter: @WyattWOlson
---
---
---
---