USS Ronald Reagan changes commanders while on patrol in Philippine Sea
by
Caitlin Doornbos
October 2, 2020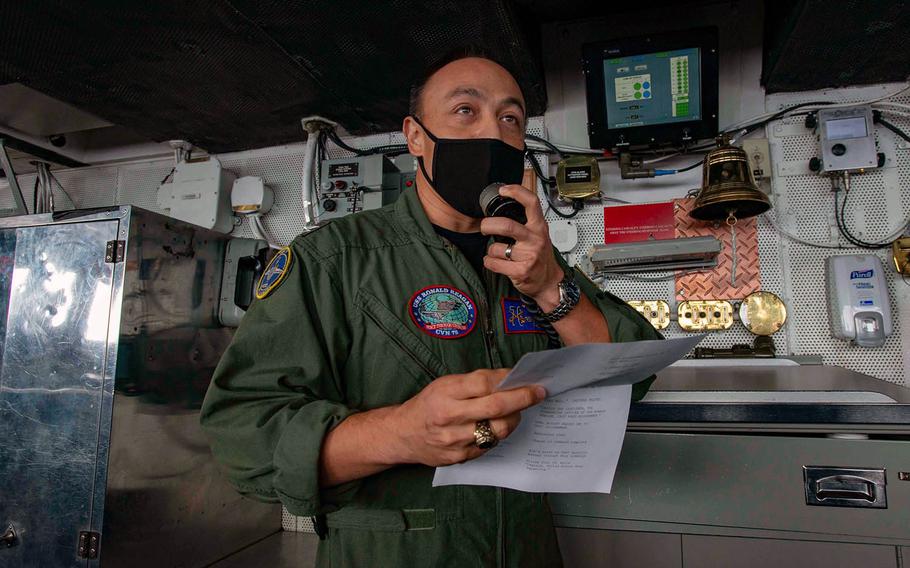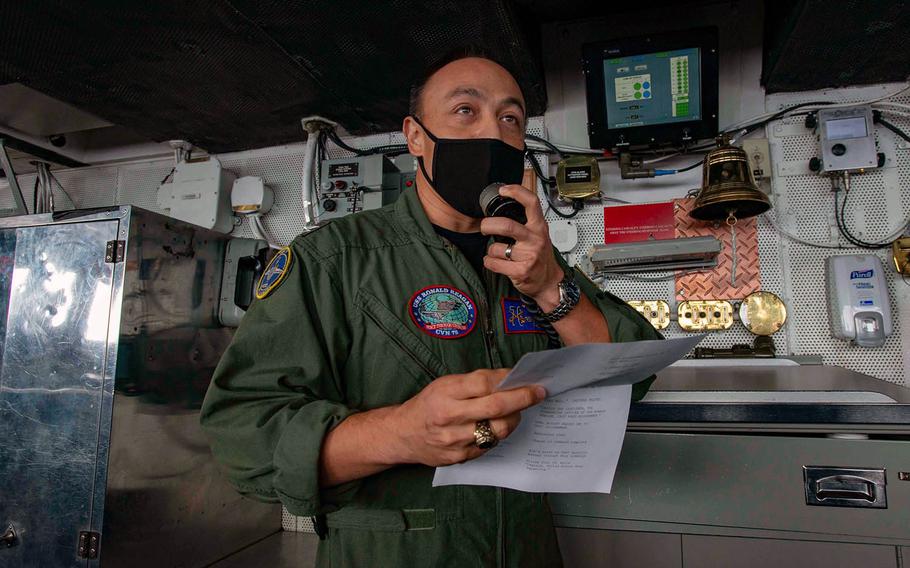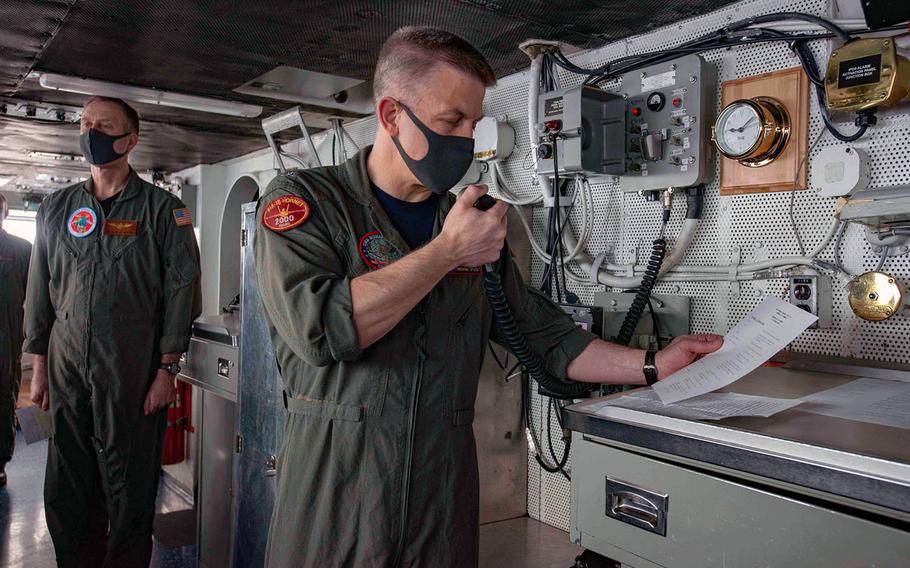 Capt. Fred Goldhammer took the helm of the aircraft carrier USS Ronald Reagan from Capt. Pat Hannifin on Thursday during a scaled-down change-of-command ceremony in the Philippine Sea, according to a Navy statement.
Due to coronavirus precautions, the ceremony took place in the ship's pilot house, broadcast over the public address system, in lieu of a traditional in-person event, according to the Thursday statement. Photos of the event show Hannifin, Goldhammer and others wearing masks. Pre-pandemic change-of-command ceremonies were often all-hands events, gathering large groups of sailors to see a departing commander off and welcome a new one.
The aircraft carrier, home-ported at Yokosuka, has been patrolling the Indo-Pacific region since June. Command changes while a warship is underway are not unusual.
"Reagan is and will always remain poised to fight and win in combat," Hannifin said during the ceremony, according to the statement. "Every year and every age has challenges – we have certainly had ours here – but this team wins."
Since taking command in September 2018, Hannifin has led the ship through numerous multinational exercises, including Talisman Saber and Keen Sword, in the Indo-Pacific region.
The carrier in July also took part in two dual-carrier exercises with the USS Nimitz in the South China Sea, the first time in eight years that two U.S. aircraft carriers had worked together in the contentious region.
"To the crew and the full team that's onboard Reagan: I appreciate your service. It is the honor of my life to have served among you," Hannifin said, according to the statement.
Goldhammer, of New York City, comes to the Reagan after commanding the amphibious transport dock USS Mesa Verde, home-ported in Norfolk, Va., according to the statement.
After graduating from the U.S. Naval Academy in 1993, Goldhammer began his career as a naval aviator flying E-2C Hawkeyes, according to his biography on the Reagan's website. He later worked in the Pentagon in several assignments, including as executive assistant to the director of Navy staff.
Hannifin's next assignment will be at the Navy's Air Warfare Division in Washington, D.C., according to the statement, which did not say in what role he would serve.
Doornbos.Caitlin@stripes.com Twitter: @CaitlinDoornbos
---
---
---